Entertainment
Did The Name 'Lucas' Come From Sarah Keith-Lucas Hidden Husband? Secret Married Life Hidden From Bio?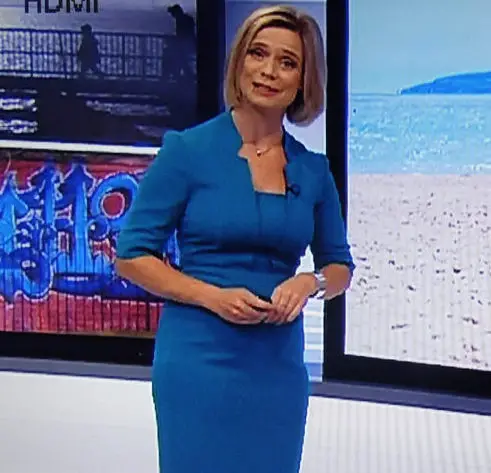 The innovative BBC weather presenter Sarah Keith-Lucas has been the regular face of BBC weather forecasting. She is very well known for her work, but the thing that often strikes in the mind of people is her married life. And mostly, Did the name "Lucas" came from her husband's last name?
Well! The answer is known, and we will be giving you a closure look at the very topic of our story today.
Got name "Lucas" from husband?
The 35 years old TV personality Sarah Keith-Lucas has been on BBC since 2009. Her name has always been the impressive but suspicious one. People often speculate she might have been married. But is that true? Did she get the last name from her husband's name?
After digging the facts about Sarah Keith-Lucas what we discover is she got her last name from her grandmother, Dorothy de Bauduy Robertson. Dorothy got married to David Keith-Lucas. She shared the last name of her husband, and after her death, Sarah adopted her grandmother's name.
Speaking about her parents, she was born on 12 February 1982 to mother Christopher Leslie Keith-Lucas and father, Claire Forrester. She is the younger children of her parents and has an older brother. 
The Sussex native has kept her personal life a bit low key. She remains silent when it comes to opening about her partner. Maybe she is dating someone and keeping him out of the limelight, or she is just too busy enhancing her career. 
Hopefully, she will make us familiar if she gets married and has a baby with her husband.
However, Sarah's professional life has not been new to people. She got the pathway for her career from the enthusiastic geography teacher. After studying Geography at Durham University, she spent two winter seasons working in the French Alps.
Caption: Weather forecast by Sarah Keith-Lucas. (Published on October 15, 2016)
Further, she joined the Met Office in 2007 and later started working in a weather forecaster at the Exeter headquarters. Then finally joined BBC in 2009, and her first TV appearance was in summer of 2009. As of now, Sarah Keith-Lucas is a regular on BBC Weather.