Entertainment
All You Need To Know About Elizabeth Rodriguez With A Short Bio Including Her Dating Status
An American actress who is popular as 'Aledia Diaz' from 'Orange is the New Black' and eventually has landed a dream role in Wolverine film of Hugh Jackman "Logan" is beautiful, Elizabeth Rodriguez has been popular.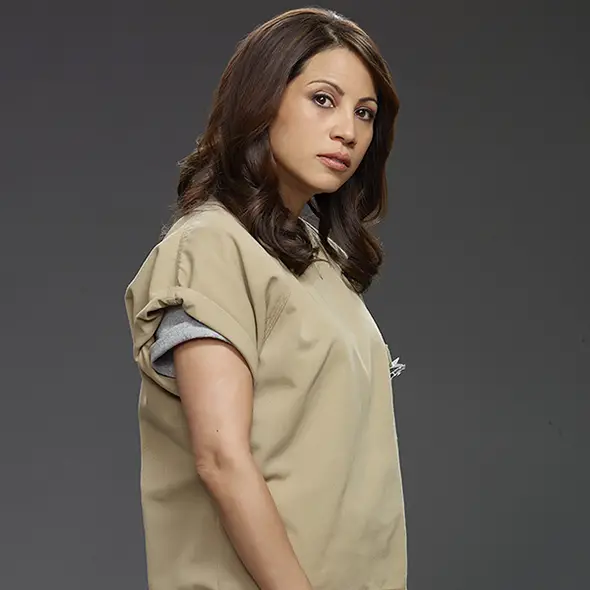 Elizabeth Rodriguez- an American actress popular as 'Aledia Diaz' from 'Orange is the New Black' has landed a dream role in Wolverine film of Hugh Jackman "Logan."
Fame From Orange Is The New Black To Logan:
Elizabeth Rodriguez started her career as a teenage artist with an appearance on television with 'Fresh' in 1994. And she did multiple television shows, but she rose to fame with her recurring role as 'Aledia Diaz'- a tough but loving mother in  Tv series 'Orange is the New Black.'
In an interview, Elizabeth opened up about her being attracted towards strong characters which have something to say. She said,
"As long as they're multidimensional and can show their heart, I am always willing to dive in. They're really strong, powerful women. They make mistakes and they've been affected by their circumstances, but they have this inner strength that drives them."
 Further, she expressed her possessiveness over her character of 'Aledia,'
"At first I was really protective of Aleida because I didn't know what I was getting into, and I had no idea how she was going to be written."
Elizabeth being nostalgic posted a picture with her onscreen daughter Dayanara Diaz also known as Dascha Polanco in 'Orange is The New Black' on her Instagram.
Further, she talked about getting a role on  Logan where she went back to memory lane where she met the head of 'Fox,'
"I had a general meeting with the head of casting at Fox. I was happy to take the meeting. We totally hit it off and we just started connected on all sorts of subjects—people and shows we like. He was a fan of Orange and Fear [the Walking Dead] and then couldn't believe it was the same actress! Which is such a compliment."
After that, she got an audition call for Gabriella in 'Logan' but wasn't given the script however some lines from it were given to perform. She said,
"I basically put on tape and watched The Wolverine film just to get the tone for it because I hadn't seen one in forever, and then I didn't think about it. I really thought, Oh the chances of getting that were like, zero."
With that thought, months passed, and her manager tells her that she got a call for the role of Gabriella. She was happy but wasn't in a state to accept due to her prior commitments of Orange Is The New Black.'
But she unwilling passed a rare opportunity of the role opposite Hugh Jackman in Logan. And within a week the Logan team offered the role and sent her the script.
Then she explained her situation and the makers of Orange is the New Black considered it and the writers wrote the script without her for the first few episodes.
 Just so that she knew I wasn't taking Orange for granted and that I had actually passed. I basically explained that it would be incredible if there was a way that I could get it done. They hadn't started shooting and she pretty much gifted me that.
They were in the writers room and they found a way to not write me into the first few episodes. Isn't that crazy? I mean, such generosity from Jenji, because at the end of the day, she could've just said "No." But it worked out!
Elizabeth Rodriguez's appearance at a red carpet in the screening of her movie 'Logan' in February 2017.
Now as she has already worked with actor 'Hugh Jackman' and shared how the experience was. She expressed,
Hugh Jackman is—I mean, we don't have to talk about his talent, the guy's a triple threat and just blows you away! He's really committed and honest in everything he does. Just wonderful.
He's definitely an actor's actor. As a human being, he's warm so you don't feel intimidated. He's just a warm, loving guy. 
Is She Single Or Dating Anyone?
Like many celebrities Elizabeth Rodriguez wants her performances to make headlines, not her personal life. So, she has successfully guarded her personal life as nothing about her boyfriend could be detected yet. But the curiosity always remains alive about her dating life. She has not got married previously and is yet to have a husband. She is possibly single. But who knows the actress might be dating someone or could be married too?
Elizabeth hasn't revealed anything about her dating life, but she has shown her love for baking. She loves baking cookies for Christmas especially with her friends, and an Instagram post of Christmas 2016 shows it.
A Short Bio On  Elizabeth Rodriguez:
Elizabeth Rodriguez was born on December 27, 1980, in Manhattan, New York. She graduated from Lehman College. Elizabeth was introduced to acting early in her life and has studied acting with reputed Maggie Flanigan at the William Esper Studio.
She has done Television shows from her teens with an appearance in 'Fresh' (1994) and further went to do roles in 'The Shield,' 'All My Children,' 'Prime Suspect,' 'Orange is The New Black' and 'Power.'
Also, she has done roles in movies like 'Toi Papi,' 'Glass Chin,' 'The Drop,' and 'Logan.' Elizabeth has won awards for her performance in The 'Motherf*cker With the Hat' by Stephen Adly Guirgis in 2011. With all her hard work she must have accumulated a pretty big amount but has not revealed her net worth yet.