Entertainment
All You Need To Know About Tim Vine: His Dating History, Career, Gay Rumors And More
Very few people are blessed with the charismatic power to make people laugh and get them roll in tears. Comedians like Daniel Tosh, Aisling Bea, and Mark Lamarr are few of them who have marked success in the field of comedy and has made a massive amount of fans across the globe, for their outstanding performance.
Similarly, stand up comedian Tim Vane is no less in solely taking the limelight through his spellbound performance. Having received Edinburgh Festival Fringe Award through his outspoken quality, does this actor share his success with his better half or is he still searching to find a compatible partner?
We shall get hold of actor cum comedian Tim Vane and uncover few details about his personal life, dating history, net worth along with awards and achievements.
How did the Fringe award fall in the lap of Tim Vane?
Edinburgh Fringe festival which takes place every year in Scotland's capital city Edinburgh has turned out to be lucky and prosperous for Vane. In August 2010, Tim won his first Festival Award sponsored by Dave channel which got judged by eight comedy critics and was later shortlisted to 24 and then forwarded to public for the votes.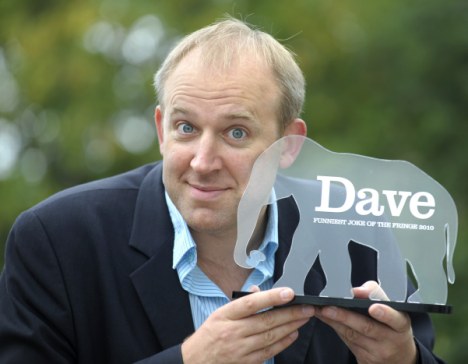 Caption: Tim Van bags his first Edinburg Fringe Awards sponsored by Dave Channel in Scotland on 23rd August 2010.
Photo Credit: dailymail.co.uk
Tim won the award for the best online comedy for the line which got posted on BBC.com on 23rd August 2010,
"I've just been on a once-in-a-lifetime holiday. I'll tell you what, never again."
The winning of the award does not end here, in the very next year on 25th August 2011 he grabbed the second position in the festival for the one line comedy competition as Nick Helm beats him.
After securing a second and third place in the year 2012 and 2013, he finally secured the first position in the year 2014 and received the Dave Awards twice.
He grabbed the prize for the funniest and most liked one line comedy which was voted by the public present in the festival. As posted by theguardian.com on 19th August 2014, 20% of the public vote made Vane win the competition after he extracted the comedy from his standup show Tim Timinee Tim Timinee Tim Tim to You.
"I've decided to sell my Hoover well; it was just collecting dust."
More than 2000, public voted in the competition which made Vane competitors Mark Watson, Scott Capurro, Felicity Ward and Leo Kearse grab the second, third and fourth position.
Caption: The video where Tim Vane wins Dave Awards in Edinburg, Scotland on 19th August 2014
It must have been an overwhelming experience for Tim to win Dave award twice. He has again positioned himself as one of the tuff competitors and has again proclaimed the title of "King of one line comedy." He has successfully marked a trace on the title by winning it twice and has gleefully made his competitor aware about his strength and power in the field of entertainment.
Sharing success with his wife or still searching for a perfect partner?
Having reached the age of 49 years, the man has never publicly revealed anything about his married life nor his dating series. However, in an interview posted by chillisauce.co.uk on 29th November 2010, Tim disclosed about being unmarried but gave a slight hint of dating and getting engaged to a woman for not more than three days. He said:
"No, I made that decision one day, and I got down on one knee, and I said, "Will you never marry me," and luckily for me they said "yes." No, I'm joking. I did once propose to someone, and it was a disaster, I was engaged for three days, and then I broke it off. Anyway, let's keep it light."
Tim has kept his personal life and professional life apart. Despite breaking the Guinness World Record in the year 2004 and achieving Dave Awards twice, it's strange to see the man walking in the single version without any women on his side. There was a slight doubt in the mind of every reader when they told the person is unique and unmarried.
However, the actor is not gay as has he has revealed about getting involved with women. Currently, an acknowledgment may be the star is secretly dating and is even is married but has not revealed it to the public, as he wants to keep his lady away from the annoying paparazzi. But as per the current status received from the source, he is unmarried, but no confirmation or news regarding his dating, girlfriend and affairs have been identified to date.
Is his success only confined to fame or has he accumulated wealth from it?
Besides achieving Dave Awards, Tim has also successfully broken the Guinness World Record on 7th October 2004 for 499 jokes which got him relayed in an hour, excelling the open record of 362. The record got maintained till 2014 till the Australian comedian, Taylor Godwin broke Vane record by delivering 550 jokes in an hour. Although the record got broken by the Aussie actor, he still had engraved his name in the World Record Book.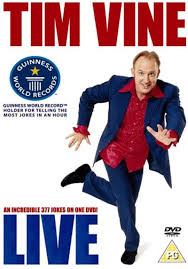 Caption: Tim Vane sets a World Record in the year 2004.
Photo credit: timvine.com
His success is not only limited to his fame but has also been converted into an asset.Tim Vane entered in the field of entertainment in the year 1997 as a television presenter in the two series of "Whittle, stand up" but he became a known personality after he adopted his profession as a comedian in the year 2006 for the series " Not Going Out." Since then he has accumulated the total net worth of $3 million by working in plenty of television series, theaters and as a stand-up comedian.