Entertainment
Is Samantha Fish Currently On Tour With Her Band? A Wiki-Like Bio Of The Guitar Head Prodigy
Blues is a genre that is loved and enjoyed by many, and the style of music makes people feel groovy. Those who listen to the very kind are bound to know American singer and songwriter Samantha Fish, who has been quite the name for her with her band "Samantha Fish Band."
Most of the people are in love with this incredible talent, but most of the people know very less about the musician. So today, we would like to educate you on the life of this singer and also enlighten you about the shows she has lined up for her fans.
A Wiki-Like Bio of Samantha Fish:
Samantha Fish was born on 30 January 1989 and grew up in Kansas City, Missouri. Samantha first started out playing drums and then later switched to playing guitars when she reached 15.
Fish frequently went to the Knuckleheads Saloon such that she could hear touring Blues artists. Such was the love of Fish for Blues and music in general.
After she turned 18, she frequently joined in with the band members who were performing at Knuckleheads Saloon. Fish cites blues icons like Stevie Ray Vaughan, Keith Urban, and Sheryl Crow as her primary influences.
Looking back towards an earlier template, regardless of the genre of music, proves the point that loving and appreciating what came before can be the stepping stone for what comes next in the future is something that Fish always related to.
She is someone who has got an enormous amount of talent, and the first instant of that was seen when she released and produced "Live Bait," a live album in 2009.
The album was received well by the audience and listeners, and four years later in 2013, she released her second album "Black Wind Howlin'," an album that featured Mike Zito on guitar, Johnny Sansome on harmonica, Yonrico Scott on drums, and Paul Thorn, vocal duet on one track.
Caption: 'Black Wind Howlin' - Samantha Fish Band Live Published on May 29, 2014.
Similarly, someone with this amount of talent was not to be content with releasing just two albums, and like we said, Samantha released her third studio album "Wild Heart" on July 10, 2015.
Caption: Samantha Fish - "Wild Heart" CD Sampler Published on Jun 30, 2015.
Moreover, if you are a fan of her amazing voice and music, you might know that her fourth album, which is a solo "Chills & Fever" on March 17, 2017.
The album was recorded in Detroit and was produced by Bobby Harlow with members of the band "The Detroit Cobras."
Caption: Samantha Fish: Chills and Fever
Published on Mar 3, 2017.
To promote the album and make it an even bigger hit, the singer has got some shows lined up, and you can catch her while she in on tour.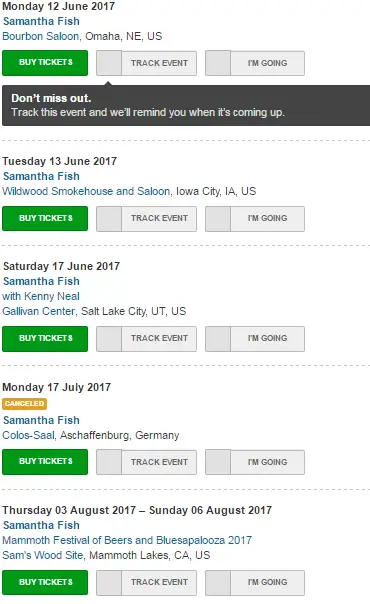 Caption: Some of Samantha Fish's upcoming tour events.
Photo Credit: songkick.com
Samantha Fish's Famous Guitar.
Samantha Fish's custom Delaney "Fish-o-caster" is a thin line T-style with a fish-shaped soundhole and Klein humbuckers. A self-proclaimed Tele girl, Samantha's custom Delaney has a swamp ash body with natural grain, a rosewood fretboard.
She replaced the original miniature humbucker and single-coil of her guitar with her current Klein humbuckers such that she could hear a fatter sound. She uses D'Addario.011–.049 strings.
Want to know more? Here is a video of her Rig Rundown.
Caption: Samantha Fish: Rig Rundown Published on Feb 11, 2013.
No wonder she makes such great music with her guitar!
Samantha Fish's Love Life.
As of now, Samantha Fish has not revealed if she has a boyfriend and if she is dating anyone and thus, the fans of her are still unaware of the romantic aspect of her life.
Let us hope that she comes forth and reveals her life regarding her romance in the days to come!