Entertainment
Did Sierra McClain Even Have Dating Affairs Or Boyfriend? All You Ever Wondered About In Her Wiki-Like Bio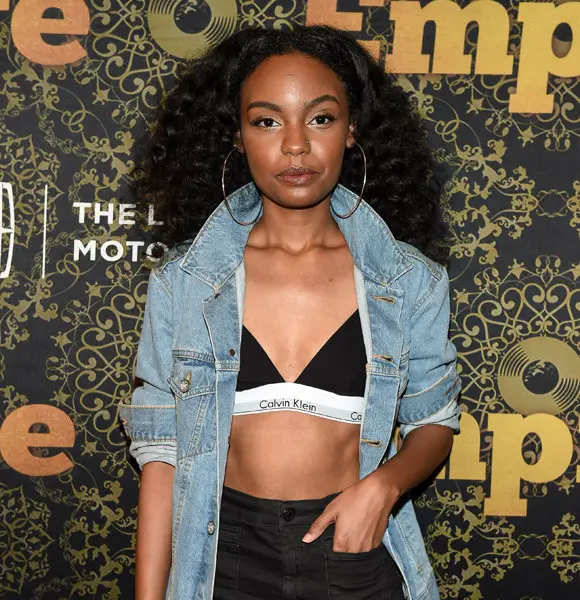 Some actors have immense talents, and when the audiences watch their performances, they are mesmerized and left in awe. Here we are talking about the talented actress, Sierra McClain, who has won many hearts with her performances.
But the million dollar question is about her personal life, which is, did she have a dating affairs or boyfriend? If you're wondering about the same, you've come to the right place.
Sierra McClain Dating Affairs Or Boyfriend?
The American musical drama series "Empire" fame actress Sierra McClain has created a place in the hearts of the audience. But does anyone reside in her heart?
Sierra McClain has maintained a tight guard over her love life, and nothing regarding her love life and boyfriend has emerged in the media. And also without any official acknowledgment of boyfriend, she remains single in the eye of the public.
Having said that, it's hard to believe that this young and beautiful lady is single, and the possibility of her romancing a boyfriend in secret cannot be omitted.  Who knows, she could be having a colorful dating affair with her boyfriend without public knowledge.
More About Her Band and The "Empire" Series:
Sierra McClain has a band called McClain with her sisters China Anne McClain and Lauryn McClain since 2004 and the band represent American pop and R&B girl group. They released their first single Go on November 2, 2012.
Caption: McClain Sisters' debut single Go. (Published on November 2, 2012)
 In an interview in December 2016, she shared about her girl band with her real life sister where she said,
Well we've been singing for forever because my parents started singing. So the girls and I were just like, 'you know what guys? Let's do this' and so we were young when we started singing together.

Then when China [Sierra's sister] ended up doing A.N.T Farm, we ended up doing professional music together and we did our first music video with them. Before that, we had just been recording in the studio with my dad, who is an amazing music producer.

Then we started singing with Disney and moved over into doing our own stuff and eventually started booking stuff individually, so it kind of pulled our group apart a little bit but we'll always be sisters and always be singing together. It's not done but it's just kind of put on hold for now.
She poured out her thoughts on being asked about her intention of launching her solo music career.
That's such a good question, it's so hard to tell with this stuff because it's so unpredictable but maybe. That's true, you never say never! And my sisters are amazing vocalists as well so shoot, if I did it hopefully they all do it and then at some point we'd come together to get back to our roots. That would be interesting!
Moreover, Sierra shared the picture with her sister, Lauryn Alisa McClain, where the sisters are looking stunning via Instagram on March 26, 2017.
Sierra is not only a talented singer but is an amazing actress as well. She has portrayed the character of singer Nessa in the series Empire and has risen high in fame. Sierra has also called the Emire cast as a family in her statement that said,
I know that's the cliché thing to say and it kind of sounds cheesy but I promise, everybody is like a family. When I stepped on set, from Day 1 Jussie [Smollet] spoiled me, absolutely. Everybody just kind of embraced me and embraced my character which is something you don't often see, honestly. My sisters and I have worked on a few sets and that's just not something that happens every day, so I feel blessed to be a part of the family at this point. Everybody is so amazing and to be able to work with people who've been doing this forever and then some of these kids just started but they have so much natural talent and drive. You can feel the energy from the veterans who are bringing their seasoned, 20-year careers to the table and then you feel the energy of these young people who are coming in new but hungry and talented. It's a great mix and one of the things I think makes it such a great show.
She replied if she relates to her onscreen character of Nessa or not by answering,
 I do, I relate in the fact that she is in love with music, as am I. Like there is no Plan B for me, this is it so I'm praying it works out, this is it for me! She's also somewhat reserved which I am as well, I do kind of have those qualities and I had to tap into them even more to play her because she's very to herself but you can tell she's strong, she's not just a pushover. She's quiet until it has to do with her craft, she kind of shines in that when she's on stage and when she's with Hakeem in the studio, those are some shining moments for her when she opens up and breaks out of her shell a little bit.
Sierra shares the pictures from the series Empire and urges her followers to watch the show as evident in her Instagram post on March 29, 2017.
Sierra is a rising star, with her fantastic performances for which she receives accolades and is climbing the success ladder in her career. While achieving the desired height in her career, we hope she finds her love soon and comes forwards to acknowledge him in public as well, as her ardent fans are eagerly waiting for the announcement.
Sierra McClain Wiki-Like Bio:
American actress and singer Sierra McClain was born on March 16, 1994, in Decatur, Georgia, United States. As parents, she has a music producer father Michael McClain and songwriter mother, Shontell. And she has two sisters China Anne McClain and Lauryn Alisa McClain.
Her film credit includes The Gospel, Daddy's Little Girls, Six Blocks Wide, Shrink and Untitled Lena Waithe Project:2016. Her television roles include Tyler Perry's House of Payne and Empire. The list of her songs includes Go; He Loves Me Silly Games, Daddy's Girl, Rise, The Great Divide and The Holiday Song.