Entertainment
Wandering for Sue Simmons' Wiki? Get To Learn Everything From Her Career To Her Possible Married Life In This Bio
Sue Simmons is a legendary anchorwoman and is a familiar name in the news world. Moreover, the end of her news anchoring career in WNBC in 2012, created a lot of noise.
Very few anchors like Sue Simmons are born in the news world, so it's obvious to have a curiosity about the exceptional Sue Simmons. This article aims to provide the information you are craving. So without further ado, let's get going!
Sue Simmons' Career Ends In WNBC:
Sue Simmons' more than three decades long career in WNBC ended back in June 2012. The management decided upon the non-renewal of the contract expiring in June 2012, as per the announcement by WNBC in March 2012.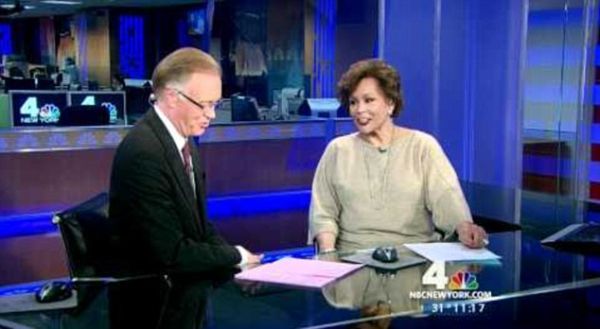 Caption: Anchor Sue Simmons with her coanchor Chuck Scarborough who worked for WNBC.
Photo Credit: Daily Mail
During an interview back in September 2012, Sue shared that she cried on during her final days on the station.
"But I was ready to go, you get yourself geared up. Mama always said, "Never stay too long at the party, so if you get an inkling you're not wanted…get on out of there."
As per Daily News, a source said that Sue's multi-million dollar contract played a significant role in the terminal of the contract. However, Sue denied and said she was paid $5 Million a year.
In a rare interview on February 2013, Sue Simmons gave some candid answers. So what did she say?
Speaking of the abrupt termination of the contact, Sue said,
"I already knew my contract was up and I got threatened with suspension, I didn't say a word until after I left."
Sue termed her termination as a nightmare.
"The last several months from March to June was pretty much a nightmare for me, because after you've worked with your teams and your friends for that long it's very difficult to come to terms with the fact that it's not going to be anymore."
Moreover, Sue added,
"How would you complain about 32 years at one job, in television, in New York City, and being part of the longest running anchor team in New York's history?"
Sue anchored the WNBC show along with her co-anchor Chuck Scarborough and even call him as her "TV husband," and their bond is intact. Moreover, she went on to reveal that they shared experiences with each other alike a married couple.
"I watched his kids grow up…Through his life I've been there for him and vice versa." 
Sue's co-anchor, Chuck Scarborough is the lead anchor since 1974. Speaking about his retirement, she shared,
"He will retire on his terms. I'm not sure the length of his contract now, but I think it's about three years, He's doing this now, he loves the job, but also he doesn't know what else to do"
Going down the memory lane, Sue shared the memories of young Sue, who was a scared reporter.
"Early on when I was still a very scared, young reporter, I had a news director tell me that the best thing you can do for yourself is be yourself, I thought that's a frightening thought because I'm a little out there. So I just did that, and you hope that more than 50 percent of the audience likes it."
Answering to the query about the type of work she will be choosing, Sue expressed that the work must excite her.
"I don't want to work just to be working because then I drone, I want to do something that I can be excited about."
Although Sue has left the show, she still lives in the heart of her fans, and she shared her feeling on being cherished for her work.
"It feels comforting; It feels warm. It makes me smile," Simmons admits. "It makes me know that if I'm in the house in a funk, all I have to do is go outside, and somebody will smile and say, 'Hey!'"
Sue Simmons' Wiki-Like Bio:
Former American news anchor Sue Simmons was born on May 27, 1943, in the New York City, New York, USA. She was brought up in Manhattan neighborhood in Greenwich Village. She attended Julia Richman High School and graduated in 1961. Instead of going to college she decided to work.
She began her career as action reporter at WTNH-TV and worked from 1974 to 1976. In 1980 she joined  WNBC and broadcasted "Live at Five" news till 2007. 
Further, she anchored "Weeknights at 11 p.m" with co-anchor Chuck Scarborough she aired her final episode on June 15, 2012. Her contract was not renewed, and following the termination, Shiba Russell replaced her.
As an actress, she appeared s a Newscaster in The First Wives Club, Light It Up and Shortcut to Happiness, 30 Rock, Law & Order: Special Victims Unit and  Elementary.
Talking about her personal life, she is not married to have a husband yet. And she does not have children calling her a mother either.
The news of sources claiming Sue Simmons' $5 Millions salary created a lot of buzzes so that one can imagine about her net worth.