Entertainment
Fashion Designer Trinny Woodall Rejoices Shopping with her Partner setting Aside Husband Related Legal Issues!
'Shopping' a remedy for all girls, to their various complications and treat for celebration. The incredibly talented designer, Trinny Woodall followed the same mantra after her victory over the legal issues which she has been facing since a long time.
Concurrently, her partner, British art collector, Charles Saatchi has also been spotted shopping in London. Trinny has been caught and clicked spending quality time with her boyfriend, Charles repeatedly. So, are they just the business partner, or partners in crime too? Let's find out.
Relished Shopping After Conquest Over Long-Run Court Case:
Soon after the death of Johnny Elichoff, Trinny was tied up by a court case filed by the creditors of her ex-husband. After losing all the money in oil investment, the former drummer who turned out to be the businessman was going through depression. Following depression, the businessman took his life from the car park roof of the Whiteley's shopping center in Bayswater, West London, in November 2014.
Mr. Elichaoff was bankrupt before his divorce; his creditors claim for money from Trinny. She faced the battle of around £300,000. That legal issue roamed around her over a year. After the case was closed which clearly said that any of the rights, that Johnny Elichaoff has held during his tenure did not pass after the death. After the ruling, Trinny shared her feeling,
It is the most overwhelming relief."
With the relieved emotion, she said,
'The judge has confirmed so clearly what we have been saying ever since this bogus and frightening claim was sprung on me over a year ago.'
This 52-years-old designer sounded so relax after the false claim was over. She celebrated her victory and enjoyed her weekend with shopping.
With perfectly tailored dress which gave a perfect shape to her slender body, made her presence. She was shopping in London, enjoying the weekend with her partner Charles Saatchi leaving behind her legal affliction.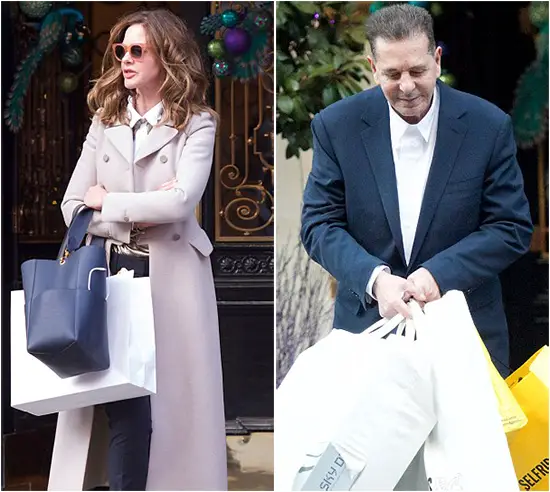 Caption: Trinny celebrated her win with her spouse, art collector Charles (2016). 
Photo Credit: Liverampup.com
The "What Not to Wear" host is dating the art collector since September 2013. They got repeatedly clicked in the same restaurant having dinner choosing the same corner seats. Their relation is going great till now. It's already been three years that they have been dating.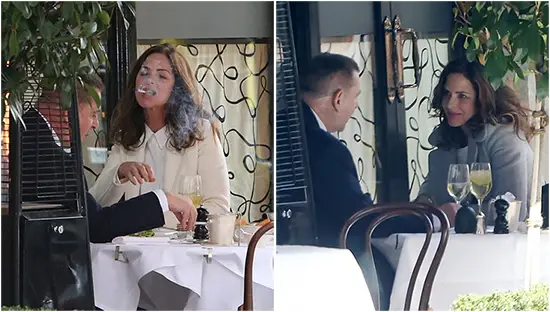 Caption: Same place and same corner seat, enjoying each other company (2016).
Photo Credit: Liverampup.com
Charles was previously married to English Chef Nigella Lawson on 2003. After ten years of their marriage life, they got divorced on 2013.
Now the biggest nightmare of her life is over and can enjoy a blissful life with her boyfriend Charles.
Married Life With Mr. Elichoff:
Talking about the marital status of Trinny, she was married to Johnny Elichoff on 1999 Their wedding function took place in London Knightsbridge.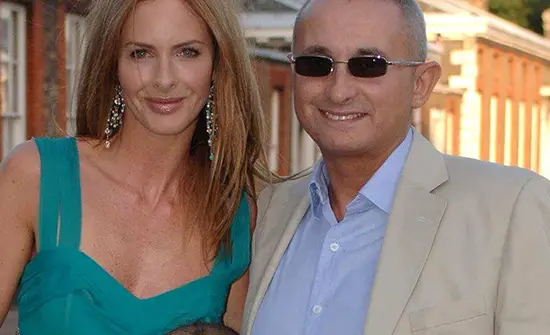 Caption: Trinny with her former husband, Mr. Elichoff. 
Photo Credit: mirrior.co.uk
Before conception, she faced a couple of miscarriages for which she said;
"It is stressful having IVF. I'm a hormonal cow for a month, but luckily my husband is very patient."
Then she got the chance to feel the very blissful emotion that a woman could ever wish. She got pregnant on 2004.
During pregnancy period, she mentioned,
"Some husbands are very funny about their wives when they're pregnant and go off them sexually, but my husband never puts me down. I'll say, I hate my thick legs, and he'll say, 'Trinny you can cover them- and your t*** look fab.' He always makes me feel great."
She gave birth to her daughter, Lyla in October 2003. She has been keeping her daughter away from the spotlight but never leaves a chance to share the photos with her beautiful girl. We can always see the cute post of the designer, spending a good time with her daughter.
The Elichoff family were going great together. After all those sweet chemistry, there was a turning point in the household when their divorced was filed. Without any particular statement for divorce, the couple split on 2008 under an agreement which stated that Mr. Elichoff should pay £24,000 as a maintenance and £1.4m which she has lent to her husband of ten years of marriage.
In 2014, another new story was out, when Mr. Elichoff took his life. It must be the depression which drove him to do so. Due to a massive loss in the oil investment, Mr. Elichoff was not able to resist the trouble any longer which perhaps was the main reason for him to take his life.
Puffed lips, have had plastic surgery?
This fashion expert has her clear views in style. She has got a very slender body frame and an oval shaped face. If we give a close look to her lips in her picture which was clicked on 2011 in London, we can find it more puffed. For that thing mainly, people thought she must have done plastic surgery for her lips.
When Trinny was questioned about surgery, she answered,  
" I'm definitely having surgery. The key is to make it subtle. I hate the Hollywood look where people look like dolls."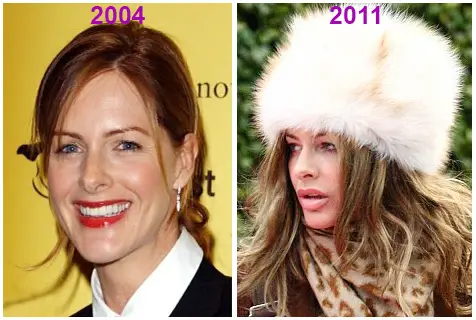 Caption: Slim lip earlier and puffed one later. 
Photo Credit: Liverampup.com???????
In 2006,  she accepted that she has been having the botox for years to maintain her beauty. On that regard she stated,
"I've had Botox for seven years and I'm happy I've done it." 
 But denied that she had collagen injection, and on that note she said;
"People said I'd had my lips done but I haven't. I've had these all my life – and I love them."
It doesn't matter whether she has done it or not, all that matter is that we are enjoying to watch this expert's suggestion for fashion and sense of style.