Entertainment
Did Vanessa Marano Start Dating Against Her Rules? Has An Actor Boyfriend?
Different people comes with various preferences, that is how the world is functioning, or else it would have been difficult to fulfill the similar demands. Likely, is in the case of love preferences, Well, it all depends on an individual's choice, whom to date and whom not to.
While the Fans drool over actors and actresses and fancy them to the possible extent, it might not be the same case in the actor's context; they don't necessarily fancy people from the same profession.
Venessa Marano, the 'Switched at the Birth' Star, shares the same choice; as dating a Co-Star is against her rules. Will she ever break that rule or has she already done it? Let's find that out!
Vanessa Against Boyfriend Or Dating From Same Profession?
Vanessa Marano is usually surrounded by charming men coming in and out of the show, but she is adamant about not dating a co-actor since it isn't an option for her. She goes by her mother's word: No dating actors!
Vanessa told the HollywoodLife in their podcast:
"That's a rule that I set up for myself! It's the worst. Two things my mother said to me that just grilled into me: don't do drugs and never date an actor or an athlete.
Furthermore, she added:
"Most actors are crazy, When you're in the same profession as somebody, what do you talk about? You experience the same thing, always. They can get weirdly competitive."
So those are the reasons why she has rules on not dating a Co-actor. Oddly enough, the same rules apply with Vanessa's sister Laura Marano too.
However, Vanessa's Character; 'Bay' in 'switched at the birth' dated boyfriend - Emmett (Sean Berdy) and they have had highs and lows in their relationship on-screen, but the actress has never been reported dating her co-star in real life.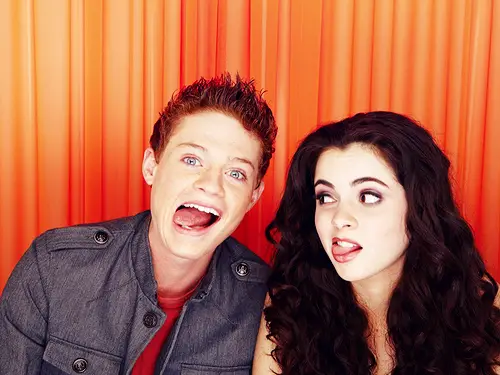 Vanessa with her on-screen Boyfriend, Sean Bardy(Photo: Fanpop.com)
There aren't any rumors of her even having a boyfriend from a different profession, which puts her in the single category.
Laura's reveals a secret about her sister, Vanessa:
Television and movie starrer Vanessa Marano; is blessed with a little sister Laura Marano, who is also an actress by profession. Both the ladies share an unyielding bond and love each other massively. They both even follow the same rule of not dating a co-actor.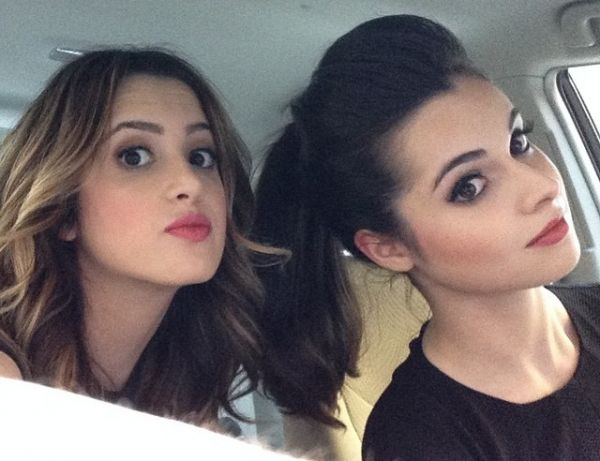 Marano Sisters; Laura and Vanessa (Photo: twistmagazine.com)
However, while talking to Twist magazine, Laura gushed about, why Vanessa isn't too active on the social networking Apps, Laura Said:
"She doesn't love the photo-sharing apps: as it turns out, Vanessa is kind of terrible at taking selfies. Not that Vanessa ever looks bad in a photo or anything - she's beyond flawless - but she's a total beginner when it comes to getting her angles right and centring multiple people in the frame."
Laura Marona even shared some pictures providing evidence of her sister's photo fails: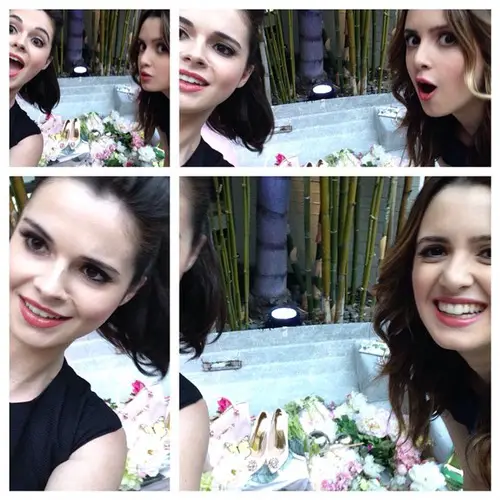 Vanessa's photo fails, compilation(Photo: twistmagazine.com)
Vanessa Marano started acting when she was just 5-years-old, and it has been 19 years since then, she is still showcasing her talent in many movies and television series like The Secret Lives of Dorks, Grey's Anatomy, Silicon Valley and much more. She has also provided an additional voice for Finding Nemo.
Her work progress does resonate her sound career. Having had earned a hefty amount of money through her work, Vanessa hasn't revealed her net worth till date.
Since Vanessa seems adamant about not breaking her rules, let's hope she finds love outside the acting industry, soon.