Entertainment
For A Week Robin Leach Swapped His Longtime Wife But Is Rumored As Gay Despite Having Children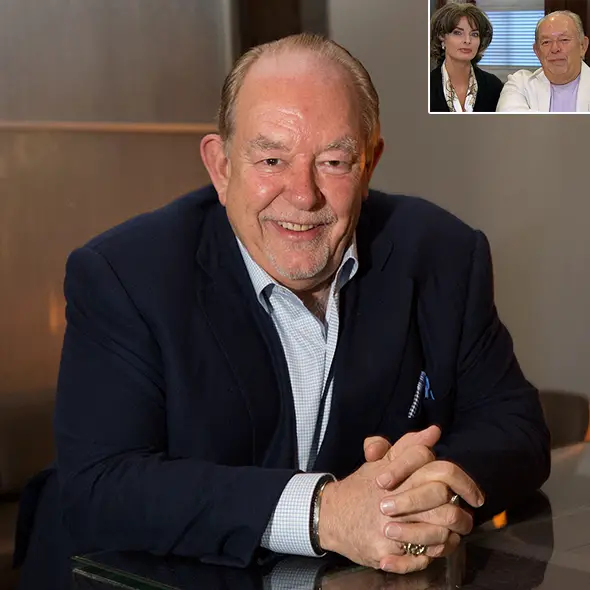 Mark Twain quotes, "A lie can travel halfway around the world while the truth is putting on its shoes." Rumors are like that. They spread faster than wildfire causing them to get deeply impregnated in mind leaving almost no room for the truth. As a celebrity, television personality Robin Leach also could not keep himself far away from getting mixed in some rumors. 
The rumor that he had to face was the allegation of being a gay. But is he really a gay? And what actually started this rumor in the first place? Here is an attempt to find answers to these queries.
Robin Leach On Celebrity Wife Swap:
"Celebrity Wife Swap"  which is a reality based television program that airs on ABC Network is a show where two families with different social class and lifestyle swap wives/mothers – and sometimes husbands – for two weeks. 
The very famous host of "Lifestyles of the Rich and Famous" Robin Leach also took part in this program where he swapped his long-time partner, Joan Severance with Oscar-winning actor Eric Robert's wife, Eliza Roberts.
Robin's lifestyle in Las Vegas is glamorous filled with expensive cars, fancy dinners and fine wines and champagnes. He and his partner Joan always have the routine to spend the evening out on "The Strip"; whereas in Los Angeles, Eric Roberts and his wife Eliza share a quiet and tranquil life with a squirrel sanctuary in the backyard.
After the swap, Eliza feels out of the place as she doesn't drink alcohol and doesn't share Robin's interest in elegant dinners and late nights. Similarly, in Eric's house, Joan has to absorb the new environment like feeding the squirrels. She also understands that Eliza runs a busy household along with looking after Eric's work.
Here is a video which shows their unique experience from this program.
Caption: Robin Leach in the program " Celebrity Wife Swap."   
Personal Life, The Gay Rumour, And More:
Robin Leach an English entertainment reporter and writer, who has reached the age of seventy-five; is married only once. However, he couldn't remain in married relationship status as his marriage ended in divorce and further information of his ex-wife never came to limelight as she has kept her profile low key. 
This was of course before his relationship with Joan Severance. With Joan, he has been sharing his life since long, but it can't be mistaken that she is his wife as officially they haven't taken any marriage vows.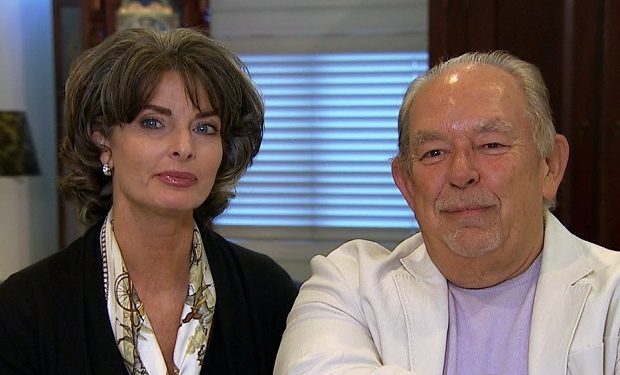 Caption: Robin Leach and Joan Severance share their lives together.
Photo Credit: 2paragraphs.com
He is a well-off person, and when it comes to children, he no less lacks in this department too. He has three sons and four grandchildren. His sons are Steven, Rick, and Greg; and grandchildren are twins Jack and Meg, Brandon and Gianna. When asked about remarrying, he quotes,
"Been there, done that."
It is said that there is no fire without a spark. So the rumor of him being a gay must not have come from nowhere as what made some people speculate about his sexuality is not out in open. So this suspicion without any valid proof makes it just another rumor; after all, he already has three children from his wife.
Everyone has to die someday, and with his age, he is also fast approaching to death. Still, he says that he doesn't want to take a break from what he is doing to spend his late years in retirement. He says;
"Working keeps me young. I'm still going strong, and the body lets me know that it doesn't like doing what I used to do years ago. There's no point in retiring because there's no fun in retiring. I won't hang up the "Gone Fishing" sign."
Leach's show "Lifestyles of the Rich and Famous" did a very good business that notably rose him to fame. With this increased fame, his financial condition also uplifted. 
Besides, he also wrote for some publications like The New York Daily News, The People, The Ladies Home Journal, etc. He was successful throughout his career that has contributed him to have the net worth of $15 million.