Entertainment
A Wiki-Like Bio Of Amber Serrano; Married Life With Husband In Jeopardy?
Wanting fame and being the center of attraction might just be the thing for celebrities and the people associated with them. However, some people decide just to sit behind the curtain and enjoy their life.
For example, we can look at Nate Parker's married life with Sarah DiSanto, who keeps herself away from the limelight despite having quite the famous husband. Today, we talk about similar celebrity, Amber Serrano, the wife to a famous husband. Today, we ought to know as much as possible about this lovely lady and provide you with a complete wiki-like bio.
Married Life With Husband!
Amber is married to singer husband, Ralph Tresvant. The couple married in the year 2004 turning their dating affair into a married one. The couple allegedly started their dating affair while Ralph was still married to his then wife and childhood sweetheart Shelly Tresvant.
Ralph got a divorce from Shelly, and the reason is guessed to be his extramarital affair with Amber. However, the couple found love and are happy now. While talking about their married life, let's give you an insight on how Amber met her husband in the first place.
It so happens that their first meet was a fan and a celebrity type, and that so an embarrassing one. In an interview, the couple revealed that Amber fell from a long stairway during their first meet. Bet Ralph just couldn't avoid a hot fan like Amber. Fast forward; the couple started dating for years and years until finally getting married in a double wedding ceremony on September 18, 2004, accompanied by Ralph's N.E group member Nelly Bell and his wife, Amy Correa.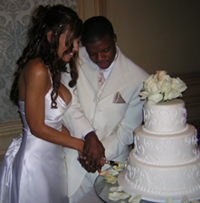 Caption: Amber Serrano getting married to husband Ralph Tresvant in 2004.
Source: liverampup.com
The couple has one son together, Dakari Tresvant, however, Ralph has four children from his previous relationship and is also a granddad. Ever thought such a sexy looking lady be a mom to a teenage son?
Divorce Rumors?
The couple has been together for over a decade now, and quite recently, rumors of their married life going sideways came forth. The rumor ignited after Amber posted a picture on Valentine's Day without a ring and without even mentioning husband Ralph.
However, this just seems to be a misunderstanding because Amber recently posted a video where Amber and other family were celebrating Ralph's birthday.
With this, we can safely assume that the couple has a content married life at the moment. Moreover, her ethnicity is unknown as the art designer is not vocal about herself. And that leads to a hidden net worth as well. However, as her husband has the net worth of $8 million, so that is likely the figure Amber shares with her husband.
A Wiki-Like Bio of Amber Tresvant!
Born on May 29, 1976, Amber Serrano is a 40 years old women with no professional acting career whatsoever. Amber, is a Visual Art Designer in her company called Divine Inner Visions. Wondering how she is a famous personality among Hollywood? It is because she has quite the famous husband.
Stay with us for the emerging updates on Amber Tresvant!