Entertainment
A Wiki-Like Bio Of Sports Anchor Neil Everett; Balancing Married With Life Despite Having A Booming Career?
Sometimes, having a booming career in the broadcasting industry makes it difficult to have a romantic union and married life. But you never know when love stumbles into your life, transforming it in the most unexpected way.
Sharing a similar transformation is sportscaster Neil Everett, who is a married man with a wife. So when did he marry? And who is the lucky girl? Let's find out along with his wiki like bio.
Neil Everett is A Married Man!
West Coast's sportscaster, Neil Everett exchanged wedding vows with her longtime girlfriend Stephanie Krohn in Oregon on July 18, 2013. They had a beach wedding and got married in an intimate wedding ceremony, followed by the reception held at an art gallery.
Neil and Stephanie met in the year 2008 at a fundraiser program at the Tiger Woods Center where Neil was hosting the program, and Stephanie worked there.
But it was not the first time they crossed paths. The couple attended the school at the University of Oregon together, without knowing they were bound to be the life partners.
Neil prefers privacy in his personal life and least information about his love life with the wife has not surfaced in the media. And it remains unknown if he is a father to his children as well.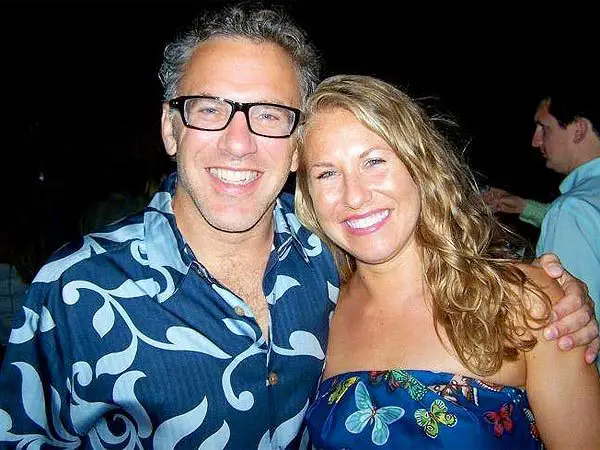 Caption: Sportscaster Neil Everett with his beautiful wife, Stephanie Krohn.
Photo Credit: People
In an interview back in May 2015, Neil shared that he is blessed to have a career as a sportscaster and poured out his thoughts as,
"I can't believe that this is my life, I'm in awe that I'm doing what I'm doing. I've been very, very blessed."
Neil joined ESPN in 2000, and today, he is a part of those personalities whom he used to admire from far. He shared his first day of ESPN as,
"When I walked into ESPN that first day and saw all those people, I couldn't believe it, if I walk in there tomorrow, back in Bristol, and I see all those people, it's hard to believe that I'm one of those people."
Neil even shared that his grandfather, Neil Moffitt Sr. played football on 1920 Ducks team and his allegiance to the programs started at that moment,
"When I was here, going to the football game was secondary to going to the football tailgate," 
Moreover, he shared his reason for moving to Hawaii.
"In '82, I went to Hawaii for the first time, and wondered why everybody didn't live there, So in '85, I moved there."
Neil revealed something regarding Civil War of 1984, which would surprise his fans.
"I've never been to a Civil War since just because I was so proud of the fact that that was the last one I went to,"
Neil Everett's Wiki-Like Bio:                       
Born in 1962, 55 years old, Neil Everett was born in Portland, Oregon he was raised in Spokane, Washington. He attended Lewis and Clark High School and graduated in 1980.
In the year 1983, he lost his mother, Jackie- a high school teacher when she was 45 years old. He studied at Willamette University in Salem and transferred to the University of Oregon in Eugene, from where he graduated with a degree in Journalism in the year 1984.
Neil started his broadcasting career in Florence, Oregon Coast and worked at KCST-FM. Leaving the career in media, he moved to Hawaii and spent 15 years as an athletic administrator at Hawaii Pacific University.
While working as an athletic administrator, he was hired as a news writer by ABC and then was assigned the editor and eventually returned to broadcasting with the post of a sports anchor. Further, he served at Hawaii stations KHNL and KGMB.
Neil auditioned for ESPN in April 1999 but faced failure, but in 2000 he was called for another audition and was hired for the job as an anchor for ESPNews. In 2009, he anchored late-night Los Angeles edition of SportsCenter which aired on April 6, 2009.
Neil has a quirky broadcasting style which separates him from his contemporaries. With his hard work, passion, and dedication towards his craft, Neil has earned an annual salary of $700 thousand and has accumulated a net worth of $ 4 Million.