Entertainment
ABC's Liz Cho Elegant Garden Wedding: Meet Her Journalist Husband, Josh Elliott, Also Married Life and Divorce History
If July is a time of love and weddings are the greatest sign of love than the wedding of Liz and Josh has to be a great example to prove the point. Learn in details, everything about the couple's wedding. Also, find out how the couple faced some minor setbacks before the wedding. Find everything you are looking for here and much more.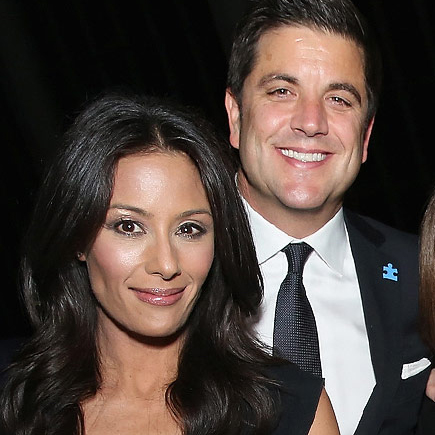 If July is a time of love and weddings are the greatest sign of love than the wedding of Liz and Josh has to be a great example to prove the point. Know everything about the couple's wedding. Also, find out how the couple faced some minor setbacks before the wedding and much more.
An Intimate Garden Wedding Of Liz And Josh: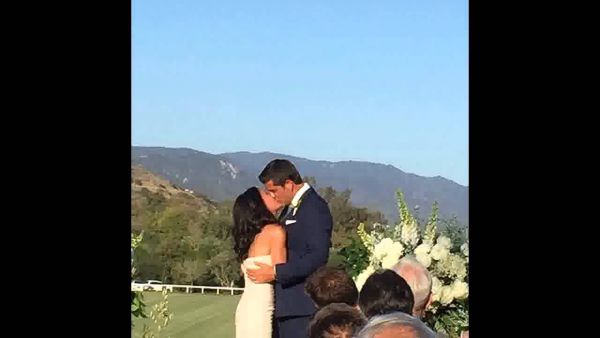 Caption: Liz Cho and Josh Elliott seal the deal with a kiss.
Source: gstatic.com
July is the time of love, don't you agree? Many people may even consider this time as the month of marriage. Traditionally, June-July is the stereotypical phase for weddings. Speaking of July weddings, the Journalist couple; Liz Cho and Josh Elliott are married. The couple, after not even a year of engagement, tied the knot on July 11, 2015, at Montecito, California.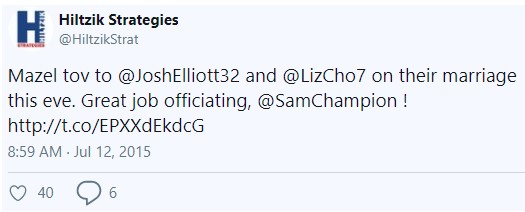 The wedding was a simple Garden wedding attended by only close family and friends of around 70 guests. Besides the strong family presence, the husband and wife were joined by only a few professional friends in the attendance like Bill Reeter, Lee Goldberg, Tory Johnson and Jamie Nguyen that were colleagues of Cho whereas Elliott was joined by Rick McHugh. Elliott's colleague Sam Champion, anchor at The Weather Channel, which is NBC-owned – officiated the ceremony; Matt Ginella, the travel reporter at The Golf Channel (also owned by NBC), served as best man. The couple's young daughters (Cho is a mother to Louisa 8 and Elliott is a father to Sarina 6) were the maid of honors.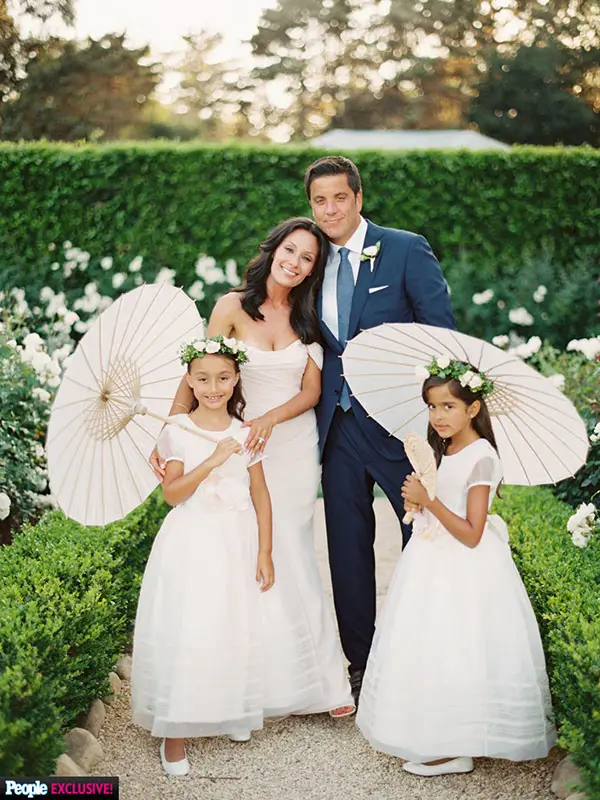 Caption: The newlywed couple with their daughters or maid of honors.
Source: timeinc.net
Their Engagement:
Their marriage was the matter of surprise considering that they hadn't even set up a time and place for their engagement. The got engaged on September 29, 2014, according to an anonymous source which has also shared that Josh popped the question "at the spur of the moment" during their romantic getaway in a European vacation. They seem to be keeping their engagement discreet only revealing it to close friends and family, but their good friend Sam Champion could hardly maintain the news to himself. So, he wrote on Twitter and opened up about it.

Joy Over Sorrow:
"It was wonderfully romantic," says Cho. "Josh's vows were the best words I have ever heard." 
The marriage was a decision of the couple to chose 'Joy over Tragedy' following the recent death of the groom's mother. Just three weeks ahead of their July 11 nuptials, Elliott received the worst news of his life: his mother Toni had suddenly died after going into septic shock.
"It was a massive, brutal moment. My immediate reaction was, 'How am I going to make it to [tomorrow]?" the NBC Sports anchor tells PEOPLE in this week's issue. The marriage was the last thing on his mind.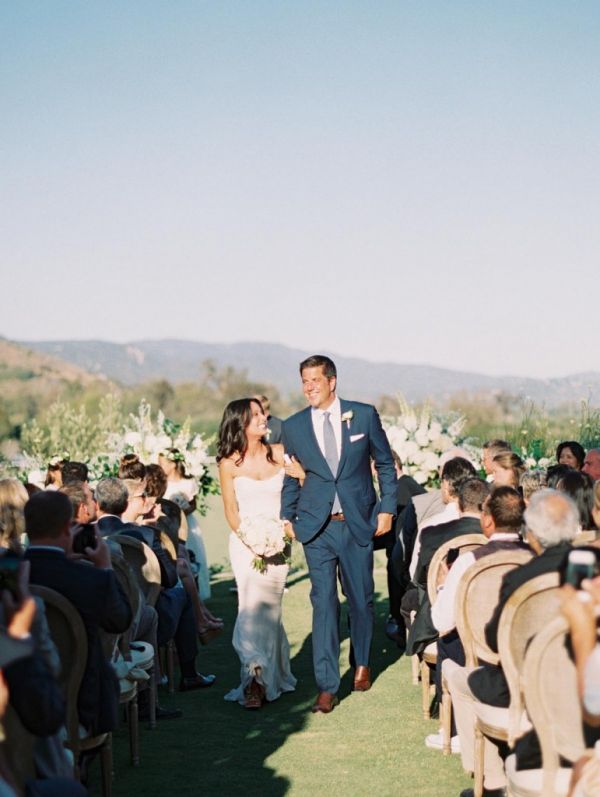 Caption: Liz Cho and Josh Elliott walking down the aisle after the ceremony's completion.
Source: casarei.net
Love Prevails!
But thanks to Cho he had the support he needed. "Josh and I have been through a lot," says Cho "I was just trying to be there and be that sweet, soothing and peaceful presence in his life, just allowing for that morning to happen."
 But like people say "All is well that ends well," the couple had a simple but joyous wedding that was followed by enormous congratulations and well-wishes. All that everyone was keen on doing was give their blessings to the newlyweds on the start of their new lives for a long married life that will not end up in a divorce.

Josh Elliot having a harsh time finding a place to settle into
Unlike his wife, Liz, Josh Elliot has been riddled with stability issues after his recent exit from CBS which marks his 3rd leave from a major News outlet in the span of 3 years. Josh initially found himself working at ESPN as part of the Sportscenter crew before moving to ABC's Good Morning America in 2011. While he found significant success there, he left the network following unsuccessful negotiations with his executives regarding his pay.
After this, he moved to NBC Sports in 2014 and received a Three-year contract with a $4 Million annual salary but was laid off early after management was unsatisfied with his performance.
Following his failure at NBC, he joined CBS News but was fired after blunder on-air. CBS hired Elliot to be the lead anchor for its streaming service CBSN. On February 10, 2017, Elliot announced his departure on-air but was reported stating "knowing how things work around here, I may see you again on Monday morning". The executives of CBS were reported to be cut off guard with this announcement and had no plans for his promotion. 
Reportedly, Elliot was planned to have been moved to a correspondent role to provide him more reporting experience but was yet to plan this move or its announcement. Following this mistake, Elliot was let go from his role at CBS and for now, remains as Jobless.
An insider was quoted talking about Elliot's career saying,
"He torched the relationship with Disney; no shot ESPN brings him in; he torched the relationship with NBC and now torched the relationship with CBS. So where does he go? Home. For a while."
It is evident that Elliot's future, as a journalist especially is very shaky right now and he has yet to plant his feet firmly but knowing that he has his wife's and family's support, can calm down his heart substantially. There are assumptions that he will be taken in by Fox Sports as Jamie Horowitz(director of Fox Sports 1 and Fox Sports 2) sees potential in Elliott after working with him on NBC's Today.
Let's hope he finds some place he can improve his career at in the near future but for now, he remains lost and without a job. On the bright side though, he has a lot more time for his wife and kids.
Liz Cho gets arrested for driving with a suspended license
Elliot isn't the only one who faced issues in recent time as Liz Cho somewhat of an inconvenience after she was arrested on February 2016 for driving with a suspended license. Apparently, a police officer noticed her a 2016 BMW while using a cell phone and decided to conduct a check on her. After finding out that her license was expired due a previous insurance lapse, the officer decided to arrest her, but didn't cuff her as she was reportedly 'Cool, calm and unrattled by the situation.' 
A spokesperson reported about the circumstance and was quoted saying,
'While fully cooperating, she was informed that her license was flagged as being suspended due to an apparent previous lapse in her insurance that occurred several years [ago], even though her insurance is currently valid, Liz takes this matter very seriously and is looking into the source of the issue, and appreciates the professionalism of the officers who were simply doing their jobs.'
She was later released without bail and got back on air instantly after the incident but it is obvious that she takes this incident seriously as any situation where a parent risks getting into trouble with the Law not only risks the integrity of their lives but also their children's.