Entertainment
Actor Fred Armisen Accompanies His Girlfriend Natasha At Emmy Awards 2016! View Full Report
American actor, Fred Armisen who is in relation with the star of 'Orange Is The New Blank'; Natasha Lyonne walked out the red carpet of  Emmy Award 2016. The love bird entered with the stroke. It was adorable to see the arrival of the two.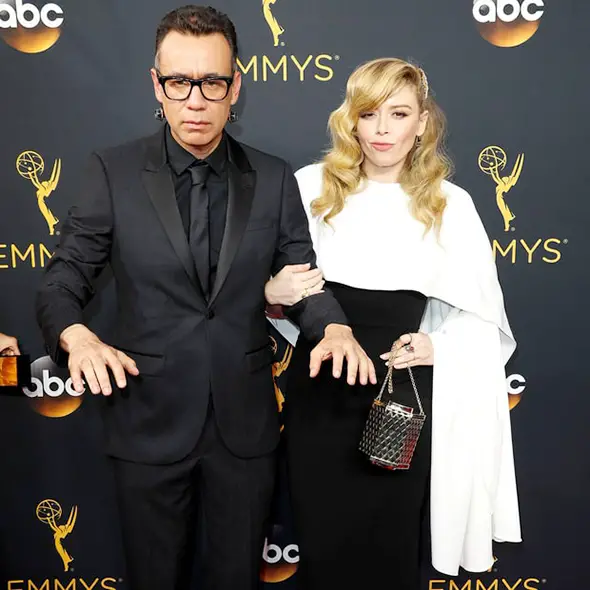 American actor, Fred Armisen who is in relation with the star of 'Orange Is The New Blank'; Natasha Lyonne walked out the red carpet of  Emmy Award 2016. The love bird entered with the stroke. It was adorable to see the arrival of the two.
There has been on and off in the relations in Armisen's life. For now, It's already been a couple of years Armisen have been dating with Lyonne. So, what will be their relationship status shortly?
Arrival with a BANG!
Emmy award 2016, on Microsoft Theater on September 18, 2016, made the stars pumped up. All were looking gorgeous. Our eyes stopped on, a cute couple Armisen and Lyonne. Wow, Natasha with that Sally pointed Gown and Armisen with the Topman suit were looking great together.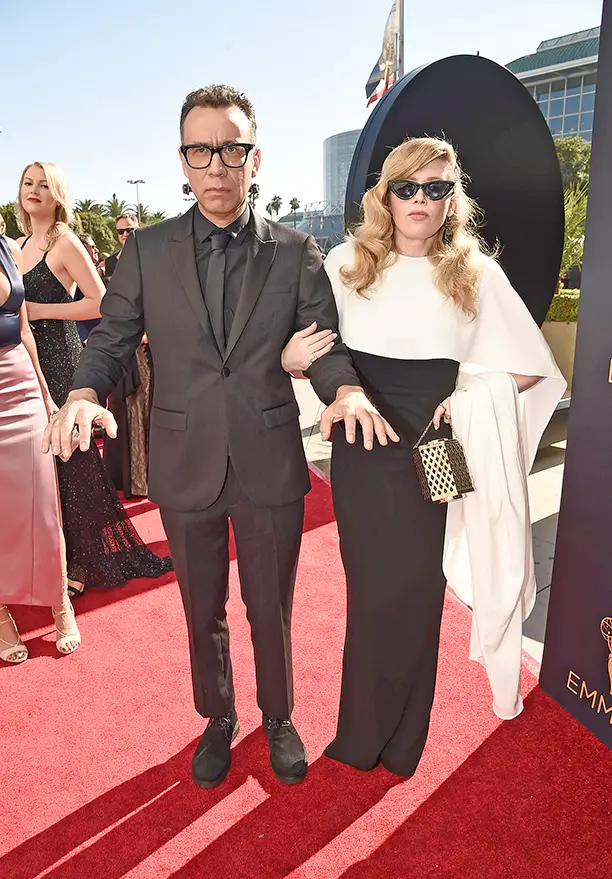 Caption: Comedian Armisen with his girlfriend Natasha Lyonne's arrival in Emmy Award (2016).
Photo Credit: entertainmentweekly.com
They, as a couple, are loved by people. Talking about their look at Emmy, they got praised by many. We can see lots of tweets regarding their look in Emmy Award. 
Not only that, while making their appearance on Emmy Award 2015, they recollected all the love of viewers. Natasha with that black fringe dress and was looking stunning and Fred was a complete entertainment with his prop on his hand.
Armisen and Lyonne are dating since 2014. Their official relation was known by everyone, on Emmy Award show 2014. At pre-Emmy bash, a source told New York Post;
"Fred and Natasha were together all night at Lorne's party."
Source Further added;
"People were surprised but they appear to be couple."
The couple is maintaining healthy relation over a couple of years. May, Natasha will not just be on the Armisen's dating list as the couple looks perfect together.
A glimpse of Fred's past:
'Late Night with Seth Meyers' bandleader, Armisen got married to English singer and songwriter Sally Timms on 1998. The couple didn't reveal the specific reason and divorced on 2004. After the failure of first marriage, the alternative country singer is possibly single till this date.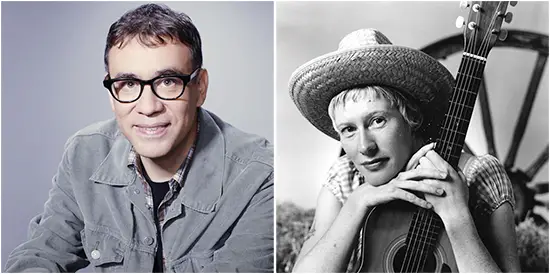 Caption: Fred Armisen and Sally Timms (1998-2004)
After four years of divorce, the SNL's host dated Golden Globe Award winner Elisabeth Moss for over a year. They tied the knot on 2009 after facing complications in their marriage life; they divorced on 2010.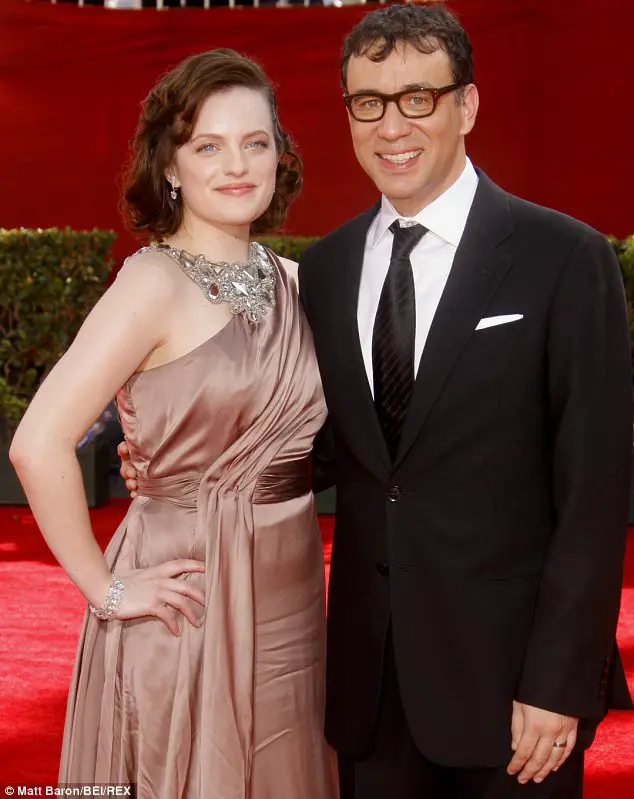 Caption: Fred Armisen with his then-wife Elisabeth Moss.(2014)
Photo Credit: dailymail.co.uk
After divorce with her husband, she is found dating with Adam Arkapaw. One year after divorce 'Mad Men' actress, opened about ups and downs of her marriage life. The New York Post's cover story on March 2012, took an interview with Moss in which she admitted;
"One of the greatest things I heard someone say about him is, He's so great at doing impersonations. But the greatest impersonation he does is that of a normal person. To me, that sums it up."
She again in her statement to New York Magazine on March 10, 2014, further added the issues that lead her married life to fall apart, where she said;
"Looking back, I feel like I was really young, and at the time I didn't think that I was that young,"
She added,
"It was extremely traumatic and awful and horrible. At the same time, it turned out for the best. I'm glad that I'm not there. I'm glad that it didn't happen when I was 50. I'm glad I didn't have kids. And I got that out of the way. Hopefully. Like, that's probably not going to happen again."
That break up of her gave her an eye-opening experience for rest of her life. She added,
"I always knew that the stuff that you read is not true, but when I was in the situation and you really, actually read things that you apparently said or did that are 100 percent made up … It's just the strange, simple thing of, that's your heart they're talking about, and it just … it sucks,"
She said,
"I'm not perfect in that way,"
She admitted,
"I enjoy a little gossip. I like looking at photos of celebrities going to Starbucks."
Armisen shared his feeling on Howard Stern Sirius XM radio show on 2013, on Moss's comment. He answered Stern, where he said;
" I think I was a terrible husband and I am a terrible boyfriend."
He also confessed about his failure marriage, he said;
 "I want to be married; I want to live together … and then somewhere around a year or two years, I got freaked out. I freak out emotionally and then I feel like 'Oh my God, who's this stranger in my house."
He also admitted;
 " I feel bad for everyone I've gone out with."
Soon after his divorce with Moss, he dated his SNL co-star Abby Elliot on 2010. As Armisen mentioned in the statement above, his rushing nature might be the reason for the end of his relation with Elliot on 2011. 
Elliot got engaged to Billy Kennedy on 2015, but their relationship didn't end on marrying. After a couple of Failure in relation, Elliot is speculated single.
Caption: Fred dated his hot SNL's co-star Abby Elliot. (2011)
Photo Credit:themortonreport.com
At the point in his career, people do speculate him to be a gay as he had done an intimate video with his fellow co-actor Andy Samberg.
Caption: Hot kiss scene between gay Andy Samberg and Fred Armisen posted on November 14, 2016.
With his long list of girlfriends and no, any official statement by his ex-girlfriends and ex-wives give a full stop to the gay rumor. 
Armisen's work resulted in impressive net worth:
Band leader and Drummer of the 8G band, Armisen started his career in the film industry on 1998, 'Fred Armisen's Guide to Music and South to Southwest' was featured by his then-wife, Sally Timms. Mixed ethnicity (Venezuelan mother and Japanese father) actor appeared in the films 'Eurotrip', 'Anchorman,' 'Cop Out,' 'Kiss me Again' and much more. He also appeared on small screen on 1997.
He has his imprints on the series like: 'Late Friday,' ' Late Night with Zach.' He got his big break after he appeared on comedy show 'Saturday Night Live' on 2002. He is a house band leader of the 8G band on 2014. He got nominated on 2012 and 2013 writing Emmy Awards for his work as co-creator and co-star of 'Portlandia.' 
His new project for 2017 is 'Big Mouth.' His all work as actor, writer, voice, musician, singer, voice artist and comedian make a very impressive net worth of $8 million.