Entertainment
Multitalented Actor Tristan Wilds Talks About Dating and Girlfriend Expectations!
Multitalented Actor Tristan Wilds Talks About Dating and Girlfriend Expectations! Multitalented actor Tristan Wilds talk about the expectations which he expects from his girlfriend and vice versa. So today we shall learn about the hope which the  Wild has from his better half along with his family background and net worth.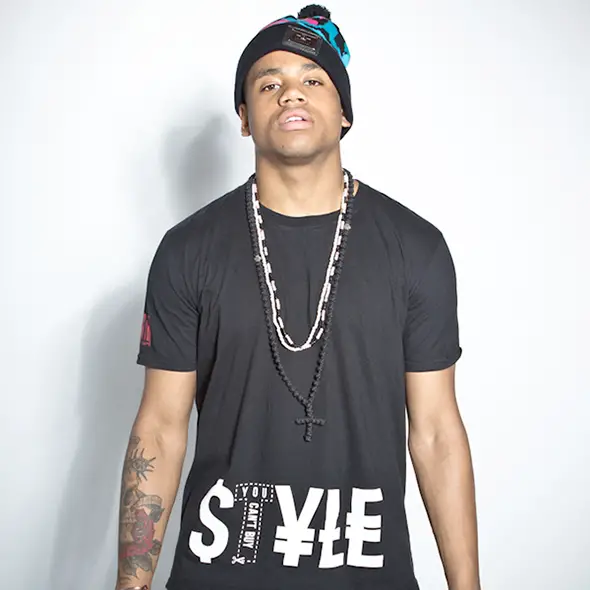 When you want to get involved with any man or woman, you have to take care of your expectations as well as of the other person expectations.Similar is the scenario of multitalented actor Tristan Wilds talk about the expectations from his girlfriend and vice versa.
So today we shall learn about the hope which the  Wild has from his better half along with his family background and net worth.
Tangled in love: What expectations does he have?
In the year 2013, Tristan Wilds got linked with the American singer, Sevyn Streeter. Wilds has not revealed any information about his dating events with the singer, but the news was confirmed when Sevyn in an interview on the show," Inside the Angie Martinez Show" revealed about them.The host of the show asked her frequently working with Wilds, and she said about finding him, to be overly cute and getting attracted to him even after the making of the music video. She also discloses about getting married to the man some years later.
Caption: Sevyn Streeter acknowledges Wild to be attractive and cute in an interview posted on 6th December 2013
Sevyn and Wilds have worked in numerous music videos, but in a recent show, Sevyn was seen performing with Wilds giving a close lap dance to him before the massive crowd.
Caption: Sevyn is performing with Wilds in the song "Sex on Ceiling" on 25th March 2014, as posted on Youtube
However, while on interview posted by Hip Hollywood on Youtube on 2nd July 2014, when asked to Wilds about the relationship between Sevyn and him, he disclosed about being best buddies since they know each other for quite a long time. Wilds states Sevyn to be a great artist and reveals their relationship as an unfortunate friend. Well, the statement released by both of them seems to be in a contradiction!
 Caption: Wild confronts Sevyn to be his good friend on an interview posted on Youtube on 2nd July 2014.
Though Wilds has given a contradicting statement, Sevyn has accepted the fact about their relationship. Maybe Wilds wanted to keep his relationship hidden therefore he refrained about the existing relationship pondering between them. 
However, the beautiful relationship only lasted for a year, and in the year 2014, the news of the break up flashed in media. Although the actual reason for the break-up was not revealed, later, Sevyn spoke about the primary cause leading downfall in the relationship. On an interview with " The Breakfast Club," posted by Mediatakeout on April 4, 2015, Sevyn told about the controlling nature of Wilds.
While on the other hand, Wilds has not spoken anything regarding the breakup nor has given a clarification for the allegations made by his former girlfriend.Well, Sevyn is reported to be possibly single now.
Currently, Wilds is also said to be single. But in an interview posted by Essence.com on 4th May 2016, Wilds spoke about the high expectations a man may have with their woman. He said,
"I think one of the biggest things about love that a lot of people don't realize is the balance," he said. "You can't be a man if you expect your woman to be a man. It's a balance. You're putting too much on one side of the scale. People should look at love a lot more like a balanced system, especially now that there are so many strong-minded, amazing women that can go out here and hustle."
Followingly, while going through his Instagram account, we came through a post which got published on 15th July 2016 on the occasion of Wilds' birthday. A picture of a mysterious lady named Tamara Lindsay was spotted with Wilds where she has openly confronted and expressed her love to him.
Well, maybe due to his past dating experience, he is sharing his expectation or may be the singer has shared his desire due to the mysterious woman with whom he might be currently involved. However, as no further details are shared by the singer related with the woman, we are admittedly baffled and eager to know about her identity and what exact relationship does she hold with Wilds.
Mixed Ethnicity: Know about his family background
Tristan Wilds was born on 15th July 1989 in New York City to an Irish mother Monique Moncion and an African American father, Paul Wilds. Although Wild has not mentioned anything about his brother but in an interview posted by Complex.com on 18th November 2013, he revealed about having a cousin brother Miller. Followingly he also spoke about growing together with his brother in Staten Island and said,
"Growing up, there was a little clique in Staten Island that my brother was a part of, it was called Trey Pound Juveniles or Guns Up. I had my little team, and we called ourselves Rare Breed and Company. When my brother's clique grew up, they all turned into Bloods and spread out, and then I guess it was our time. So we all became Trey Pound Juveniles, and that was the color of our bandana."
Besides the details about growing in Staten Island, Wilds has not revealed much information about his brother, family nor siblings. But he has openly confessed Salaam Remi, his music producer to be his big brother.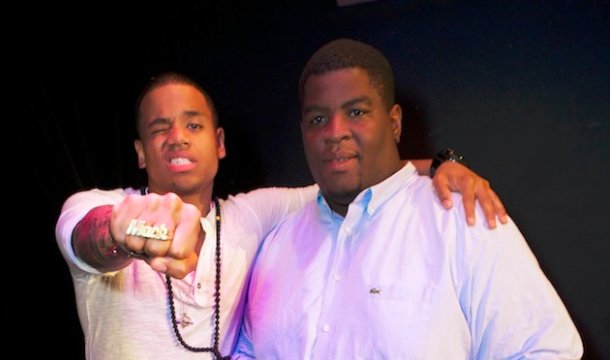 Caption: Wilds(left) together with his music producer cum brother Salaam Remi
Picture credit:singersroom.com
The singer disclosed about Salaam and how Salaam had helped and stood like a rock for him. He mentioned,
"Amazing. I think the best thing about it was that it wasn't even just a work relationship. Salaam is like my big brother. I've known since I was 18. He would bring me to the studio and let me hear some stuff. I would let him hear the things I was working on and he would critique it. As I started to grow as an artist, he finally got to a point where he was like, Come down to Miami, let's see what you can actually do. We went out there for a week and we knocked out like seven records in seven days and four of those records made the album
How much net worth does he acquire?
Wilds initiated his acting career from the television series Miracle Boy in the year 2005. After the movie debut, he had consistently worked in plenty of television series like The Wire( 2006-2008),90210(2008-2013) and Shots Fired(2016). He had also given a hand on his music career since the year 2008 which invited him to initiate his independent label Ten2one in the year 2010. Since then he had signed a contract with Sony Music in the year 2012 and with Roc Nation in the year 2015.
His enormous effort allowed him to accumulate a total net worth of $4 million. He might have even endorsed a few of the brands and might have even invested in a few estates which he has not revealed. At the age of 27, he has earned enough of fame and wealth where ordinary people would be doing their MBA or working in a blue-collar job. He has a long way to go, so there will be added amount in his net worth in the upcoming years.