Entertainment
Beautiful Actress Alanna Masterson Celebrates Her Daughter's Birthday With Her Longtime Boyfriend!
Giving birth is one of the most difficult yet the most beautiful thing a woman can do. And what's more, surprising is how fast the children grow up right before your eyes.It was just last year, we heard the news that actress Alanna Masterson of the Walking Dead gave birth to her first daughter with her longtime boyfriend Brick Stowell. And now, after a year, her little princess Marlowe is all grown up and ready to celebrate one year of coming into the world.
Alanna, along with her boyfriend Brick and her mother Carole, including two of her famous siblings, Jordan and Danny Masterson all joined the first birthday party of baby Marlowe.
Alanna Masterson : Married or Dating, Boyfriend or Lesbian?
Everyone who watches the Walking Dead knows Alanna Masterson as Tara Chambler. She plays a lesbian in the famous TV series and is one of the first gay characters on the show. She started her acting career in early 2000 when she had a guest appearance in Malcolm in the Middle. Since then, she has guest appeared in a handful of television series including Greek, Grey's Anatomy and Men at Work. She currently stars in the AMC's hit television series, the Walking Dead.
 Alanna's personal life is rather interesting. She was born on June 27, 1988, in Long Island, New York, to mother Carole Masterson and father, the former Australian Rugby League Player, Joe Reaiche.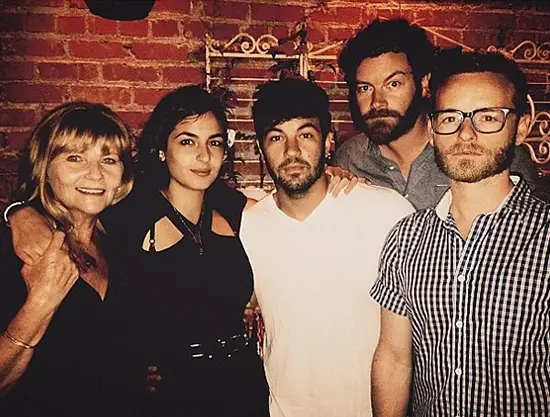 Caption: Alanna Masterson with her mother and siblings posing for a picture
Photo Credit: dailymail.co.uk
Alanna grew up watching her full and half-brothers star in few of television's most appreciated shows. Her eldest brother, Jordan Masterson stars in the comedy series Last Man Standing alongside Tim Allen, and her half-brothers, Danny Masterson and Christopher Masterson starred in That's 70's show and Malcolm in the Middle respectively.
All of the siblings took their mother's last name over their father's as their father was forced to be estranged with all his kids and wife as he quit the church of Scientology and was declared a 'suppressive person'. And in the absence of her husband, Carole Masterson looked after all her children, who grew up to be famous all by themselves.