Entertainment
Beautiful Actress Beth Riesgraf: Was She Married to Her Partner? Divorce or Split-Up? Husband?
When you're a famous actress, then it's hard to keep your love life private. Media will track you, and you're every step to know who exactly are you dating. So forget about enjoying a special holiday or time with your significant other.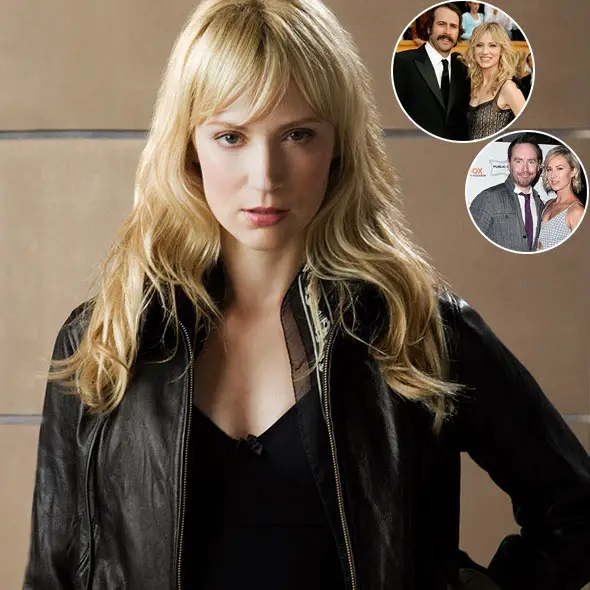 When you're a famous actress, then it's hard to keep your love life private. Media will track you, and you're every step to know who exactly are you dating. So forget about enjoying a special holiday or time with your significant other.
But when you manage your career and love life, you become this balanced person. Beth Riesgraf has a very balanced life. She hasn't been rumored with anyone other than two men in her life i.e. her ex-husband and current boyfriend. She hasn't been in the spotlight for having an affair. Though some may believe her love life isn't so clear, let me shed light on that  
Beth Riesgraf's Love Life (Married Life, Husband, and Divorce History)?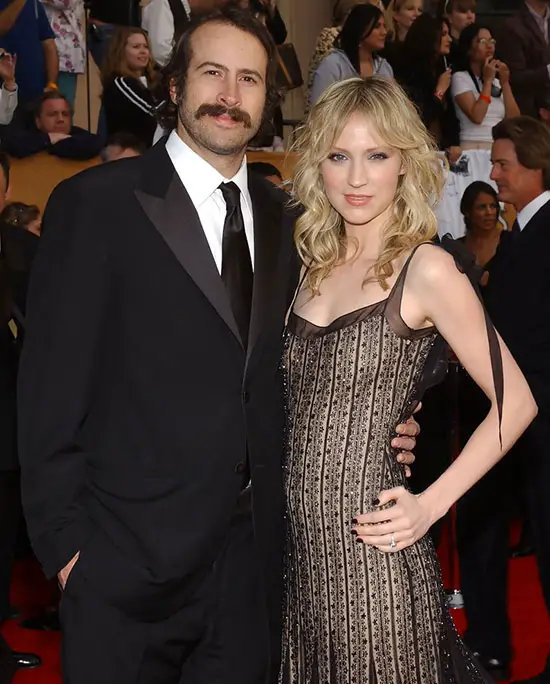 Caption: Beth Riesgraf with ex-husband Jason Lee at the 13th Annual Screen Actors Guild Awards in 2007.
Source: zimbio.com
Beth Riesgraf was in a relationship with ex-husband Jason Lee from November 2001 to September 2007. Beth Riesgraf was pregnant with her first child with then-husband Jason Lee. She gave birth to son Pilot Inspektor Riesgraf-Lee on 28th September 2003 when she 25 years old. After seven years of togetherness, the couple called quits to their relationship and divorced in September of 2007. 
People believe that she is single now and that she is probably waiting for someone who can be a good husband to her and a good father to her son.
I hate to be the bearer of bad news, but this American hottie is taken and currently in a relationship.
Beth Riesgraf With Alan Smyth (Boyfriend/Partner and Dating):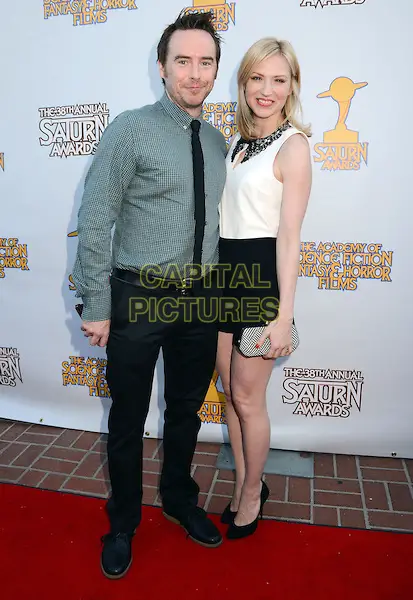 Caption: Beth Riesgraf with boyfriend Alan Smyth at the 38th Annual Saturn Awards held at The Castaway Event Center in Burbank, California, the USA on 26th July 2012.
Source: photoshelter.com
She is now in a relationship with Irish actor Alan Smyth. The couple has been together since 2009. They met on the set of Leverage, an American drama series where Alan played the villain. When talking about his girlfriend Beth, Alan said, "I live with my girlfriend of five years, Beth Riesgraf - she is an actress - and her 11-year-old son. Usually, on school days, Beth does most of the work getting her boy off to school, and then we let the dogs out."
When talking about how they met Alan said,
"She worked on a show called Leverage, and I played the villain on it - a loan shark from Belfast. For the most part, I play bad guys here. We didn't actually work together, but I met her on the first day, and we got along really well. Later on, we met up, and we started to step out."
Caption: Beth Riesgraf with son Pilot
When Beth and Jason were married, Beth took the liberty to name their son Pilot. When asked what the reason is behind naming his son Pilot, Jason said the name for his son came after a song he heard in an indie rock band Grandaddy. Their album The Sophtware Slump contained the song responsible for Beth's son name.
Jason said, "The opening track, 'He's simple, he's dumb, he's the Pilot,' absolutely blew my mind when I first heard it. It was from this track that my wife, Beth came up with the name Pilot for our son."
Now that is one unique name that goes to the list of unique celebrity children names. And it also looks like the name Pilot holds an excellent meaning. And when the child grows up nobody's going to ask the meaning of his name. 
Beth Riesgraf, Glamorous from a young age:
Beth Riesgraf has always been a charismatic individual from a young age. The winner of her highschool's Most Admired Senior award got into acting and modeling at a young age, and she delved deeper into her history and how she became an actress saying,
My sisters were going to college and traveling, and (seeing their example) I really wanted to get out of Vegas. When I went to L.A., I started modeling, hoping to travel and learn from photographers. It led to auditions to do commercials. I worked really hard at it -- I don't mean it to sound like, oh, it just happened. I felt like this is what I was supposed to be doing. One thing led to another. You test, and you get pilots (for shows) and they don't get picked up, or whatever. And then "Leverage" happened, and we've been going now for almost six years.
She has been involved in multiple hit TV including Complications, Criminal Minds, and My Name is Earl. Coincidentally, the main lead of the hit TV show My name is Earl was her ex-husband Jason Lee, and it was through that show that most of the Television world came to respect Jason Lee.
The actress has not only her hard work and outgoing nature but an enthusiastic nature and the courage to try out new things. But besides that, she also has a healthy person's demeanor, and she loves eating a lot of healthy food, which she even shared with the rest of the world.
Beth Riesgraf's Short Bio:
Beth Jean Riesgraf was born on 24th August 1978 in Minnesota. She graduated from Cimarron- Memorial High School in Las Vegas, Nevada in 1996. Riesgraf is an American actress best known for her role in the American tv series Leverage as Parker, a thief. She currently holds $1.5 million net worth.