Entertainment
Beautiful Actress Emilie de Ravin Engaged to her Director Boyfriend! When do they Plan to Getting Married?
Somebody is set to ring the wedding bells anytime soon. Well, it's none other that, Emilie de Ravin. That's right, she is now engaged and is fiancé to her director boyfriend/fiancé. So, as she is going to be married to a director, her wedding must be a movie-like one; don't you think? Well, if you don't know, that is what we are here to find out about.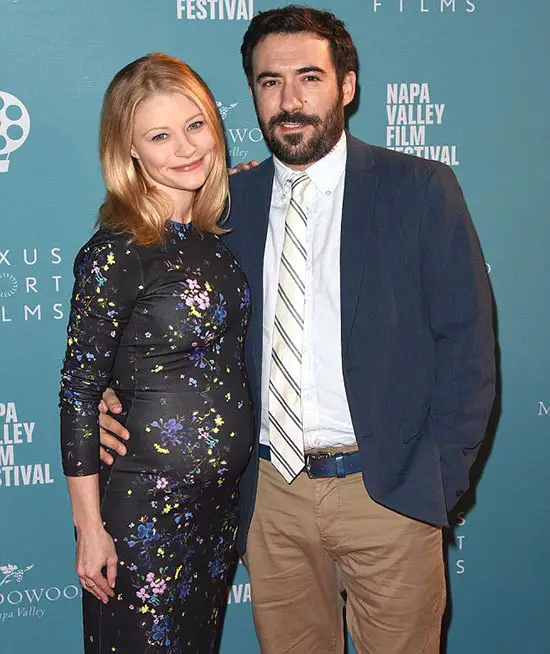 Caption: Emilie de Ravin with boyfriend/fiance Eric Bilitch at the 2015 Napa Valley Film Festival.
Source: dailymail.co.uk
Emilie de Ravin, 34, and her director boyfriend Eric Bilitch got engaged on July 6 of 2016. Emilie just took a day to share her moment with the whole world through her Instagram where she posted a picture of the big shiny piece of rock o her ring finger saying she was so excited; probably for her marriage.
Caption: Emilie was showing off her engagement ring.
However, before the couple got engaged, they welcomed a baby girl on March 12, 2016. Emilie first broke the news of her being pregnant to her followers via Twitter on October 3, 2015, saying that it was a dream come true and she and her boyfriend were very excited about it.
I wanted to share some exciting news...me & @ericbilitch are expecting a baby!! 'Tis truly a dream come true and we could not be happier??????????

— Emilie de Ravin (@emiliederavin) October 3, 2015
Just a minute later her director boyfriend Eric Bilitch Tweeted that the couple were indeed over the moon with joy and were excited to start a family.
About just five months later, the couple welcomed their first daughter and just after days on March 14, she took the news to her Twitter and informed everyone that they had a girl, and her name was Vena Audrey de Ravin-Bilitch.
Welcome to the big wide world!
Vera Audrey de Ravin-Bilitch born March 12th 2016. Couldn't be happier! So in love with our little girl!????????????

— Emilie de Ravin (@emiliederavin) March 14, 2016
However, even after delivering a baby girl, she appeared at the Comic-Con looking stunning, and we could barely see any weight loss in her body. Even now, she has maintained her body like a model would.
Right now, the little lady is about eight months old and looks gorgeous. Emilie might be happy now with a fairy tale like family, but it was not always the same for her. Emilie was previously married to Joshua Janowicz on June 26, 2006, which was an official public wedding ceremony but the couple were originally married on June 19, 2003.
The couple decided to get divorced in 2009, but the divorce came to a halt. However, in 2014, the couple divorced after Joshua Janowicz filed for divorce citing irreconcilable differences. The couple had no children together.
Apparently, the couple has not disclosed any information regarding their wedding plans, however, according to their tweets, they are pretty excited about it, and we hope they might tie the knot soon enough.