Entertainment
Who is Actress Evan Rachel Wood Dating After Divorce With Her Actor Husband?
When she walks the red carpet at any award event, she looks like an airy fairy who have just landed on earth sweeping every gazing eyes towards her movement. Her grace, her elegant appearance and her heart melting smile make her a superstar and a dream girl for every man.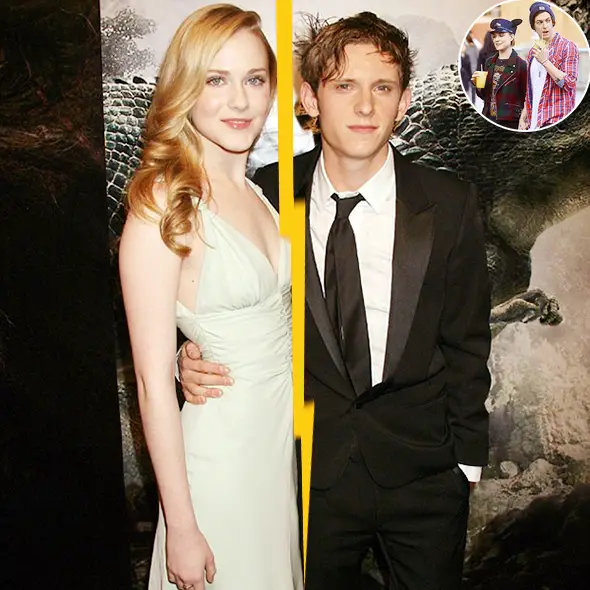 When she walks the red carpet at any award event, she looks like an airy fairy who have just landed on earth sweeping every gazing eyes towards her movement. Her grace, her elegant appearance and her heart melting smile make her a superstar and a dream girl for every man. Well, all those long introductions were for the glamours actress Evan Rachel Wood, who no doubt look a down to earth fairy.
Despite being the heartthrob for millions of man, the question arises how did she fail to make her man fall in love her. So today we shall learn about the divorce issue of the lady along with her current dating scenario.
Divorce Secrets: What made the lady opt for separation?
Evan Rachel and Jamie Bell is said to have met while working together for the music video of "Green Day."  Wood and her man first met their eyes on the set of Green Day while shooting for the song "When September Ends" in the year 2006.
During the period of romance, the pair was head over heels in love with each other making them go for piercing their name's initial tattoo as a symbol of love for each other.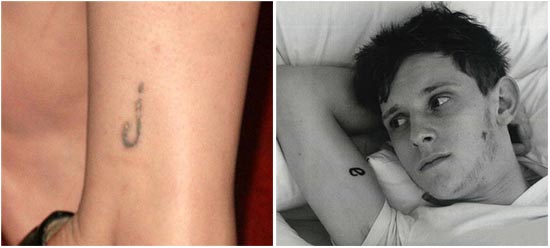 Caption: Tattoo of Evan on the left and Jamie on the right.
However, in the year 2006, the duo broke their one-year relationship. When talking about the breakup and the tattoo Woods said:
"We had matching tattoos because we knew our love would last forever. Trouble is, it didn't, things happened, we split. But I don't regret the tattoo. It reminds me of a great, great period in my life."
Well despite having a breakage in their love life they came back together in the year 2011, exactly after five years of break up. After getting back together in the year 2012, the lady got engaged with Jamie Bell. Wood was spotted leaving The Hotel Cafe with Bell in Hollywood sparkling a solitary.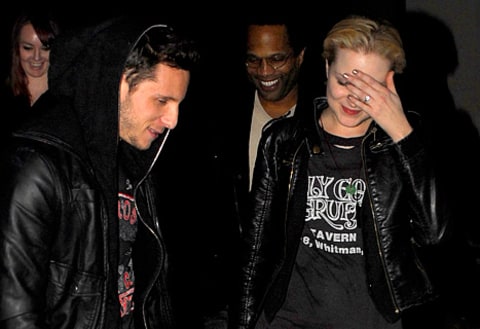 Caption: Evan Woods flaunting her engagement ring with Jamie Bell.(2010)
Picture credit: usmagazine.com
Evan Rachel Wood got married to Jamie Bell, on 30th October 2012 as in a small ceremony; the actress tied a knot with Jamie Bell in the presence of few family members and guest.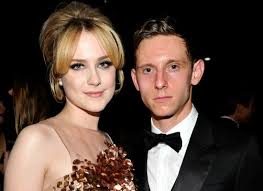 Caption: Evan Rachel Woods with Jaime Bell wedding.(2011)
Picture credit: people.com
Despite facing constant ups and down in the relationship the duo had finally settled their relationship but immediately after two years of marriage Woods filed a divorce with her husband. 
Yes in the year 2014, the pair separated from their two years of constant fluctuating marriage.
As reported by People.com on 23rd September 2016, the duo married for two years before calling for a split. As disclosed by the representatives they said:
"Evan Rachel Wood and Jamie Bell have decided to separate,They both love and respect one another and will of course remain committed to co-parenting their son. This is a mutual decision and the two remain close friends."
However, the lady herself has not revealed the exact reason for divorce with the man nor has the man spoken about it. After the divorce with Evan, Jaime is currently dating Kate Mara, an American actress.
Has she entered the phase of motherhood?
Well, the two years of marriage with Jamie  Bell although turned out to be a nightmare but it gave her the glorious moment of becoming a mother.
As posted by Latimes.com on 30th July 2013, the lady announced her pregnancy through her Twitter account in the month of January. Similarly, she poured her positive motherly behavior through her Twitter post on 21st July 2013, stating the paparazzi to stay away from her child and to appreciate her privacy.
On 29th July she gave birth to a beautiful baby boy. However, the lady has not revealed any information about her boy neither has shared the birth details of the child.But she posted her happiness on her Twitter account as on 29th July 2013:
The actress has profoundly kept her son away from the limelight and all the paparazzi of media. However, she was seen posting the picture of her and her son enjoying her tender moment. On 30th November 2015, she shared her happiness with her fan following showing a glimpse of her son to her followers through her Twitter post.
Even though she has faced plenty of ups and down in her love life but the beautiful part is that she has her son with whom she can share some peaceful moment and live a stress-free life with whom she can share her love and happiness.
Dating sequence: Can you count it on your fingers?
Well, while going through her dating series we came across plenty of men whom she has dated after getting involved with Jamie Bell in the year 2006 and after separation in the year 2012.
In the year 2006, Wood was seen dating Marilyn Manson, an actor. Wood and Mason were friends but met when the man invited Wood to his horror movie Phantasmagoria: The Visions of Lewis Carroll.
The series of meeting continued when Rachel posed for the watercolor paint. Although the duo did not confirm about their relationship in any of the social sites, they were often spotted together at various events.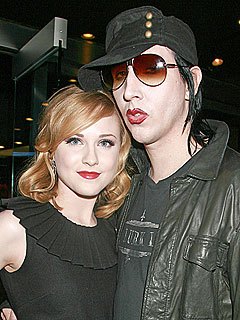 Caption: Woods with Marilyn Manson spotted together on August 19, 2010.
Picture credit: people.com 
However, they broke in the year 2008, after dating each other for a year. The news of their break-up sparked in the media while the key reason for break up has denoted as a wrong link up with Shane West, with a punk rock musician. However, the lady tried to cover the breakup thing by releasing a statement of their requirement of space and gap in the relationship. As posted on People.com on 7th November 2008, She said:
"Manson and I both decided to take some time apart so we could concentrate on work. Someone used that opportunity to kick us while we were down and sell a completely false story"
The actress, when asked more about the break-up scenario and the cause replied abruptly. She said:
"If any more attacks are made on us, it is the act of a desperate, selfish person, who is angry to no longer be a part of my life. No further comment will be made and we request our privacy at this time.".
Well, that was a real stern answer from Wood. Although they broke in the year 2008, they again got back together. Even though the exact details of their togetherness after a break up is kept under the wrap while Manson confirmed their news about their togetherness. As said on People.com on 7th January 2010 he said:
"Me being me at my best is what I need to be.That really paid off because I'm back with Evan."
While Evan related Manson to be the most amazing person she has in her life and claimed her relationship to be the most healthy relationship. She said:
"Lovely, really human and just amazing. It may surprise you just how healthy and loving our relationship is."
 The rumors of them getting engaged came in the light in the year 2010 when there was the news of them getting along once again. But no confirmation was made regarding the engagement. 
 However, the said engagement is said to have broken up along with the relationship in the same year 2010. The close source also disclosed the final break up between the duo where Manson was enjoying his dinner with his friends at L.A's STK and was clubbing with the next group mates Twiggy, the guitarist and Shannon, former Playmate of the Year Colleen The source said:
"They just broke off their engagement, and he needed a night out with friends"
Neither the lady nor the man has revealed anything about the downfall of their relationship. While Marlie Manson is reported to be single, Evan is seen involved with plenty of famous Hollywood stars like Alexandra Skarsgard, an actor and was spotted with the musician Andy Tongren and has no boyfriend currently.
Despite getting married, confused about sexual taste?
Although the lady has a kid and has dated plenty of men throughout the years, she confessed regarding her bisexual orientation. As posted by justjare.com on  18th September 2015, the actress admitted about battling with her sexual preference as she was unable to identify about her taste.
She has also confessed about dating plenty of women in the past and was also caught in the rumor of being in a relationship with Katherine Moennig in the year 2014, an American actress.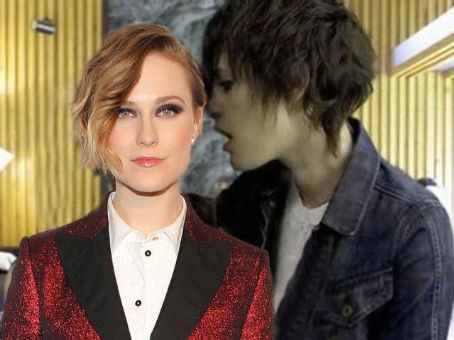 Caption: Evan Woods with  Katherine Moennig.
Source: whosdatedwho.com
She has posted plenty of tweets on her Twitter account proclaiming her bisexuality and the stress she was facing on 17th September 2015
However, no confirmation regarding the dating has been obtained till date, while the Lady Katherine is reported to be currently single.
Moreover, the character played by Rachel in the television series of Pretty Persuasion with her co- actor Jane Krakowski has made every random people drop their jaw. Though it's just the character, she is portraying as Lesbain her previous remarks as being bi-sexual has raised more suspicion. The questions about her sexual orientation have suddenly boomed enormously.
Well, the lady has either plainly identified her sexual orientation or she is still in a dilemma? As she is continuously seen dating men and women back to back it has raised a big questions, and the role she portrays in the series has added series of concern. Well, what we can do is hope, she finds her right partner who loves her child and stability in her life.