Entertainment
Actress Joy Bryant Refuses To Have Kids With Her Husband! Why Does She Decline to Get Pregnant?
When people get married, it usually means that they love each and are looking forward to starting a family together, which in almost all cases means that they want to have children. But in actress Joy Bryant's case, starting a family doesn't necessarily involve having children with her husband. Let's find out why.
Though it's already been eight years since Joy changed her marital status from "in a relationship" to "officially married". There are millions of people who are so worried about Joy not being a mother that they have started annoying Joy on so many levels.
From her friends and loved ones to fans and total strangers, they can't quit reminding Joy that her biological clock is ticking and she isn't getting any younger. But what everybody needs to know is that the life Joy chooses to live totally depends on her and her husband.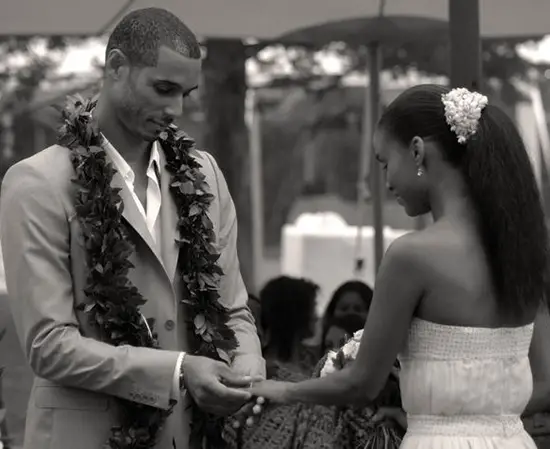 Caption: Joy Bryant and David Pope celebrating life and possibility on their wedding day (June 2008)
Photo Credit: essence.com
So to silent everyone nagging rather than asking her to give birth, she wrote an essay for Lenny Letter. In the letter, she explains the exact reason why she does not wish to become a mother, even though she has played a mother in five of her films and plays a pregnant woman in another.
"What I choose to do or not do with my womb should be of no concern to anyone but my husband."
Though she loves kids (other people's kids), she is pretty sure about not having any by herself because she doesn't want to commit to the world's toughest jobs just because people believe that Joy and her husband would have beautiful, smart and athletic babies.
"I should commit to one of the toughest jobs in the world, all for the sake of populating the planet with a super-human specimen of good breeding? No, thanks. I'm good."
So if you think that Joy and David (her husband) should have babies sooner, then you need to stop thinking and read the letter which will explain all the reasons they're never going to be parents, ever.
Joy Bryant : A Short Bio 
So now that we've cleared all the confusion, let's know who Joy Bryant really is. She is an American model turned actress who's been in the industry for more than a decade. The 42-year-old actress is a native of the Bronx, New York who modeled for big brands like Ralph Laure, Tommy Hilfiger and Rocawear.
She married her husband of eight years, stuntman David Pope in June 2008. With a net worth of $2 million from her acting and modeling career, Joy previously starred in the hit TV show Parenthood. She currently stars in two television series, Rosewood and Good Girls Revolt. She is an active member and an ambassador of Oxfam's Sisters on the Planet which is an organization for helping women fight poverty, hunger and climate change.