Entertainment
Actress Kimberly J. Brown's Dating Someone? Or Is Secretly Married? Where is She Now?
As a teenager, everyone is obsessed with movies like "Cinderella," "Snow White" and "Beauty with Beast." But, on later days when Disney came with "Halloweentown," then in no time the movie was the most watched and most desired by every folk.
Since then actress Kimberly J Brown entered into highlight from the character she played in the film. Then in no mean time, she became everyone's favorite character and was liked by every kid.
But, is the lady loved only by kids or is she loved by her prince charming like in her character? So, today for the millions of lovers who have adored the lady for the role, we are bringing in her dating story, her marital status and about her current whereabouts.
Found Mr. Right Boyfriend or Has she Secretly Married?
While performing in the sequence of  Halloweentown II: Kalabar's Revenge, the lady was paired up with actor Daniel Kountz in the year 2001. Although the audience mostly preferred the on-screen romance but in real life, she did not go with the flow of audience choice.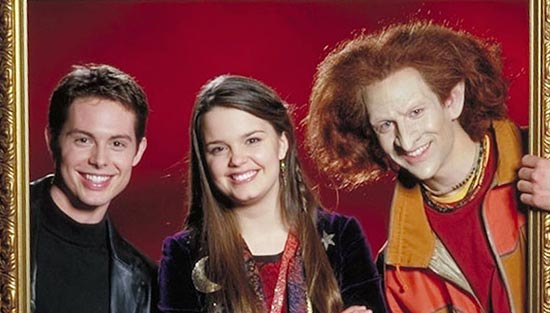 Caption: Daniel Kountz (left), Kimberly J Brown (center) and Debbie Reynolds( right) (2001).
Source: news.com
Thus, as reported by Whosdatedwho.com the lady is reported to be single. She has kept her personal life and her professional life well tucked, and therefore no information regarding her dating any stars or any random men has ever caught media attention.
When talking about her marriage, there seems to be a mystery in it. Although the lady has never revealed anything about her affairs, it came up as a shock as on 8th December 2012; she gave a blow to her fans and media by posting a tweet stating about her husband.
Watching my husband negotiate pricing for #cancun family souvenirs has been one of the most entertaining highlights of our trip. Lol

— Kimberly J. Brown (@OfficialKJB) December 9, 2012
Similarly, Kimberly through her official blog officialkjb has announced about her marriage to a man whom she loved in the presence of her family and few friends. She has expressed her delight of the new beginning. She stated:
"Sorry its been a while since I have posted, but I promise that I have a very good excuse, lol. Since the last time you heard from me, I got married! I had a beautiful wedding with family and friends and became the wife of a man who makes me so happy. We went on our honeymoon, and relaxed, and now I am back home coming back down to earth even though I don't think I ever really will and am getting back into my routine-Just in time for the holidays! "
Well, the tweets and the blog has given a blow to her fans while it has given plenty of people to think about who the man is? The lady has neither revealed who her husband is nor has posted any pictures of her wedding, engagement at any of the social medias or online portals.
Like there is no news of her marriage there is no news of her divorce or separation with her husband or about having a new boyfriend.
She might be happily married to her man and living somewhere far of with few bunches of kids of her own. Dear, we are sincerely waiting for your grand appearance with your husband some day, so please don't let our hope down.
Vanished: Where is she? What is she Doing?
When talking about her current doings, she last appeared in the movie "Low Winter Sun" portraying the character of Shana Tylor in the year 2013. After the film, she came up to the fan with a small video clip with a quick announcement regarding her presence at St.Helens, Oregon for the annual event of "The Spirit Of Halloween."
Caption: On 22nd September 2015, the Lady announced regarding her appearance in St. Helens, Oregon.
After the festival, she seemed to have completely vanished from the scenario. But through her Instagram account and posts, we were able to locate what the lady is currently up to in her life. On 20th October 2016, she announced her presence at the Cox Business Center from 21st October to 23rd October at the wizard world celebration.
Well, she is not completely vanished. Her active presence on Twitter and Instagram account has kept us updated and helped us to gather more about her doings, vacation and mostly about her day to day life.
Get hold of her Net Worth:
Kimberly J. Brown has been in the field of acting since the age of five. Through her continuous effort and witty skills, she appeared in the Broadway shows for three times. 
Kimberly has worked in Hollywood movies from the year 1990. She has worked with plenty of artists and has worked in plenty of movies like  Hallowentown(1988), The Blue Diner (2001), Be Cool(2005) and Low Winter Sun (2013) making her earn enough and accumulate a hefty amount of $2 million net worth.
Although she has not been seen working currently, she might be working on some big projects which she has not revealed. Till then we should wait for officials announcement of her upcoming projects.