Entertainment
Actress Melissa Gilbert's Married Life: Divorce Twice in The Past, Finally Found Perfect Husband Now?
The wellness of human being is directly proportional to the heart's desire. Until and, unless the heart finds out what its actually need it never gets satisfied at one place, therefore, it continuously goes in search for a perfect match or something much better than its existing availability.
Similar might have been the case for actress Melissa Gilbert who grabbed the attention for more than one divorce in the past years and simultaneously gave a firm came back in the discussion for a perfect husband theme.
So, today we shall learn about her divorce issue and about her current whereabouts in finding the perfect husband.
Failed Marriage: Not Married Once but Twice?
In the year 1988, as reported by Wikipedia, the former U.S Congress got married to Bo Brinkman, an actor, and director. The couple tied knot immediately after dating each other for about seven weeks. The duo is said to have met in the sets of  A Shayna Maidel (1988) while they were working together.
Even though the actress has not revealed about the entire incident about their meetings and proposal the lady disclosed about getting married to her man on 22nd February 1988.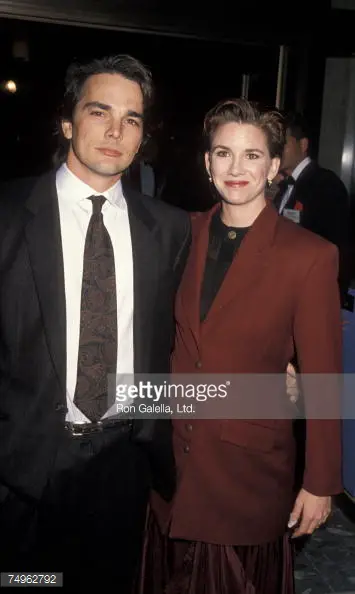 Caption: Melissa Gilbert with Bo Brinkman at an event November 04, 1990.
Source: gettyimages.com
To make their love bond strong, they gave birth to their first child, Dakota Paul Brinkman on 1st May 1989. The star has not disclosed any event about her first child, currently, their son has grown to be a gentleman of 27 years old and has entered into the Hollywood as an actor.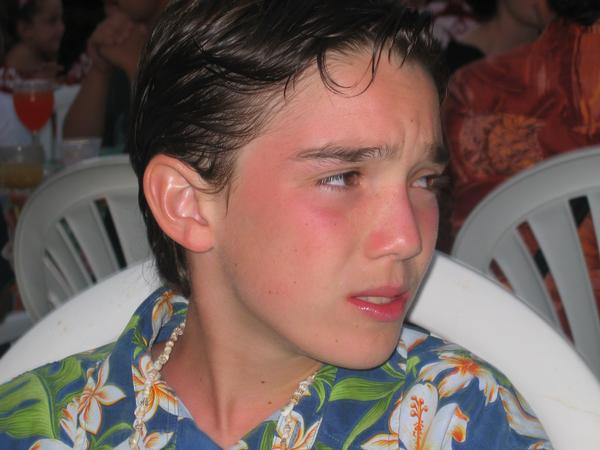 Caption: Dakota Paul Brinkman, son of Melissa and Bo Brinkman.
Source: celebritywc.com
However, in the year 1992, there came a sharp blow from the lady, when she divorced her man after three years of marriage. The star has not revealed anything about the downfall of the wedding nor has the man spoken about it. However, as posted by Whosdatedwho.com, Bo Brinkman is reported to be single after the divorce with the lady.
After getting out from the broken marriage, she again got involved with Bruce Boxleitner, an American actor. As reported by Wikipedia, the star met to the man by his ex-wife Kathryn Holcomb who also did introduce both of them.
The couple is said to have dated on and off, they were even engaged twice but ended up breaking the relationship again and again. But, finally, on 1st January 1995, the duo got married in her mother's living room.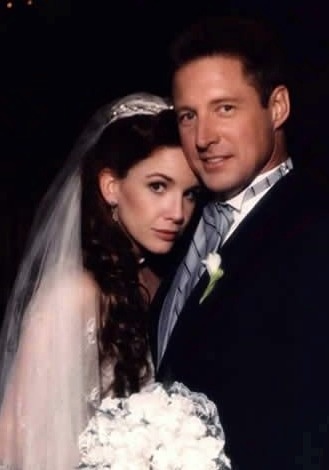 Caption: Melissa Gibrot and Bruce Boxleitner wedding picture(1995)
Source: pininterest.com
The relationship was taking a high pace when the lady got pregnant and gave birth to a premature son Michael Garrett Boxleitner on 6th October 1995. She prevented herself from disclosing any of her pregnancy events; the mother has posted a tweet on her Twitter account on the child's his 17th birthday as on 7th October 2012:
However, the marriage with Bruce Boxleitner turned out to be a sour one when finally the lady again got involved in the process of divorce. Yes, she divorced her second husband in 22nd August 2011 after remaining in the marriage for about 16 years. Any of the stars has made no disclosure of the broken marriage.
Currently, the man is engaged to his longtime girlfriend Verena King and is in the process of getting married to her.
Well, the lady has a series of broken marriage and is not gay although her siblings Sara Gilbert turned out to be gay. Yes, as posted by people.com on December 12, 2011, her sister Sara admitted to her that she is gay and Melissa knew that long before as she said;
"Years later she called me and we were having a conversation about something and she said, 'You know, what if I just said that I'm gay,' and I went, 'And?' I mean I think always I kinda knew."
But, the question arise will she ever find love again or a perfect husband again after constant failure in her married life. We must wait to see what is she doing about her love life and her relationship.
Has she finally found a perfect man? Or still searching?
It looks like the lady has found a perfect match for herself in spite of two broken marriage in her hand.  Well yes, she got married to the "Thirty Something" actor Timothy Busfield. 
As posted by huffingpost.com on 25th April 2013, both the duo got married on 24th April 2013 at Santa Barbara, Calif by elevating the traditional process of wearing white gown into a red gown.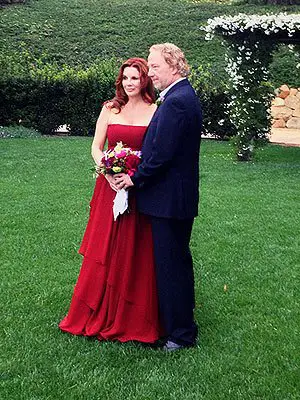 Caption: MelIissa Gilbert And Timothy Busfield in their wedding(24th April 2013)
Source: people.com
While flipping through their relationship history, we came to know that they had got engaged 29th January 2013 after knowing one another for about 20 years in a small private ceremony inclusive of few friends and family members.
Well, she seems to have a prosperous career which added the net worth of $5 million. The couples are still together and living a happy life in their home in Howell, Michigan. 
As no news of their divorce or separation has ever come out, they are still together. The couple has decided not to have a baby of their own as they already have five children together or maybe they want to focus on their career.
Finally, looks like the lady has found the man of her life is settling in. Well, good things take time don't you think so?