Entertainment
Actress Melissa Rivers's Son Uses Joan's Demise As a Weapon! Her Husband, Divorce and Boyfriend History
Melissa Rivers is an accomplished Television personality, but despite all the fame she has collected as a host and actress, she has forever obtained the title of being the daughter of Joan Rivers. That is what happens when your mother is a TV icon. Learn about her and her son's experience of dealing with Joan's death.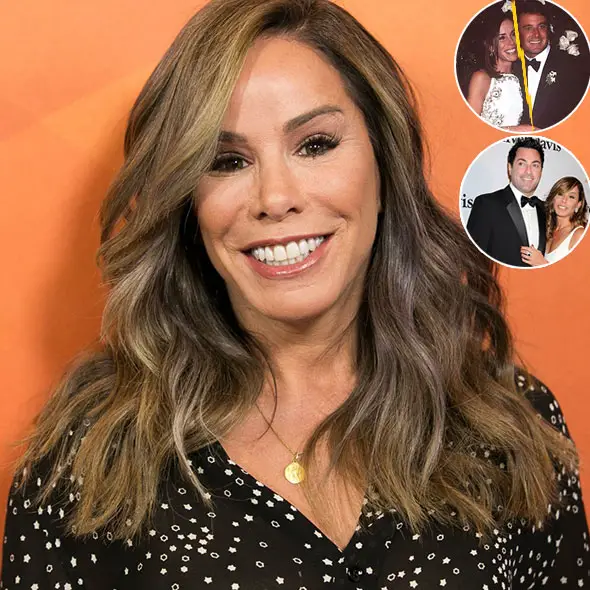 Melissa Rivers is an accomplished Television personality, but despite all the fame she has collected as a host and actress, she has forever obtained the title of being the daughter of Joan Rivers. That is what happens when your mother is a TV icon. Learn about her and her son's experience of dealing with Joan's death.
Find out how she and her son are dealing with the experience. Also find out about her married life, divorce, dating life and her present boyfriend. 
Joan's Death:
The hole that Joan had left in the lives of her sole daughter and grandson was clearly seen in her funeral service on September 7, 2014. Melissa walked sorrowfully alongside her son; Cooper dressed in black and for the last time gave Joan a goodbye kiss on her casket. The 'Fashion Police' star had passed away on September 4, 2014, while she was in a medically induced coma. Here is a photo posted by designer Pamela Dennis of Joan and Melissa together.
The medical examiner later explained on October 16 that her death was the result of a "predictable complication of medical therapy. The examiner went into details stating;
 "anoxic encephalopathy due to hypoxic arrest during laryngoscopy and upper gastrointestinal endoscopy with propofol sedation for evaluation of voice changes and gastroesophageal reflux disease."
There were several other details to the death of Joan Rivers that occurred through cardiac arrest.
Effect on her Son:
The experience took a more than expected toll on Melissa's son. When People caught up with her in December that year, she appeared a little upset despite the holiday season. When she was asked about her this year's Christmas week, her reply was heartbreaking where she said;
 "My Christmas wish is that my son starts laughing again."
Things seem serious, but that is bound to happen in the relationship of a grandma and grandson. Joan herself spoke of how close she was with her grandson in an interview with 'Grandparents.com' in 2012. She joked about how he used to call her Nana New Face in jest after her plastic surgery and had a great sense of humor that helped them bond. You can tell how close the three were from this Twitter photo below.
Joan's aspirations to Cooper were,
"I'd love him to be a businessman. Go be a Bernie Madoff. I'm so proud."
She also added saying,
"Cooper has a great sense of humor. I don't know if it's mine but that was how we first connected."  "When he was very young, he got the jokes and he was able to do jokes back with me. And I always thought it was amazing that he was a year, a year-and-a-half, and he and I had jokes already together."
So, we can see why Cooper would be so deeply affected when she was gone.
But after a certain while, everybody moves on with their grievances. According to Melissa, Cooper too has gradually moved on from his grieving person and now is starting to use it as some sort of a weapon toward his teenage rebellion. Melissa explained with the example of the most popular one, like;
'"I can't believe you won't let me go to Coachella, grandma would've let me!' " 
Melissa, however, comes up with good answers like, 'No she wouldn't have. And if she did, she would've gone with you and embarrassed you.' "
Her Married Life and Divorce:
Melissa Rivers was married to former husband John Endicott from 1996 to the June of 2003. Before meeting John, Melissa would usually only go for the wrong men. On her statement she gave to nytimes.com back on December 3, 1998, where she said;
''I once went for two years without a date. I held the record. I was also a full-fledged psycho-magnet. If there was a guy who would really be bad for me in a room, you could blindfold me and spin me around, and I would walk straight toward him.'' She said
She met John back in 1993 at a horse show in Palm Springs, California. It was only relevant that they met here for John is an experienced horse equestrian, trainer, and owner who also own Apollo Farms in Calabasas, California.
After one of those shows, the two went out on a date. She remembers thinking to herself,
"'He was so sweet, so unaffected,'' ''It wasn't like, 'I'm an electrician, but really what I want to do is write a screenplay.' You can't get away from that in L.A.'"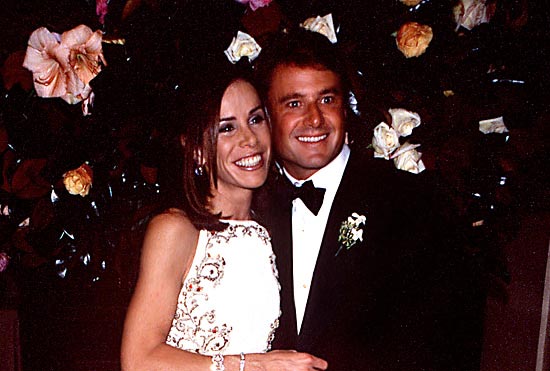 Caption: John Endicott and Melissa Rivers on their wedding day in 1988
Source: dailymail.co.uk
The two unintentionally moved in together just 4 or 5 months later but it later became permanent, and in 1998 John went to ask Joan her blessings for the marriage.
They got married on December 12. Her mother Joan had hired florist Preston Bailey to create a winter garden of 100 white-painted trees and 30000 white flowers. She also had something to say to her daughter on her wedding.
''I wanted so much for Melissa to settle down, to find an anchor. Family is everything. Everything. It's a rough, rough world out there, and you need your own little army.''
She got divorced from husband John in June 2003. There have been no dating rumors from the side of Josh; perhaps he is still single.
Her Boyfriend and Dating Life:
Since then she has put herself on the market for sometimes.  She was first seen with boyfriend Jason Zimmerman. The two had been together from 2008 to December 2011. The two split on-air after Melissa found out and confronted Jason for publishing ads on craigslist. Jason hasn't been reported to be with anyone since then.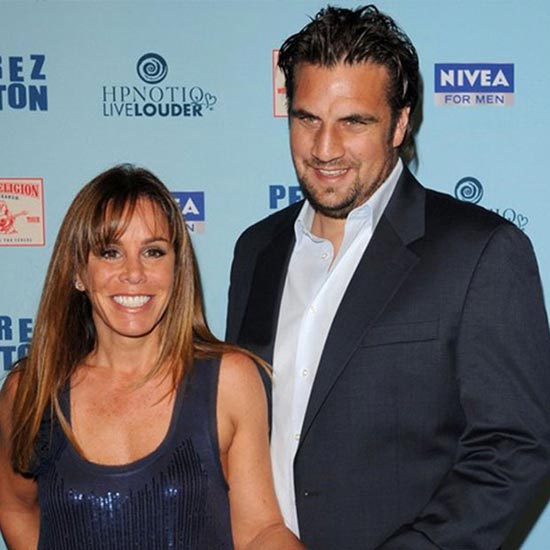 Caption: Melissa Rivers and Jason Zimmerman spotted in Perez Hilton's birthday bash on March 26, 2011
Source: zimbio.com
After Jason, she briefly dated co-chairman of Vivid Entertainment Steve Hirsch for a brief time in December 2011. But she only found love again with Mark Rousso. The two have been dating since December 2013.
Mark Rousso is a Hollywood agent and has worked with actors like Alexis Bledel, Laura Prepon, Noel Fisher and Joey Lawrence. He is a great boyfriend according to the source, who revealed about their relationship to 'daily mail' on 2015,
"He was very supportive through her mother's death" the source said.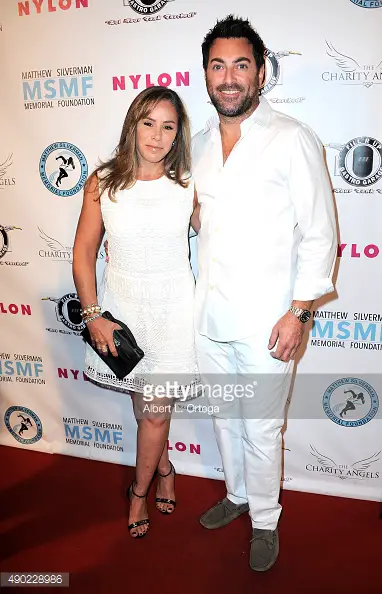 Caption: Melissa Rivers and Mark Rousso at The Matthew Silverman Memorial Foundation's 2nd Annual Light Up The Night White Party Hosted By NYLON held at Mr. C Beverly Hills on September 26, 2015, in Beverly Hills, California
Source: gettyimages.com
So, in the end, you can say that she is coping with a lot of problems in her life but gradually getting over them all. She may have lost her mother and ended her marriage, but now it is slowly getting back on track. 
Her career is also in a very right track having an estimated net worth of 100 million dollars. She has used this economy to buy a grand house, 11 million dollars mega mansion on Santa Monica that spreads at an area of 7048 square kilometers with a contemporary Mediterranean Style.