Entertainment
Actress Natascha McElhone Recovered from Devastating Death of her Husband! How did She do it?
Actress Natascha McElhone Recovered from Devastating Death of her Husband! How did She do it? One of the worse tragedies any individual may experience in life is, of course, the sudden death of their loved ones. However, the person can't stay forever mourning the loss and has to move ahead embracing and searching the positive aspects of life.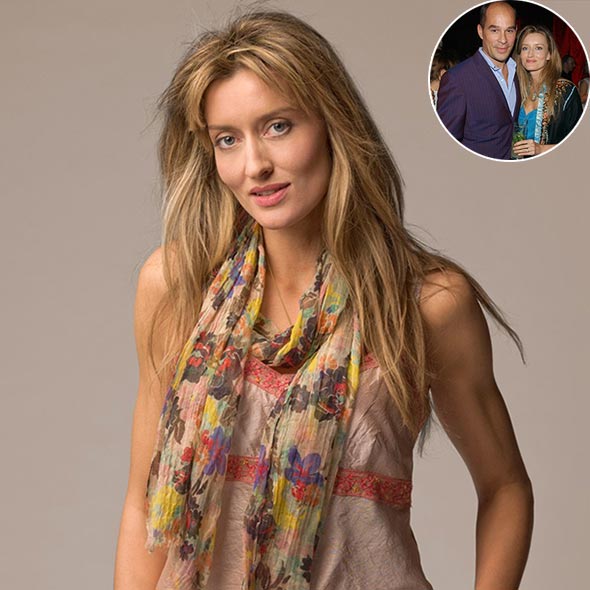 One of the worse tragedies any individual may experience in life is, of course, the sudden death of their loved ones. However, the person can't stay forever mourning the loss and has to move ahead embracing and searching the positive aspects of life. Similarly, this is a story of a well-known actress, Natascha McElhone who chose to move ahead in life rather than staying forever tormented by her husband's death.
How did Natascha cope with the pain of husband's death?
Natascha McElone's world rattled with the news of her husband's death which she learned just a day after her 10th anniversary in May 2008. Her husband, Dr. Martin Kelly died young at the age of 43 that year facing a sudden heart attack, the time when Natascha was pregnant with their third baby. 
Natascha learned about her beau's death at about 1 am London time from Kelly's best friend Neil Randhawa who rushed Kelly to the hospital they were working in after finding Kelly unconscious at the doorstep of his family home. Natascha shared with Mirror in 2012 about her first reaction after she heard the news. She said,
"I dropped the phone and my knees buckled under me"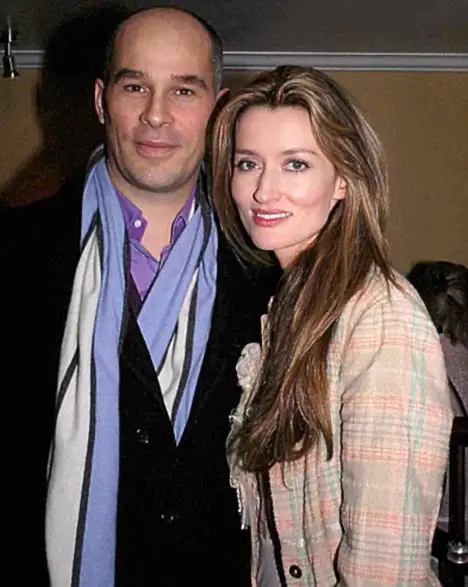 Caption: Natascha McElhone with husband, Dr. Martin Kelly in 2006.
Source: dailymail.com
The pain was unbearable for Natascha as her husband texted her only some minutes ago the whole thing happened and was healthy enough for planning to visit her in L.A, where she was shooting for TV series 'Californication.' The actress was carrying their third image and on top of that were all ready to celebrate their ten years anniversary. 
After the post-mortem, it came out that his heart was infected that time's recent virus. Many people commented on how cruel the sudden death of Martin was. Natasha's step-father commented,
"They had a fairytale romance, they were starcrossed lovers. I have never known a marriage as close and warm as theirs. This is just an act of terrible cruelty."
"Even those doctors I have spoken to, including his close friends who tried to revive him, are mystified. Martin did have a bit of a virus earlier this month and it is possible that did something to his heart valve. But clearly his death was utterly unexpected."
However, according to the police, the reason of the death turned out to be 'dilated cardiomyopathy,' a medical situation in which the heart becomes enlarged and cannot pump blood efficiently.
Above all, the hardest moment for her was to inform the boys of their father's death. Theo and Otis were playing in the gym near trailer when Natascha received the phone. In the memoir, After you, where she has written about her experiences after the loss, Natascha wrote that she tried to appear normal with the kids before revealing the news. She said;
"I wipe some tears from my face – I don't want to scare them. We sit in a tight circle, facing one another. 'I've got something horrible to tell you.'
Though, the boys suspected that she lost her job. Then, Natascha made the child open about their new nightmare. She said,
'No, baby, I wish that was it … Dadu's died.'
The one thing that Natascha is a little happy about is her husband's joy filled the last message minutes before he collapsed at the doorstep. With Dailymail, Natascha said re-lived her husband's last words of excitement and happiness of seeing the baby scans. She said;
'He left me this message, full of the joys . . . he couldn't wait to come out the next week, he was so excited about the scan, so excited about the baby.'
She added,
'Thank God, a lovely last message.'
His fellow colleagues tried their best, but they couldn't save the philanthropist and distinguished man for his charity work that helped the Third World Children and also included his repairing of Tara Palmer Tomkinson's cocaine-ravaged nose. However, his charity 'Facing The World' which he co-founded is still operated by his wife and various other friends.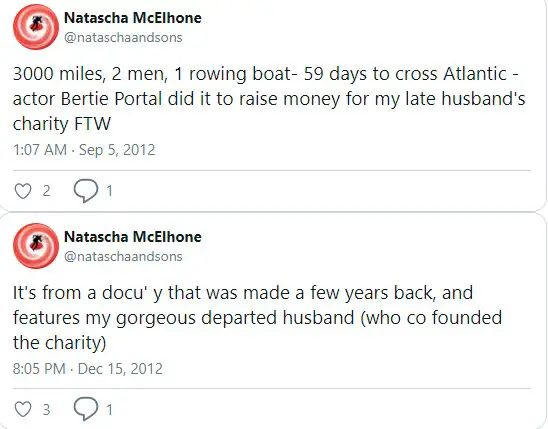 In the memory, Natascha has also written about the relentless suffering she faced for almost a year and how the series of emotions including sadness, anger, and bitterness juggled in her life.
The actress of The Truman Show, Natascha McElhone was although devastated by the loss, she returned to her routine some days later. Natascha resumed her work for TV series Californication ten days after Martin's death.  She told Daily Mail in 2012 that she believed those days that getting back to normal life will help her solace the pain soon.
People did say, "You can't possibly go back to work after what has happened", but I always thought the best thing was to get us all back to normal - if you can say such a thing - as soon as possible.
Natascha tried to stay optimistic in life after her husband's unexpected and unfortunate death. She tried to satiate herself and others by speaking about the positive sides of the incident. Natascha shared with Daily Mail in 2012 that she used to get convinced thinking that Martin did not have to suffer before his death.
I'd said the good thing about Martin dying the way he did was that it was really sudden, and he didn't disintegrate and become decrepit, which I knew he wouldn't be able to handle.'
Their marriage and children:
Natascha McElhone and plastic surgeon Dr. Martin Kelly married on 19 May 1998. The couple first met when Natascha was 16 and was studying A-levels in London. The couple dated as boyfriend and girlfriend for ten years before deciding to swap vows.
Natascha and Marting share three lovely sons; however, Marting could not witness the birth of his third child. Their elder son Theodore was born in 2000, Otis in 2003 and Rex, five months after father's death in 2008.
Natascha and Martin shared immense love within those ten years. Natascha told in an interview with Mirror in 2010 that she is not in any kinds of relationship currently and doesn't want it with the person who knows about her past, in her statement she said;
"I just don't meet anyone. I'd have to meet someone who didn't know me or anything about me,"
Story Behind Her Tattoo:
Natascha has a beautiful tattoo on her wrist which also looks like a band. Her tattoo was clearly visible in her movie "Californication." There may be a meaning added to her tattoo, but she has not revealed the actual purpose and reason she had done the tattoo.
Caption: The gorgeous actress, Natascha McElhone
Source: pinterest.com
Born on 14 December 1969, Natascha McElhone has been playing movies and TV series since 1990's. She has appeared in films including Big Nothing (2006), Believe (2014), Mr. Church (2016) and London Town (2016). Her extensive works in movies and series have yielded the splendid net worth of $5 million.