Entertainment
Actress Pilar Sanders Pleaded Court to Continue Divorce Battle with her former Husband, but for What?
After a divorce, it can be difficult especially if you're a wife of an ex-celebrity. Pilar Sanders, the ex-wife of the former NFL CB and Hall of Fame player Deion Sanders, have an endless amount of senseless fights and pleads the judge for another appeal in an attempt to overturn the divorce judgment on her loss of visitation rights.
Order In The Courthouse: 
Pilar Sanders, 42, and Deion Sanders had their divorce back on September 23, 2011, which led them to decide to settle in their house while they resolve their divorce which was then finalized in 2013. According to TMZ, Deion mentioned,
"Pilar and I have decided to end our marriage and move on to the next phase of our individual lives with mutual respect. We are friends and our top priority has and will continue to be the well-being of our children."
In 2014 Pilar was sentenced to jail for seven days for violating the rules of the agreement in December losing her visiting rights to her two sons Shilo, Shedur and her daughter Shelomi Sanders. Soon after in May 2016, Deion Sanders had won $2.2 million defamation in a lawsuit against Pilar for defamation and false accusation online of physical abuse made by Deion and denied the jurisdiction of the court saying.
"I am not a part of the United States corporation,"
Failing to return Deion's kids caused her to lose her rights. Her husband at the time had testified that she had violated her rights more than 16 times that he was forced to call a Collin County constable's office to bring the children and making the officer bring a court order that allowed him to use force if necessary to retrieve the kids.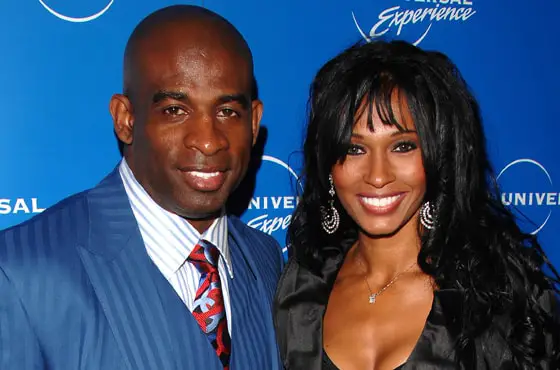 Caption: The couple before their divorce in May 2016
Picture Credit: totalprosports.com
Pilar has been trying to overturn the judge's decision but still unable to because of her financial status and testified that she had no money and paying job, and had been unemployed for over 15 years because she was a homemaker for Deion and the children. Spending $0 for rent living with her parents at the moment plus $9 for health insurance, $400 for the children and $200 for food, she has no assets or property of her own.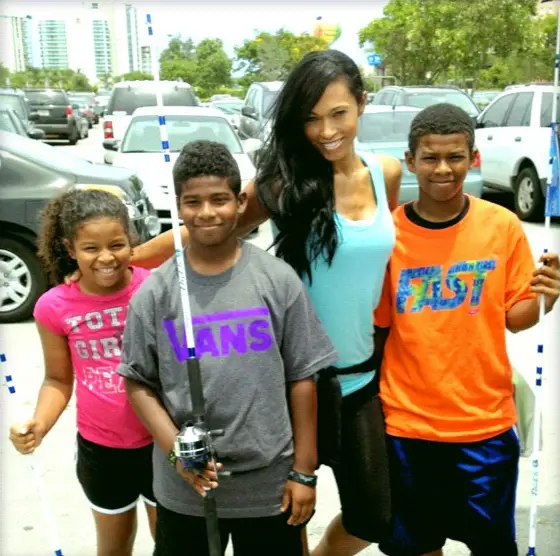 Caption: Pilar Sanders and her kids take a quick picture before the fishing expedition on December 3, 2014
Picture Credit: madamenoire.com
What Was the cause of the Divorce?
Slandering the internet with false accusations and cheating could be the first few assumptions. Larry Freeman, Pilar's attorney, told ABCNEWS.com in an interview, 
"She is heartbroken about the current situation, and she's been a faithful and devoted wife to Deion Sanders, and she's been a very supportive wife to him, and she is committed to their marriage and would like to make it work,"
And added the possibility of Pilar having a possible affair, cheating, but denied the fact as "absolutely false" and "utterly untrue," and mentioned,
"So she's very patient and intends to work on the marriage."
He added on
"We arrived at this decision prayerfully and carefully in order to be able to pursue what is in both of our best personal interests."
Pilar Sander's Short Bio and Net Worth:
Pilar Sanders first started her career as a model in her senior year high school. After her success in modeling, she represented many agencies such as Ford Models and Irene Marie, and soon acted in various series such as "Walker, Texas Ranger," "The Jamie Foxx show," and "Victoria's Closet." She even acted in LL Cool J's "In Da House,"  and met Deion Sanders, her now ex-husband. Besides her marriage, she has, over the given period, accumulated a net worth of $5 million.