Entertainment
Beautiful Actress Rima Fakih: Married to her Entrepreneur Husband in a Royal Wedding, Is She Pregnant Now?
The beautiful women you see in national and international standard pageants are a dream of every man. How well do you keep track of your favorite divas? Today let us learn about the former Miss USA, Rima Fakih.
Rima Fakih set fire on the ramp when she walked it in 2010 to be crowned Miss USA 2010. She set history when she became the first woman of Muslim and Arab ethnicity to be crowned the title of Miss USA. What is she up to after all these years? Is she married or is he already expecting a baby? Find out.
Her Wedding and Husband:
She married only recently on May 2016, and she got hitched to her new husband, Wassim Salibi. The couple's wedding was believed to be spectacular and grand. The bride dressed fittingly to the wedding in a beautiful gown and veil designed by Elie Saab while hubby, Wassim complimented her in a white Dolce & Gabbana. Have a look at them on a Twitter picture below.
The ceremony was held at the Patriarchal Edifice Church of the couple's birthplace, Lebanon with big names on their guest list. Some of them were music artists 'The Weeknd', French Montana, Massari and Belly. Wassim is a well-known music producer and is also the manager of the hit singer and songwriter, The Weeknd who performed some of his songs at their wedding. A video of their wedding is shown below.
Caption: The royal wedding of Wassim Salibi and Rima Fakih posted on May 2016
Pregnant: Is She Expecting a Baby?
There has been news that the Miss USA of 2010 who had initially won the title when it was owned by Donald Trump may already be having another happiest moment of her life. She has announced her pregnancy on the front cover of the magazine 'Marie Claire Arabia'.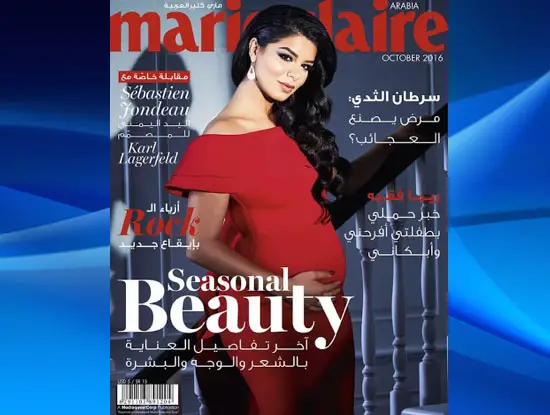 Caption: Rima Fakih announced she was pregnant on cover of Marie Claire Arabia on October 2016
Source: arabamericannews.com
Religion Transformation:
She also came into a controversy not so long when she transformed towards Christianity just some time before her marriage. 'Dailymail' reported in May 2016 that she had converted to the faith on April this year when her husband was only her boyfriend.
She had herself said in an interview she gave to huffingtonpost.com on May 11, 2011, just after becoming Miss USA, "' we're more of a spiritual family" she said,
"Religion really doesn't define me or my family. My family's been very liberal, and we appreciate all different kinds of religions."
So, we can say that she has a blissful life. Despite minor setbacks due to her controversies, her life is on the right track. Her professional life is also not that bad as she has an impressive net worth of 500 thousand dollars.