Entertainment
Actress Samantha Mathis' Former Boyfriend River Phoenix Death's Secret Revealed!
The reason for River Phoenix's death secret might be familiar to some, but it sure is not to most of the people. It was tragic enough loosing  River Phoenix who could have been one of the most aspiring futures in the movie industry, but it was not clear what the reason was for his death. Let's know what killed the man with whom, if he were still alive, Samantha would have had a future as a married couple.
Samantha Mathis met River Phoenix while she co-starred with him in the movie 'The Things Called Love' in 1993. The couples were dating each other until River Phoenix died on October 31st, 1993. The same year they met, and she was with him that night. The unfortunate incident happened at the Viper Room Club in Los Angeles which was partly owned by Johnny Depp until 2004.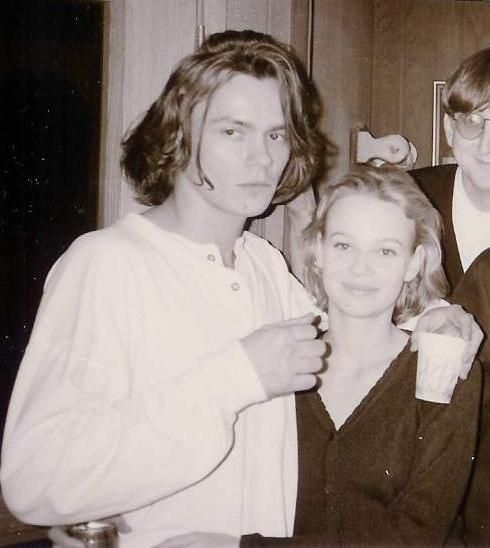 Caption: Samantha Mathis with River Phoenix in 1993.
Source: tumblr.com
A Reason for the death of Samantha's boyfriend:
His untimely death's cause was a speedball he had that night at the club which turned out to be a lethal mixture of two deadly drugs given the fact that Phoenix had an issue of addiction with such drugs. After he had taken the drink down his throat, he started to vomit and collapse on his chair.
That night he was accompanied by his younger brother Joaquin and his younger sister Rain whom he met in the bar. In the book released in 2013, "Last Night At The Viper Room" it was claimed that the ambulance was called on time, Phoenix could have been saved, but instead, his younger brother guided him out the club saying everything was under control until Phoenix got into a seizure and fell on the ground. The book described Phoenix's friends and brother as 'young, scared, and they didn't know what to do.'

The sight made Christina Applegate break down in tears as she came out of the Viper Room and Samantha while watching her boyfriend suffer broke down as she was hopeless. His younger sister Rain tried to stop the seizure by sitting on Phoenix's chest after which Joaquin called the 911 and begged for help saying,
 'Please come, he's dying, please.' 
Phoenix was taken to Cedars-Sinai Medical Center and later he was declared dead at 1:51 am. Many of his fans were shocked to hear the news of the untimely death of River, and many of them were seen mourning the passing of the actor.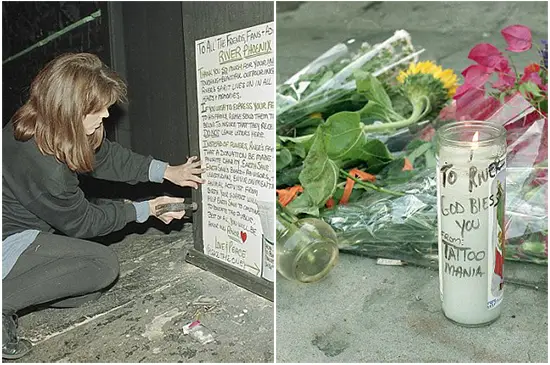 Caption: A River Phoenix fan with a thank you letter outside the Viper Room in memory his memory.
Photo Credit: dailymail.co.uk
Moved on with a new Boyfriend? Dating?
Samantha Mathis' last recorded relationship was with Colin Hanks which ended in a matter of months. However, the 46 years old actress seems to be dating a man named Sky Shepard as she mentioned him in her Twitter post as her boyfriend three years ago but things are not sure right now as she has not talked about him in any of her interviews if she has a boyfriend or husband.
Samantha Mathis can be seen in The Strain (TV series), and she also happens to have two projects in post-production, Ray Meets Helen (2016) and Boarding School (2017). As of 2016, Samantha Mathis has a net worth of $2 million through her acting career which contributed a lot to making her net worth so hefty.