Entertainment
Adam Henson Isn't Married And Does Not Have A Wife! But That Is Not Suspicious
Just like our career, marriage can also be deemed as a step in the ladder of our life, as it is all about sharing care and support with our special someone.
However, talking about the famous British farmer Adam Henson, he doesn't seem to share the thought of tying the knot just yet. Rather, he has a longtime loving partner and shares two children and a roof, with her.
So, today let's explore the live-in relationship of Adam Henson with his partner and find out if they have any plans of getting married soon!
The Beautiful Relationship Of Adam Henson And His Partner:
Talking about Adam Henson's personal life, he hasn't committed to marriage yet, but, he shares a husband-wife-like relationship with his longtime partner, Charlotte "Charli Gilbert."
The two first met during their school days, and later started living together following a romantic relationship.
The couple shares two children together, daughter, Ella (19) and son, Alfie (14). The family currently lives together at Adam's birthplace, Bemborough Farm, Gloucestershire.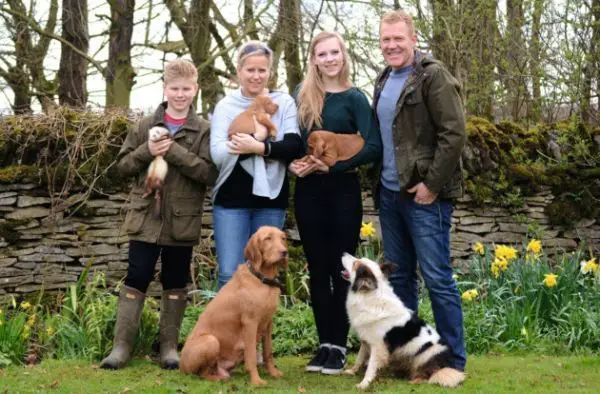 Caption: Adam Henson with partner Charlie and children, Alfie (left) and Ella (right).
Photo credit: Berkshire&buckinghamshire.com
According to sources, Adam considers his partner, Charlie as his best friend.
" My best friend is… my partner Charlie. We're not married but we've known each other since school. She's the mother of my two children. "
He further said that the best days of his life were when their children came to this world.
" The best days of my life were… when my children were born. I have an 18-year-old daughter and a 13-year-old son. When they were born healthy, it was a huge relief and an amazing day. "
Adam Henson's Short Bio:
Adam Henson is a British farmer, author and TV presenter who was born on October 16, 1966, in Gloucestershire, England. Talking about his family life, he was raised along with three sisters and supportive parents. He even enjoys sharing what he has learned from his parents. He once gushed,
" The best thing my parents taught me was…honesty and respect for others. "
Adam followed the footsteps of his father Joe Henson, who hosted a farming show and established the famous 'Cotswold Farm Park' in 1971 near Cheltenham. But, in 2015, Adam had to deal with the tragic demise of his beloved father.
However, he still usually gushes about how much his father has inspired him. Talking to TheGuardian about his father, he said,
"Right from my first days, he was my rock, my mentor, my hero. It's no exaggeration to say he taught me virtually all I know about farming and television."
During Adam's young years, he went to local schools through to A' Levels. He, then, worked on the Chatsworth Estate in Derbyshire for a one-year experience. After that, he joined the Seale-Hayne Agricultural College located in Devon, from where he gained an HND in Agriculture and its Management.
Talking about Adam's career, he was involved with his family business since an early age on his father's farm. In the year 2001, Adam filled up and submitted his application form to be a TV presenter on the British television program 'Countryfile' on BBC One.
Luckily, he got selected out of 3500 applicants. Since then, he has been presenting what he knows about farming and livestock. The program now has six to seven million viewers.
Along with that, his farm park has been collecting new visitors every day as well. As of now, the farm park attracts more than 70,000 visits a year, and it even won the 'Farm Attraction of the Year' award in 2014.
Besides his love for farm animals, Adam is also a huge dog lover. As per TheTimes; his idea of a home is having cute four-legged furry friends. Adam said,
" A dog makes my home. "
Apart from having the farming career, Adam is a writer as well. In 2011, he released his book called 'My Life On The Land.' In 2013, he collaborated with celebrity chef Nigel Slater and co-presented the cooking show 'Nigel and Adam's Farm Kitchen.' He has also filmed three series for BBC Lambing Live. The 51-year old British farmer, Adam's hard work has paid him off well, which is visible in his net worth, that dwells around $2 million.
Keep visiting for further updates on Adam Henson!