Entertainment
Does Adelaide Kane Have A Boyfriend? It's Possible She Is Having A Dating Affair
"Romance is the glamour which turns the dust of our everyday life into a golden haze!"
Those who have felt the spark of a budding romance know it pretty well.
Well, talking about the stunning actress Adelaide Kane, who is well-known for starring in the series,'Reign,' she has been enjoying a sizzling romance on-screen, but mystery hovers when it comes to her off-screen romance.
So today, let's spare few moments to know if the gorgeous actress is indeed in a dating affair, or, off for good into the single category!
Does Adelaide Kane Have A Dating Affair?
For an actress who is gorgeous as well as talented like Adelaide Kane, the concern in regards to her personal life is quite more than her professional life.
While clearing up the curiosity as to whether there is a lucky man in her life or not; well, we have an answer that might dismay young male fans!
Yes, Adelaide is indeed in a dating affair, and the lucky person is Owner/CBO of 'The Laundry Room,' Joey Pauline. Kane and her boyfriend are said to dating each other since April of this year.
Well, their social media posts indeed give us a gist of their romance! Recently, on November 23 of this year, Adelaide uploaded a picture with Joey via her Instagram account.
Not only Adelaide, but Joey also shared a romantic picture with Adelaide on his Instagram on July 19.
Besides sharing sweet pictures on the social media, they also know how to treat each other perfectly with valuable surprises.
On August 9th of this year, which is also Adelaide's birthday, her boyfriend Joey gifted her 'the only thing she ever wanted,' a James Jean artist's painting!
Adelaide proudly showed off her birthday gift on her Instagram with a special caption expressing her appreciation,
"Dream come true!!! Artists proof by the exceptional @jamesjeanart from my love. I've been a huge fan of @jamesjeanart illustrations and work for as long as I can remember, my favorite artist from my favorite person. Needless to say I cried all through dinner…so excited to put this mama up on a wall I've been saving for something truly special. Thank you so much James for your note and your work, you're a visionary and an inspiration!"
Prior to her relationship with Joey Pauline, she was reportedly in a dating affair with actor Ian Bohen, but they have not disclosed any confirmation regarding the matter.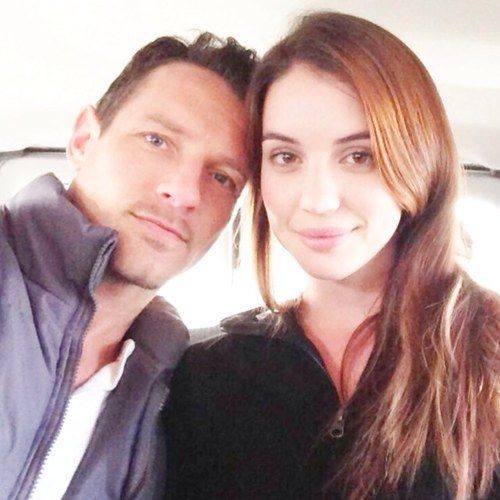 Caption: Adelaide Kane with Ian Bohen.
Photo Credit: Pinterest
In April 2011, Adelaide dated actor Connor Paolo, and the couple parted ways after a couple of years in July 2013.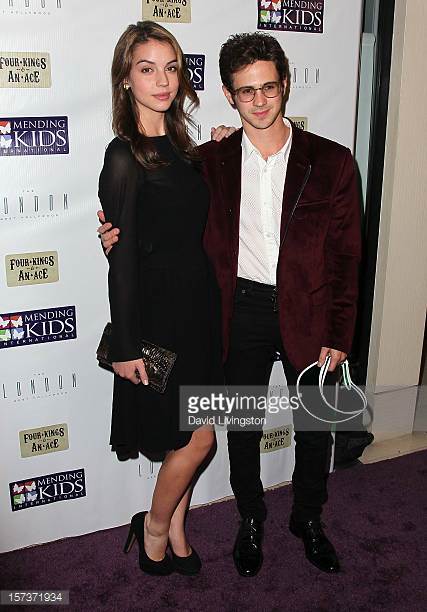 Caption: Adelaide Kane and Connor Paolo.
Photo Credit: Gettyimages
Again in 2013, Adelaide Kane was rumoured to be dating actor Toby Regbo, who was her co-stars in the series 'Reign'.
Caption: Adelaide Kane and Toby Regbo at Comic-Con International 2014.
Photo Credit: zimbio.com
However, Adelaide addressed to sources explaining that she and Toy aren't 'compatible' in that way,
"I do get it – when you like the characters together so much on the show it seems like a natural progression that the actors would get together. But we are not the characters – we are very different from our characters in real life. While I adore Toby and I think he is a very talented actor and handsome man, he and I are not compatible in that way. We are friends and that's how it is going to stay."
Additionally, Kane also dated Sean Teale around November 2014. They were co-stars as well in the series 'Reign.'
But, their relationship, like before, ended in the year 2016.
More To Know About Adelaide Kane:
The beautiful actress Adelaide Kane, who celebrates her birthday on August 9, was born in Western Australia in the year 1990.
Talking about her family, her father belongs to Scottish ancestry, and her mother is of Scottish as well as Irish and French ancestry.
Kane's parents divorced when she was just seven years old; as a result, Kane and her younger brother, William were raised by their single mother.
Back in 2013, during an interview with PopSugar, Adelaide was asked what does she do to remind herself of home, to which she replied saying she misses her family,
" Call my mum, I would say, yeah I'm still, my family is really close. My cousins like WhatsApp me and my mum, she facebooks me every day, and I deleted my Facebook recently because people were stealing my photos and it's very depressing. You know we just love WhatsApp and Viber and e-mail, so, she e-mails me every day too. Um, yeah I miss my family. I love them a lot and they have been really really supportive and they will be the first ones to give me a smack if I get too ahead of myself. "
Caption: Adelaide's interview with PopSugar. (Published on October 21, 2013)
Additionally, Kane, also known as 'Addie,' got into acting when she was a toddler. Kane's first major role was on 'Neighbours' as 'Lolly Allen.' Later, she and her family packed their bags and flew to Melbourne, Australia for the filming.
Although Adelaide has starred in a long list of films by now, she is famous for her role as 'Mary: the queen of Scots' in the series, 'Reign' since 2013. Additionally, Kane is also an executive producer of the 2018 film, 'Acquainted' and will also star with the role of 'Cheri.'