Entertainment
Aidan Quinn Reveals Bits And Pieces From His Life; Talks On Family, Wife And The Daughter They Share
Bold light blue eyes are the two most captivating things about "Elementary" actor Aidan Quinn. Apart from his dynamic personality, he is an equally brilliant artist, who has been justifying his skills ever since he stepped foot in the showbiz.
But did you know, he manages his adorable family life and his showbiz glory both to perfection?
Well, Aidan is a married man who is blessed with the love of his wife and his two daughters, and he has been enjoying a beautiful family life for a long time now.
Today, let's take a look at the personal life of Aidan Quinn, to find out more about his life beyond professional obligations
Aidan Quinn Reveals About His Family Life:
If you go around and try to find out the things about Aidan Quinn's family life through medias, there is not much you will find, as he has always preferred to keep the details related to his family life to himself.
But what you will come to know is that he has been happily married to his wife of three decades, Elizabeth Bracco, who is an actress and costume designer. Elizabeth is also the younger sister of actress Lorraine Bracco.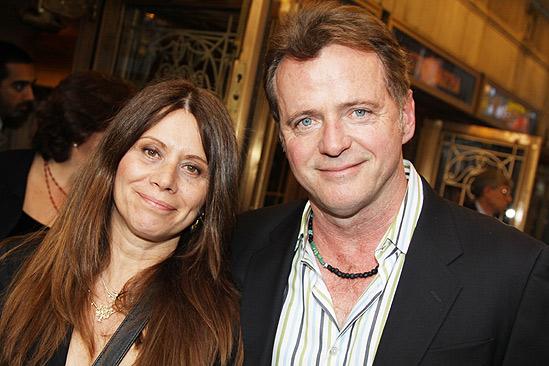 Caption: Aidan Quinn and his wife, Elizabeth Bracco have been married to one another for around 3 decades.
Photo Credit: cloudfront.net
Elizabeth and Quinn tied the knot back on September 1, 1987, and they share two daughters together, Ava Quinn (1989) and Mia Quinn (1998).
Quinn has not shown any interest in talking about his family life. However, in an interview back in 2012, he spoke about his struggles, both in the personal and professional front.
Martin Scorsese had then picked Quinn to play the lead role in "The Last Temptation of Christ," but when the project changed studios, the powers and the franchise owners wanted Willem Dafoe to play the role.
That was a sickening blow to him, and during the same time, his daughter Ava suffered health issue, which he described as,
"She was a normal child. Way above normal, in fact. And then she received a vaccination. She got a 106-degree fever, she turned blue and she woke up the next day a completely damaged child after that."
Adian's daughter was diagnosed with severe autism.
He then continued,
"It's a long journey. It's a very difficult journey and I didn't do so well on parts of it. I will tell you one thing. My career absolutely took a back seat right away and it still has to, to this day."
He also opened up on how he felt when he was always away due to his professional obligations.
"I always had to ask myself, how long I would be gone, how far away from home, how much could I ask Elizabeth to do on her own.
Aidan further shared,
"You know, if your marriage survives, which 75 per cent of the marriages of parents with otherwise-abled children don't, you come to realize that there's no one else but your partner who understands what you're going through."
He elaborated,
"She comes home every weekend, but the house is under siege. Every book on every shelf has to be put on the floor. The refrigerator and cupboards have to be locked. We have to be on guard every moment."
And when the interviewer asked if all of this was worth it; he answered it with a resounding "YES," and said that everyone needs to take life's jokes.
"Of course it's all worth it. Life's a grand fecking joke sometimes, but it's the only choice we've got, so we better learn to live it.

"I'm glad my father made me read Samuel Beckett when I was 8. It prepared me well for the world."
The love and support they had for one another enabled them to face up to the struggle back then!
Along with love and affection, the couple also shares ample humor, and an example of that was seen during an interview back in November 2015. During the interview, Quinn revealed that his wife thinks he is insane.
When the interviewer asked about his roofer days and asked him if he still does that, he answered,
Well, I still, much to my wife's [actress Elizabeth Bracco] dismay, get on the ladder and go up to the third floor and on the roof and tinker around and empty the gutters and all that. She thinks I'm insane, that I should hire someone to do it but it's kind of like, no, I like doing it. So yeah, I still tinker around with it.
Talking about his parents, Aidan is the son of Michael Quinn and Teresa Quinn. Adian once revealed that he always was a rebel at home and he used to have intellectual arguments with his father at home when he was young. He divulged,
"I tried to have strong intellectual arguments with my father; I condemned him as a hypocrite,"

"I saw the Father tear out an old man for being five minutes late at church, embarrassing him to younger people. How dare ye, you know? My father would say, 'If you're in my house you'll do as I say' - and so I left."
Regardless of what he does put up in his personal life, one can not argue enough as to how gifted he is as an actor.
Aidan has been part of various movie projects; some of those include "Elementary," "Legends of the Fall," and "Unknown." These, as well as other projects, are the reason why he boasts a staggering net worth of $12 million which is well deserved!
Stay with us for the buddind updates on Aidan Quinn!