Entertainment
Al Michaels is Retiring?: Top-Notch Sports Journalist's Dazzling Salary and Net Worth?
These days we can hear the news about Al Michaels likely to retire. So, why is news like this making its way into the media about the living legend when it comes to sportscasting.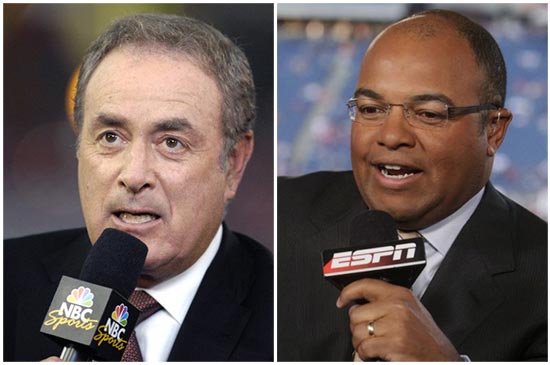 Caption: Al Michaels (left) rumored to be replaced by Mike Tirico (right), the former announcer on ESPN's presentation of Monday Night Football and now in NBC sports.
This news all began when the news came about Mike Tirico leaving ESPN to work for NBC Sports. "I am thrilled to join this outstanding team," said Tirico.
Curiosity rose after the news made it's way to the media with one major question-'Why to leave ESPN for NBC Sports?' It was simple as Tirico got a nice big fat contract from NBC Sports.
However, there is still a question. Why is there news that Al Michaels will be retiring soon? Everybody knows that Mike Tirico is an exceptionally talented personality, but we are talking about the legend's retiring. Does this mean Mike Tirico will be replacing Micheals once he arrives at NBC Sports?
However, Al Michaels,71, has a contract that will keep him for two more in NFL seasons. According to that, he should be 73 before retirement which fades out the news of his retirement. Also, NBC Sports has not also made any comments over this.
Al Michaels' Salary and Net Worth:
With a nearly four decades long career Al Michaels must have assembled a massive pile of fortune. He has a mind-blowing salary of $6 million dollars per year. With that generous salary, Michaels has a jaw-dropping net worth of $20 million dollars. No wonder his talent and hard work paid off. Not sure if you knew before but Al Michaels was in 1990, the highest paid sportscaster ever to walk the earth at that moment with a contract of $2.2 million dollars per year with ABC which lasted till 1995.
When it was announced that Michael would be joining NBC, his contracts with ABC and ESPN came in the way which was not expired. To move Michael, NBC sold ESPN cable rights to Friday coverage of the next four Ryder Cups, granted ESPN increased usage of Olympic highlights and sold to parent company Disney the rights to Oswald the Lucky Rabbit and offered Michaels an undeniable contract which is not disclosed.
Al Michaels' Personal Life (Married, Wife and Divorce?):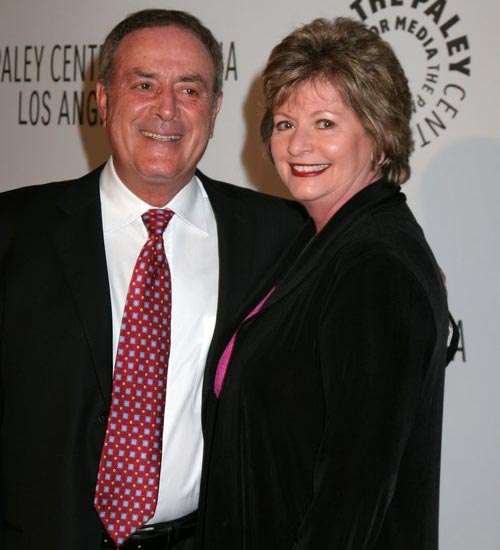 Caption: Al Michaels wife Linda Michaels (Née Stamaton), the Paley Center For Media Honors Annual LA Gala - Century City, California in December of 2007.
Source: contactmusic.com
Al Michaels was married to Linda Michaels (Née Stamaton) in 1966. The couple has been together for about five decades now with two children; daughter Jennifer and son Steven. The family was seen together entering Kings Vs Blackhawks Game at Staples in 2014.
Caption: Al Michaels & Linda Anne Stamaton with family enter Kings Vs Blackhawks Game 4 West finals at Staple
Al Michaels's Short Bio:
Al Michaels was born on November 12, 1944, in Brooklyn, New York. He attended Alexander Hamilton High School where he was also a baseball player and graduated in 1962 and Arizona State University where he majored in radio and television and also minored in journalism.
Al Michaels' had his first television break with Chuck Barris Production where he chose women to appear on The Dating Game.
He later moved to join ABC in 1977, as a backup announcer on Monday Night Baseball and after about 3 decades, he moved to NBC in 2006 where he worked as a broadcaster for football on Sunday nights.
Al Michaels will be serving as an NBC daytime host for the 2016 Olympic Games according to his NBC official bio.