Entertainment
Al Sharpton Claims The Right To Date While Legally Having A Wife; Reveals Secret To Weight Loss And Good Health
American civil right activist Al Sharpton, who has shown a drastic physical change in last few years is now openly dating with a young stylist, Aisha McShaw. While Al Sharpton is legally married to his wife of more than two decades, he still claims the right to date other women. But what prompted him to take such decision? Let's dig in for the truth.
Legally Married but claims right to date:
The Baptist minister Al Sharpton has something interesting going on in his life that has grabbed the attention of everyone. As of now, he is openly dating Aisha McShaw, a 38-year-old stylist from Westchester, New York.
The couple first hit the media in 2013, when the duo came out in public at the Musical Essence Festival in New Orleans, despite the fact that Al Sharpton was still legally married to his wife of 24 years, Kathy Jordan.
This 62 years old television presenter and his girlfriend attended a New York Country Democratic Award ceremony in early 2013. When she was questioned about her relationship with Al, McShaw said,
"i'm his girlfriend."
The news created a buzz in the media leaving the civil right icons to wonder what the fuss is all about.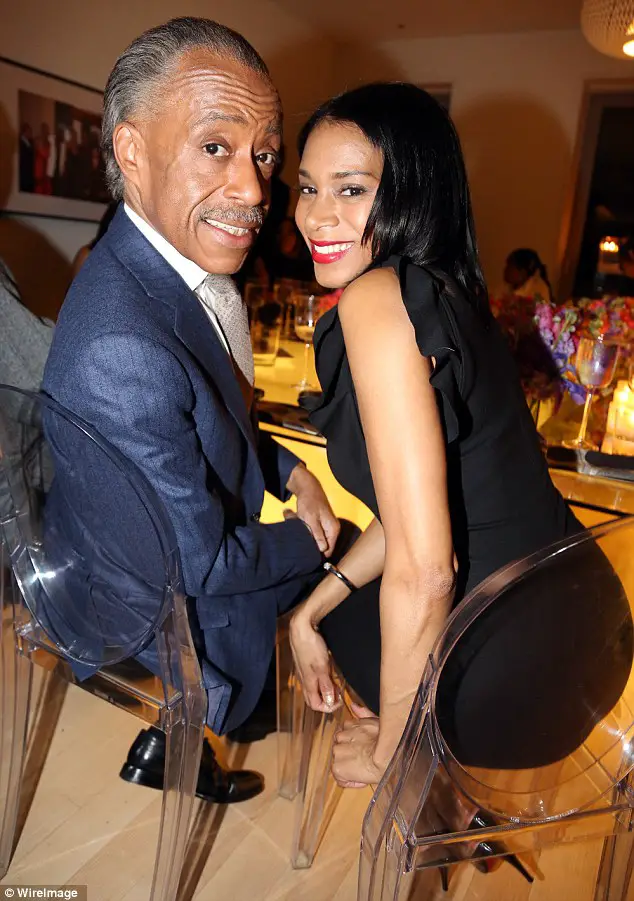 Caption: Al Sharpton and AishaMcShaw were pictured together in at an event (2013).
Photo Credit: dailymail.co.uk
Moreover, the publicist and Sharpton's friend Rachel Noerdlinger further revealed,
"His exact words to me were, 'Rachel, I'm not announcing an engagement or a marriage. Don't I have a right to date when my marriage has been over for a decade?"
A syndicated talk show host is now very open about his relationship with the Westchester "personal stylist." That was about his more recent affair which came out publically while he was also linked with Foxy Brown and actress Lisa Raye.
But no vocal is heard from the activist about those link ups; it seems things got different with Aisha McShaw. The pair were seen in many black tie affairs which also includes the White House Correspondents Dinner in April 2013 and President Obama's holiday party in December 2012.
Al Sharpton's Past Married Life and Wife:
Al Sharpton got married to Kathy Jordan in 1980. However, in 2004, Al and Kathy amicably separated with each other following the marriage of more than two decades, but none of the two have filed for divorce till date.
Caption: Al Sharpton and his estranged wife were clicked together in 1998.
Photo Credit: dailymail.co.uk
In the married life of two decades, Al and Kathy share two children together, Dominique and Ashley.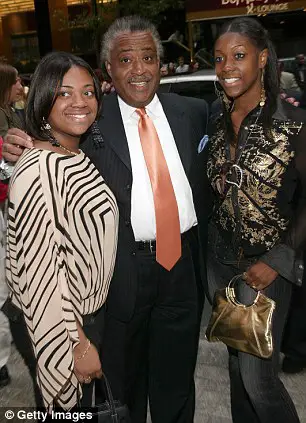 Caption: Al Sharpton and his two grown up daughters, Dominique and Ashley.
Photo Credit: dailymail.co.uk
Post marriage, Sharpton seemed to show some love for himself, maybe to make his health better he came out by a significant weight loss.
Caption: Charismatic weight loss of Al Sharpton attributes the change in diet.
Photo Credit: politico.com
He lost 125lb working on his diet, as visible on the image above. At the idea of reinventing self in a better way, he told Roland Martin in 2010,
"'I don't evolve, I'm "reinvented." Like it's part of some slick strategy."
The change in his diet is the main reason behind the charismatic weight loss of Sharpton. He revealed that he has given up meat but takes fish twice a week along with lots of vegetables and fruits.
Al Sharpton must have an impressive figure of net worth, as per his success in his radio show "Keepen' It Real." His other works include his regular guest appearance on The O'Reilly Factor, on CNN and MSNBC.
In 2011, he was named as the host of MSNBC's PoliticsNation. Moreover, he was also a candidate for the Democratic nomination in the US presidential election. Although he has not revealed his net worth to the public, it is estimated to be in millions.