Entertainment
Alek Skarlatos Silent On Girlfriend! The Brave Man's Dating Status Now
The famous dance reality show, Dancing With the Star has a wide range of contestants participating in the show. And for its 21st season, out of all the contestants that consist of athletes, actors, musicians, one hero, in particular, Alek Skarlatos, stood out. The actor/US soldier had some dating rumors while he was in the show.
If you are intrigued to know about him, then scroll down.
Alek Skarlatos, Literal Hero Silent On Girlfriend: His Dating Status Now
The reality show, Dancing with the Stars is famous for its entertaining content on camera, but the show has always managed to make headlines for rumors of romantic unions between the contestants off camera.
For its 21st season, one brave contestant was liked by the audience very much: he was none other than Alek Skarlatos. The reality show star managed to win the hearts of the viewers with his performance and charisma. In addition to that, he landed himself in a couple of dating rumors while on the show.
Alek's dance partner was Lindsay Arnold Cusick, and he took the liberty to share a backstage picture of the two on his Instagram.
The fantastic chemistry between the two on-screen sparked the romance rumor off-screen.
But that rumor was put to rest after his dance partner got married to her high-school sweetheart, Sam Cusick. The newlyweds are pretty adorable. Take a look at their wedding picture.
Right after the air was cleared out, a new rumor started floating in; it was speculated that Alek and Emma Slater, who was the dancing partner of Hayes Grier on the same season, were dating.
Even though Alek and Emma were not on-screen partners, they managed to ignite the rumor as a couple off-screen.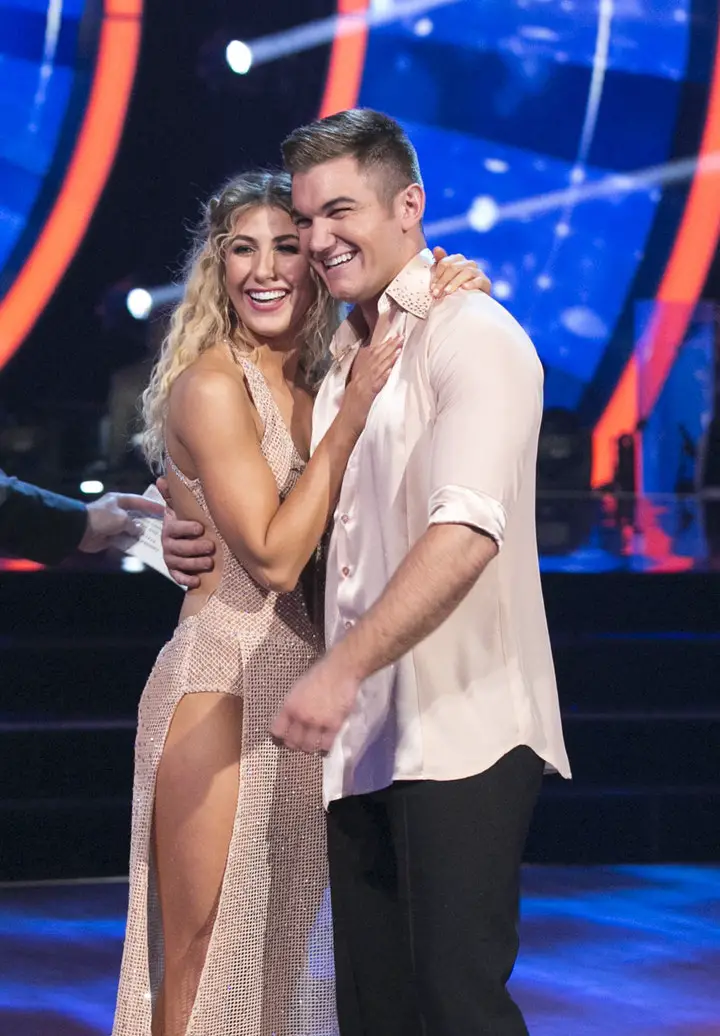 Alek, Emma stand close during show of Dancing with the Stars (Photo: Closerweekly.com)
When asked about Alek during an interview with Good Morning America, Emma replied:
"We didn't go on a date yet. We'll see," 
On the other hand, Alek was silenced about the whole matter and never really spoke about it. But he did mention that he has a crush on Emma.
For now, his dating status remains unambiguous as he has not admitted to anything except having a crush on Emma in public. 
The show Dancing With the Stars is not short of controversies, for, during its 21st season, they announced that they wouldn't allow gay dancing on stage. The dancers could dance close to each other, but not as a couple. And Alek and Carlos Pena Vega did just that.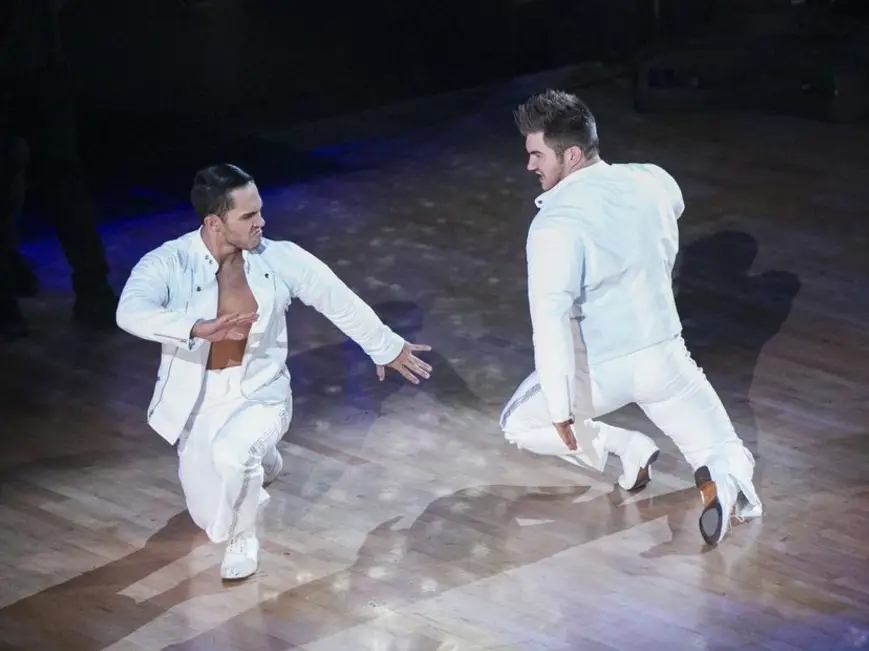 Alek Skarlatos, Carlos Pena Vega dance close to each other (Photo: businessinsider.com) 
Before being one of the most adored contestants on the show, Alek became a literal hero overnight when he, along with the help of two other men, stopped a gunman in Paris train, saving a significant number of human life back in 2015. For his bravery, he was awarded the Soldiers Medal, the U.S. Army's highest-ranking award for acts of heroism.
The actor/soldier's net worth has not been evaluated so far, but his bravery surely deserves a big salute.