Entertainment
Alex Russell Meets Actress Girlfriend Fraying Long-Distance Dating - They're A Match
Australian actor Alex Russell is famous for his role in the hit movies, Chronicle, and Wasted on the Young.
The Brisbane native overcame his long-distance relationship situation after being chosen as a regular character on a major television series.
Dating Life: Kisses Girlfriend In Public
Back in 2012, Alex was reportedly dating American actress Portia Doubleday. The speculations reached its peak after the Carrie movie co-actors were spotted sharing a kiss at The Grove in Los Angeles on 24 November 2012.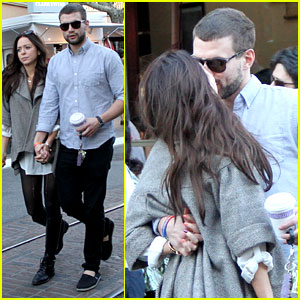 Alex gets spotted kissing Portia Doubleday at The Grove on 24 Nov. 2012 (Photo: Justjared.com)
However, they supposedly broke up after dating for a while. Portia is currently dating American thriller-series Mr.Robot actor, Rami Malek.
TV Show Brings Alex Closer To New Girlfriend
Alex Russell, 35, began dating another American actress Diana Hopper, 25, after his break-up with Portia.
The famous actor felt lucky when he was named as a recurring member in the 2017 promising cops series, S.W.A.T. He was thrilled to cash-in the next-level career opportunity in the city where his girlfriend lived. He didn't miss the chance to live with his girlfriend in Los Angeles and accepted the role in the series.
However, venturing out to television was a significant risk for the movie actor who had been temporarily living in LA with his girlfriend for more than six years. Russell had been traveling back and forth from his home in Australia to Los Angeles pursuing career opportunities.
In an interview with Foxtel in December 2017, Alex weighed in his decision to venture out to television.
"Television is always a risk for anyone, let alone someone who has such a passion for cinema and is signing a series order that could end up being five, six or seven years long"
He also added that he made the decision also to stay with his girlfriend, Diana in Los Angelos. He said,
"It almost never happens, to find something I'm excited about creatively but also gives me the chance to stay in LA with my girlfriend [Diana Hopper]"
It was vehemently tough for the actor to take such a massive career decision given he has had a fantastic movie career with the hit movies such as Unbroken; The Host; and Only the Brave
Dating Life With Diana: Relationship Compatibility
In early 2018, Alex Russell and Diana Hopper took a trip to Great Keppel Island, Australia. Diana posted a picture of the journey to share with her fans on Instagram.
In the photo published on 24 January 2018, she along with her boyfriend Alex were seen holding drinks and enjoying their private moments together.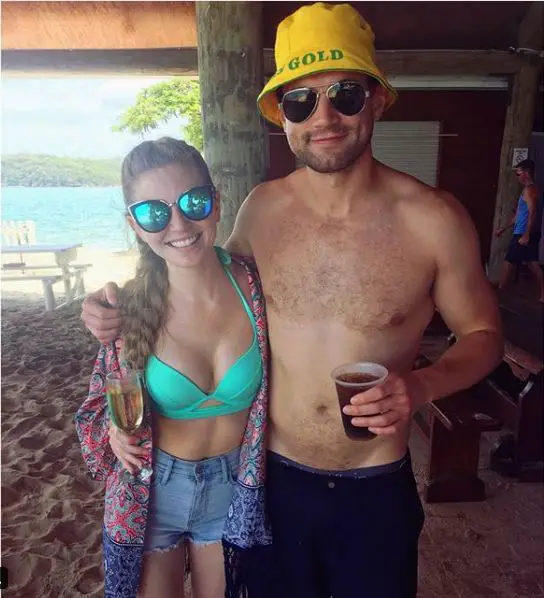 Alex and Diana enjoy a romantic getaway in Great Keppel Island on January 2018 (Photo: Diana Hopper's Instagram)
Later in May 2018, the couple attended the screening of the movie, Brampton's Own, at Regal 27 Hollywood Theater. The duo also Instagrammed their snaps of the event.
Alex had Instagrammed picture of Diana for the first time on Instagram on 25 February 2016, marking the occasion of her birthday.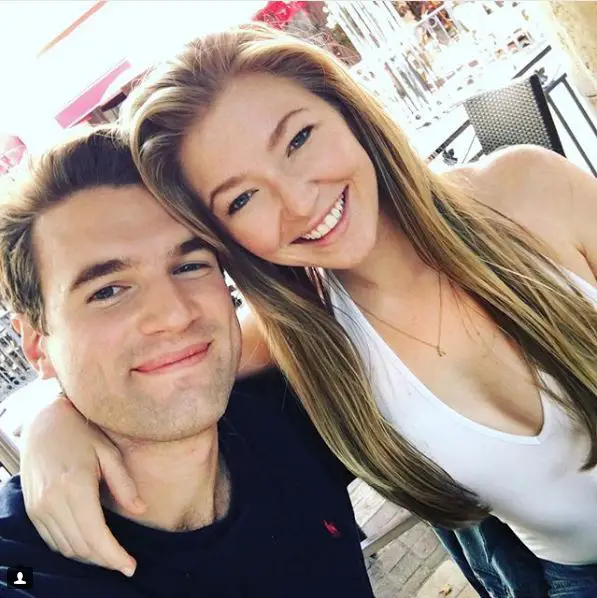 Alex and girlfriend Diana enjoy a vacation during her birthday (Photo: Alex Russel's Instagram)
Further, on 25 August 2016, Diana had also Instagrammed a picture of the two, writing that she was proud of Alex for portraying a Fire Fighter in Only The Brave.
Alex has been dating Diana for a long time. The pair is active on social media. They flaunt each other pictures on their social networking sites.
While Alex is a straight man in real life, he has had few gay experiences on screen.
On-Screen Gay Portrayal
Alex's character in the 2014 Australian thriller movie, Cut Snake, can be considered bisexual.
In the film, the 30-year-old actor played Sparra, an ex-convict. The movie storyline features Sparra about to get married and settle down with his to-be-wife, Paula (Jessica de Gouw) when suddenly his past catches up with him. His former cellmate Pommie (played by Sullivan Stapleton) gets released from the prison and tries to bring him back to the life of crime. Further, Sparra and Pommie also have sexual tensions going on between them igniting back from some intimate moments they shared back in prison.
However, if you want to know if Sparra relinquishes his newly found love to get back to his criminal life with his past male-partner, you must see the whole movie as no spoilers are going to be revealed in this article.
As of 2018, he is set to appear in the upcoming movie, Brampton's Own.