Entertainment
Alex Wagner Magnificent Wedding With Chef Husband: President Obama's Family as Guests
Marriage is perhaps the most precious moment in one's life, and that is why everybody desires to have a very memorable wedding. So, everybody works hard for a perfect wedding but can anybody say that the President of United States came to my wedding?-Probably not.
But for an MSNBC journalist, Alex Wagner it happened. The host of the previously running show, 'Now with Alex Wagner', had one memorable wedding to remember after it was visited by Barrack Obama and his entire family. If you are wondering how then it's all thanks to her husband.
Who is Married to her? Husband?
Alex Wagner got married to Sam Kass at Blue Hill at Stone Barns outside of New York City on the night of August 30, 2014. Sam Kass is also a very popular figure mostly recognized for his relationship with Barrack Obama and his family professionally as a chef but over the years had grown on them. Despite such a big name on the guest list, some cameras hopefully were on them as well. Here is a picture of their wedding posted on Twitter by her fan.
The wedding was made more remarkable when President Obama made his appearance along with his family. His plans to attend Wagner and Kass's wedding was an open secret but were only confirmed when he arrived at the wedding venue almost at 7 p.m. He was accompanied by First Lady, Michelle Obama and daughters, Sasha and Malia. The entire family was spotted boarding down from the plane in black attires. The wedding took place at Blue Hill at Stone Barns, a favorite spot in Hudson Valley which is a restaurant as well as a working farm. Here is the photo of the First Family leaving the wedding posted on Twitter by CBS News.
How it All Started?
Alex Wagner and Sam Kass were first reported to be dating by 'The Washington Post' on 6th August 2013. They had managed to date discreetly and out of the public eye for about a year or so by then. So, how did they meet? Nobody knows but both of them have intertwined career with politics; their path was bound to cross.
After about a month later in September, a new update was heard that the couple got engaged. An engagement ring was noticed on the hands of the MSNBC host on her show.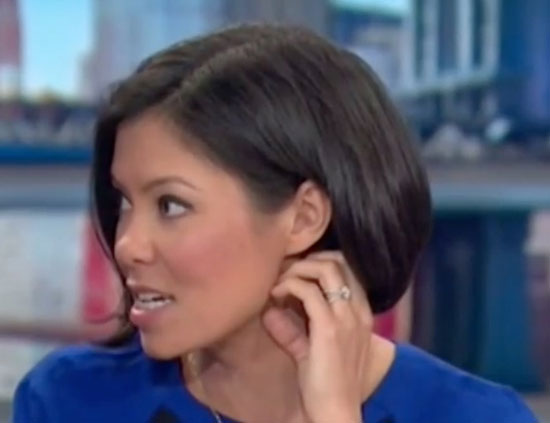 Caption: Alex Wagner saw with an engagement ring on September 2013
Source: buzzfeed.com
About Sam Kass:
Sam Kass had helped the Obama family a lot to live a healthier lifestyle as their personal chef at first when Barrack Obama had started out as a senator. Since then he was tagged along with them and on the way had been appointed as an assistant chef of the white house.
He was then promoted as the Senior Policy Advisor for Healthy Food Initiatives in 2010, and when the First Lady, Michelle launched her 'Lets Move!' campaign, Kass was appointed Executive Director and promoted to Senior Policy Advisor for Nutrition Policy in 2013.
Alex Wagner's Short Bio:
Alex Wagner was born on December 4, 1977, in Washington DC. Her mother was an immigrant from Myanmar, and her father was of an Irish-German descent, so she has a mixed ethnicity. She graduated from Brown University studying art, history, and literature in 1999.
She left MSNBC in July this year to join The Atlantic, a magazine, where she currently works as a senior editor. Before that she had been featuring many TV series in MSNBC this year namely, "The Daily Show with Trevor Noah", "Real Time with Bill Maher" (since 2011), "This Week" and "The Circus: Inside the Greatest Political Show on Earth." Alex Wagner has an estimated net worth of around 3 million dollars