Entertainment
What Makes Alexander Siddig Gay? Fact That He Had A Wife & Family?
Alexander Siddig, the man who portrayed the character of a 'Good Doctor' for seven seasons of Star Trek: Deep Space Nine, has collected an enormous stash of frequent flier miles on his own, lately. 
Besides fame, he also found his life-partner while working on the set of Star Trek: Deep Space Nine. Even with the presence of his wife and family, many of his fans even concerned about his sexual preference. 
So, analyzing the thirst of his fans to know his sexuality, here we present you the detailed information of the actor's sexual preference along with more interesting details!
Family Life Plus Dating Background
Sudanese-born actor Alexander Siddig met his wife, Nana Visitor on the set of Star Trek: Deep Space Nine, back in 1993. The two co-star soon became pals and later deeply fell for each other. 
The cast-mates were genuinely in love and even the co-executive producer, Ira Behr claimed that they seemed unbelievably happy together. Their dating relationship changed into the co-parental relationship after the couple welcomed their son, Django El Tahir El Siddig, on 16 September 1996.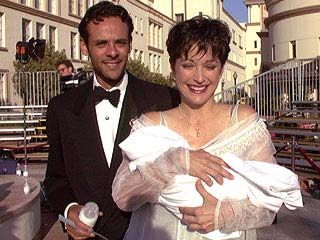 Alexander Siddig with wife, Nana Visitor (Photo:fanpop.com)
After a year of cherishing their parenthood, they exchanged their wedding vows back in 1997. But after four years of their marital relationship, the former co-stars decided to end their romantic life. The couple called off their marital bond and parted their ways in 2001.
Well, it seems that the former married couple is still in a good relationship. In an interview with Star-trek, Alexander was asked about his current relationship with the other crew-mates from his old days, and he revealed that he has a good relationship with his former-wife, Nana.
"Nana is really the only person I'm in touch with, sadly. I see her at least twice a year." 
Following the divorce, Alexander, who enjoys the net worth of $3 million, started dating the former Sex and the City star, Kim Cattrall in 2005. They went public for the first time on the red carpet at the British magazine Glamour's Women Of The Year Awards in June 2005.
But after a brief dating, they separated keeping the reason inside their pocket.
Gay Audience Appreciates
Like many other celebrities, Alexander Siddig is also included in the list of gay speculation. During his career in the Star Trek, his character Doctor Julian Bashir was highly appreciated by the gay audience. However, having gay followers does not make Alexander a gay celebrity.
Not just that, going deeper into his personal life, we found that he is happily relishing his family life. Moreover, the 52-year-old actor has a proving history of his wife, child and dating affairs which affirms to be straight rather than on the gay side of sexuality.
Keep Visiting for the emerging updates on the life of Alexander Siddig!