Entertainment
Alexandra Pelosi, Unlikely To Get Divorce With Husband, Examining Strength of Mega Donors in Politics
Alexandra Pelosi is indeed a big name in the media industry as a high-profile multi-talented celebrity. She has directed more than half dozen of successful documentaries.
She even has served on the campaigning of George W. Bush having made a documentary on it. She has also contributed to politics of United States and recently is filming documentary on how money's influenced politics.
Unlikely To Get Divorce with Husband:
Alexandra Pelosi manages to keep her personal life out of the limelight and the news about divorce with her husband appeared to be a rumor. Alexandra met her husband Michiel Vos, back in 2002 at a film festival in Amsterdam. Their love story started in a romantic way when Alexandra was there to show her documentary "Journeys with George" and Michiel was there to see the documentaries of American politics.
On an interview given to the new York time in June 2005, she said, "I was there with the Jarecki brothers," referring to Eugene and Andrew Jarecki, both documentary filmmakers. "Michiel would see the three of us sitting at a cafe. By nightfall, Michiel said, "You can't be in Amsterdam and just sit."
Soon then, he offered them a ride, but it was Alexandra whom Michiel really wanted to see. He said:
"I was interested in her, but I knew she wouldn't go alone."
After a lot of knowing each other and dating, they finally tied the knot on June 18, 2005.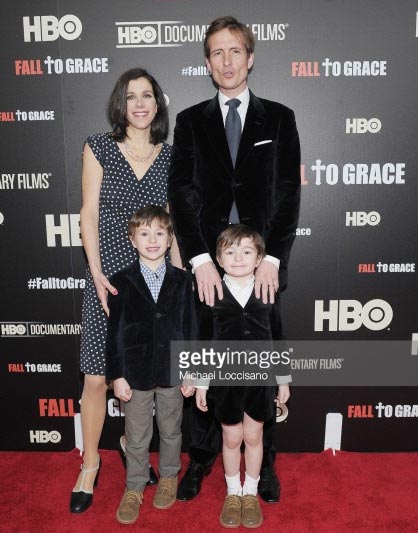 Caption: Alexandra Pelosi, her husband Michiel Vos and their sons Paul Vos (front left) and Thomas Vos (front right) attending the New York premiere of the HBO documentary "Fall to Grace" on March 21,2013.
Source: gettyimages.com
Examining Strength of Mega Donors in Politics:
As we know, for any politician to win the election, he needs support and donation from all around the world. Local mega-donors contribute more as a way of showing support. And elucidating on the mega-donors, Alexandra has started a new documentary "Meet the Donors: Does Money Talk?," for HBO starting from 13th August 2016. In this program, she will have to interview while holding the camera herself to those donors who are mainly rich white men.
She talks with other individuals as well about lobbying, corruption, union and advocacy group that contribute millions to the campaign. The interview is set to feature business person Toby Neugebauer, former congressman and lobbyist Tom Downey and former Mississippi governor turned lobbyist Haley Barbour.
We can see HBO promoting Alexandra show on their Twitter and presenting the underlying theme of the show.
Net Worth and Salary?
The current net worth of Alexandra is not known exactly, but her mother has a total net worth of $100 million dollars. Her mother Nancy Pelosi is a well-known politician and a former Speaker of the House of Representatives. Most of Nancy Pelosi's net worth and income comes from her involvement in politics.
Alexandra Pelosi was born on October 1970 in San Francisco, USA. She is Daughter of Congresswoman Nancy Pelosi of California, House Democratic Leader, former House Democratic Whip, and Paul Pelosi. She graduated from USC's Annenberg School for Communication with a master's degree in Communication Management (1993).
She is mostly known for her documentaries "Journeys with George"(2002)," Diary of a Political Tourist" (2004) and" Friends of God: A Road Trip with Alexandra Pelosi" (2007).
Currently, she is doing her documentary on "Meet the Donors: Does Money Talk? Which is gaining a lot of attention as it is based on The United States presidential election of 2016 and the funding process? She is also the director, producer, and writer of the famous TV Movie documentarY "San Francisco 2.0"(2015).