Entertainment
Alexz Johnson In Perfect Sync With Husband! Married Life At Best
Alexz Johnson, who is a record producer, an actress and also a philanthropist is married to her boyfriend after many years of dating. Alexz is living her married life at best after taking those marriage vows with her man.
Wondering how her wedding and life after that look? Well, you are in for a treat and read along to know more.
Alexz Johnson's Perfect Married Life With Husband
Alexz Johnson, a Canadian singer-songwriter, has been living a perfect married life in delight. It has not been long since Alexz tied the knot with her longtime boyfriend, Matt. Well, Alexz has not opened up much about her boyfriend yet, and his profession is still a mystery.
Alexz exchanged the wedding vows in November of 2017 with the man of her dreams Matt with whom she was engaged. The wedding ceremony took place in Scotland after years of dating where the couple shared the memories that will last a lifetime.
For the wedding, Alexz had planned for a perfect ceremony in her taste for the guests. She was looking forward to the 'gig' performance by one of the band she adores A Ceilidh Band For Such A Time As This. She asked the band member for their schedule in November while she posted on the wall of their facebook page booking for them unofficially.
However, much details of their wedding did not surface the media. It is still a mystery how the wedding went but looking at the couple it seems like they have had their marriage ceremony just the way they planned it.
Nevertheless, Alexz did post a romantic picture with Matt where he is carrying Alexz in his arms while walking through the green grass towards the horizon.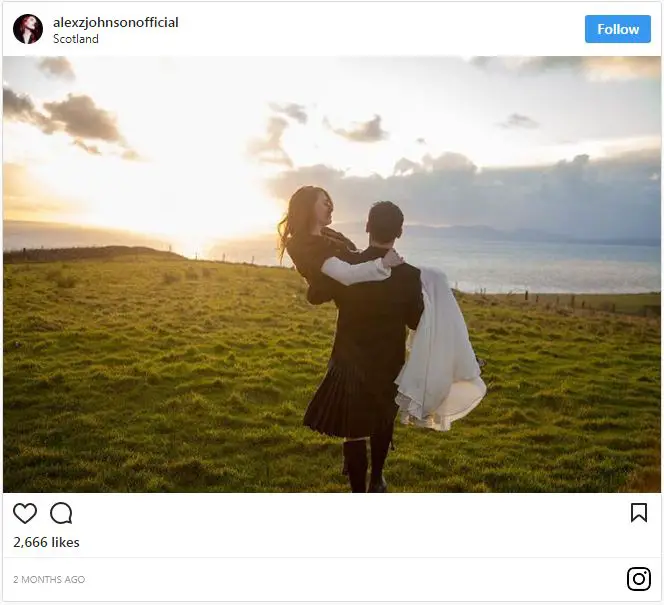 (Photo: Alexz Johnson's Instagram)
Well, the picture itself reflects the kind of romance they share.
After their Scotland wedding, the couple seems to be on tour around the world. Alex's Instagram apparently shows that the pair visited Spain right after their visit to Scotland.
The pair seemed to have spent quality time with each other through the streets of Barcelona while cherishing their bond with a romantic candlelight dinner in Barcelona, Spain. Alexz expressed her adoration for the place through her post where she stated that she never wants to leave the place.
Moreover, after their stay in Spain, the couple were on their way to Italy. Alexz with her husband lived all the memories that they could dote on while growing old. The pair visited Bolanga all the way to Florence then to Rome.
However, Alexz did not miss out on her fans during her tour which seems more like a honeymoon. She posted all about the places she visited while keeping her fans updated along with giving them a virtual tour.
Well, Alex's seems to be living four months of blissful married life with her husband and many more years of togetherness lies ahead!