Entertainment
Alfonso Herrera Secretly Got Married With Girlfriend; Shows Immense Love For Wife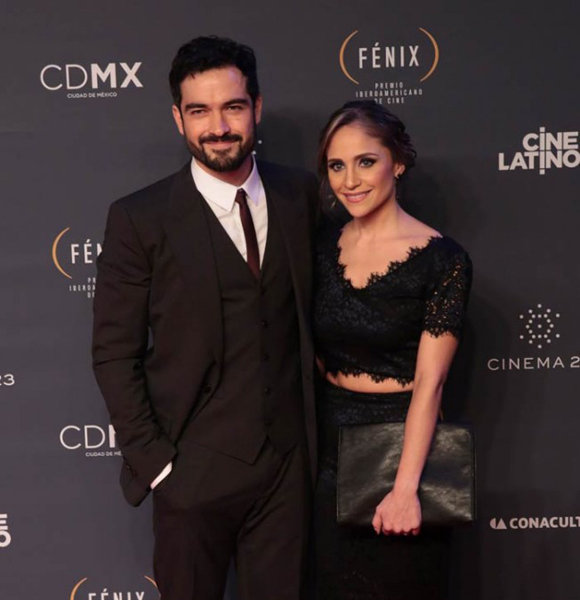 Marriage is one of the most divine institutions which associates two people. While some people acknowledge their marriage in front of the world, other are hesitant to share about their marriage. But celebrities are extra careful regarding the news of their personal life, and they prefer to keep the detail of their personal life under the wraps.
Alfonso Herrera shares a similar story as she secretly got married to his wife, who was a girlfriend back then and shows his sentimental side and showers immense love for her. But who is this girl he secretly married? Well, let's find that out.
A Married Man Now: Alfonso Herrera's Secret Is Revealed!
Actor Alfonso Herrera, who prefers privacy in his personal life, gave an insight into his personal space in one of the rare occasions. Alfonso attracted a lot of criticism when he shared a family picture with his partner and baby while hiding their faces via Instagram on March 20, 2017. His followers even conjectured him of being ashamed of his partner.
Alfonso is always careful not to show the emotional side, but on March 21, 2017, he did not hesitate to show his love for his beloved wife Diana Vazquez via Instagram.
In the Instagram post, he wrote beautiful words about his wife and acknowledged the beautiful person with whom he is sharing the wonderful moments of his life. 
Along with that, they even shared the joy of becoming parents as they welcomed their son Gremliniux.
Similarly, on March 22, 2017, Alfonso revealed that he is a married man with his wife, Diana via Facebook. Alfonso further shared that Diana was his girlfriend turned wife.
Back on April 11, 2016, soon to be daddy Alfonso excitedly shared the excitement on becoming a father with his followers via Instagram
Lately, Alfonso revealed about his married life with wife Diana and their son, Gremliniux, but the other details of their dating span and wedding are yet to be revealed.  As per the reports back in April 2016, Alfonso welcomed his first baby approximately one year of the relationship with his woman.
Reveals About His Wife's Sexual Harassment!
Alfonso Herrera joined the non-male campaign which drives the United States and Government of Mexico City to promote family values and combat sexual harassment.
Regarding the campaign, Alfonso expressed,
"all women have the right to live free of violence in cities, in public spaces and men have a fundamental role to generate a cultural change," 
Moreover, referring to the people's silence towards the issue and the witnesses of the situation, Alfonso pointed out the ways to avoid such happenings.
"educate in equality, respect and freedom not to repeat patterns of behavior that make us victims and perpetrators."
Alfonso also confessed that his wife was a victim of sexual harassment when she was ten years old.
"The first time she recalls being a victim of sexual harassment was at age 10, she walked home from school when a man grabbed her buttocks. She was shocked and started to cry as she watched the man walk away"
Insisting on fighting such incident, Alfonso divulged,
 "As a society we must demand that justice be done and that those responsible assume the consequences of this serious problem."
Alfonso Herrera kissed his colleague Miguel Angel during the gay pride parade, as a part of the scene in the second season of Netflix series "Sense 8" in Sao Paulo Brazil. Although he portrays as a gay on-screen, his gay sexuality is confined to on-screen only, as he is a happily married man in real life.
Alfonso Herrera revealed few details about his life with wife and child, and there remains a hope in the heart his fan that he will share more details of his personal life in near future, regardless of maintaining a tight guard over his personal space.
Stay with us for more news on Alfonso Herrera!