Entertainment
Is Ali Liebert Married? Even If She Was, It Wouldn't Be A Husband
Is Ali Liebert Married? Even If She Was, It Wouldn't Be A Husband. The Canadian actress, model, and producer, Ali Liebert, rose to stardom through her portrayal of a lesbian character in the series Bomb Girls as well as Lost Girl. With her promising career and immense beauty, it wouldn't be foolish to believe that she must be enjoying a dating life. But who is the lucky man—ahem, the lucky person?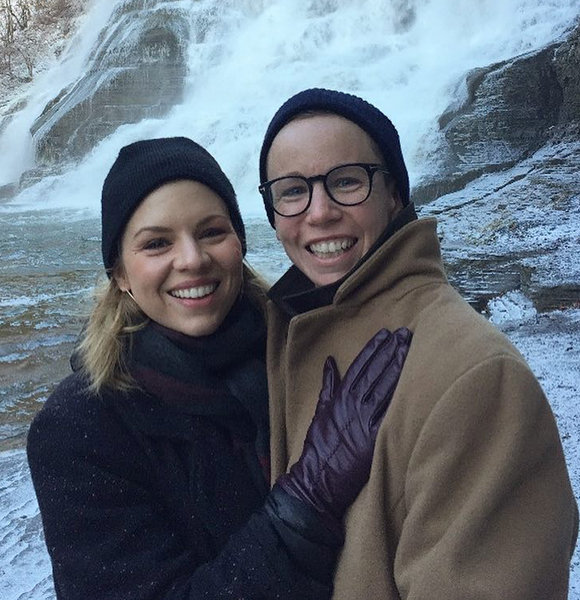 Hollywood takes a significant credit on the progress of same-sex relationship; it has normalized different sexualities and portrayed the notion in mainstream media as well.
The Canadian Actress, Ali Liebert, is on the forefront of sexual inclusiveness, as she too has portrayed a lesbian character in the series Bomb Girls and Lost Girls.
Because of her passionate advocacy and convincing portrayal of her character, the hype regarding her sexuality beyond the screen hit the media time and again.
So today, we'll be clearing the confusion and present you with the love-life of the actress!
Not Husband, But Ali Liebert Is With Her Special Partner
The Canadian actress Ali Liebert rose to stardom through her recurring role on the series like Kyle XY, Bomb Girls, and Mech -X4. She also landed a leading role in the 2009 film, Year of the Carnivore.
With her promising career and immense beauty, it wouldn't be foolish to believe that she must be enjoying a dating life. But who is the lucky man—ahem, the lucky person?
Well, it seems,  Ali won't have a lucky man but a lucky woman. During an interview with AfterEllen back in 2013, she was asked if she's ever had a crush on a woman, and the answer made her male fans' hearts shattered, who desired to be the boyfriend of this beauty.
"When I'm attracted to someone, I'm attracted to them and yes, I've definitely been attracted to women in real life. Doing research is one of my favorite parts of the job as an actor and luckily there are so many resources to draw from – books, the internet, real people. Talking to lesbians who lived through the war, or have lived in homes or places that were homophobic was especially helpful as I was creating and understanding Betty's point of view of the world."
Armed with real-life experience and intensive research, Ali awed her fans by portraying the role of Betty McRae, a lesbian, in the TV series Bomb Girls. Similarly, she further amused her fans, playing another character of the same sexual orientation in Lost Girl.
But Ali made her fans swoon back in 2015 by going public about her relationship with her girlfriend, Charlie.
Ali Liebert took Instagram to share a photograph with her partner Charlie, enjoying the holiday of the lovers, Valentine's Day together in apparent bliss.
On the same day, Charlie also uploaded a picture with Ali. The couple seemed to have enjoyed their time together, as the flaunted photos reflect their passion for each other.
Well, these above pictures were uploaded a few years ago, and as for now, none of Ali's social media accounts have any signs of the couple being together. But, Ali might secretly be dating or married to her or someone else, who knows?
When Bomb Girls first debuted, Ali explicitly identified as straight and claimed to be very much in love with her boyfriend. But she was an active supporter of LGBT rights. Over the years, much like with so many of us, her perception of her sexuality evolved.
The talented Ali has been the recipient of a Canadian Screen Award and a Leo Award for her performance in Bomb Girls. Besides, she was also listed in the Hollywood Reporter's "Next Generation 15 Hottest Canadian Talents Under 35."
Talking about her family, the beautiful diva has a younger brother, Jeff, but is yet to disclose any information about her parents.
Stay with us for further updates on Ali Liebert!