Entertainment
Alice Wetterlund Bids Past Married Life Away! Cherishing Young Love?
Some couple can still be friends even after their divorce. It is what happened to Alice Wetterlund, who is an American screen actress, and stand-up comedian. 
Read on to find out more regarding the story. 
Alice Wetterlund, Friend With Former Husband
Fellow comedians Andy Haynes and Alice got married in Palm Springs, California in February 2013. However, things didn't turn out well between the two as the eventually parted ways. On 30 June 2016, speaking to The Cut about her marriage and divorce, Allice Wetterlund said,
"The marriage didn't last, but we're still friends." 
Talking after the premiere of the 2016 movie 'Mike and Dave Need Wedding Dates' Alice further mentioned that her wildest wedding date was with her then-husband, Andy. 
"My wildest wedding date? My ex-husband, who I married at my wedding,"
Recounting the full story, she adds further:
"We got super drunk and we stole a golf cart and we drove out to the desert — we were in Palm Springs — and he was so high that he wanted to go back. We were in the middle of the desert, and it was beautiful. I was like, 'Why do you want to go back?' And he's like, 'What if there's, like, guys out here?' And I was like, 'It's four in the morning.' And he's like, 'But think about it, if there are guys out here, they're not cool.' And I was like, 'That's true.'"
Alice Wetterlund treasures the wild dating encounter with her former husband. Moreover, Alice mentioning about Andy past their divorce and embracing her moments back in time with him evidently hints on their friendly status lately. 
Alice Westerlund's Obscure Dating Life
Post her divorce from Andy Haynes, Alice seems to have started dating someone else on her quest for fresh love. About which, she gives a hint via her tweet, on 27 July 2017, writing,
"Is now a bad time to release my feature abt breaking up with my boyfriend Kirk called "Done, Kirk"? I can't change the name"
Unfortunately, she does not share many details about her boyfriend called 'Kirk.' 
Meanwhile, Alice recently posted an image of her kissing a man named Garret Lang on the cheek a day after Valentine's day this year on her Instagram.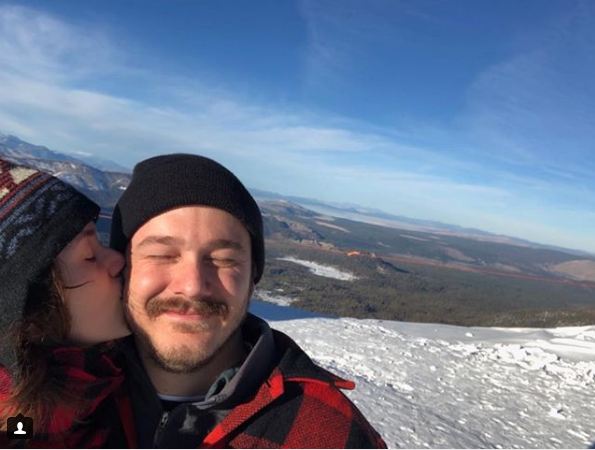 Alice spending quality time with Garret (Photo: Alice Wetterlund's Instagram)
Not just that a few days past the post, Alice again took to Instagram sharing the snap with Garret, where she is caressing the man. Well, Alice indeed has a soft corner for Garret, but their actual relationship status is still to be addressed by the two. Hopefully, Alice won't take long to introduce her fans to her new boyfriend; if Garret is the one!