Entertainment
Alisha Boe Parents & Ethnicity: Family Details Of 13 Reasons Why Cast
The Netflix original series 13 Reasons Why is back on with its release of the second season and so are it's longtime loved romance.
But for one of the lead characters, Alisha Boe, her on-screen romance is a little bumpy as her on-screen boyfriend Justin Foley, portrayed by Brandon Flynn has left the town.
And the same resembles in her real life, except her boyfriend does not leave the town. She reportedly had a boyfriend and together they colored their social media, which turned into her relationship clues for social media detectives.
Let's dive into the whole story to uncover Alisha Boe's full romance along with her family love!
4th Of July With Boyfriend; Seems Single Now!
Alisha, who stands at the height of 1.63 m (5 feet 4 inches), was seemed to be all single until the May of 2016. She was seemingly dating a boyfriend, who goes by the name Michael Garcia on Instagram.
And the duo's dating life was hinted on social media, Instagram. As their dating life's exact date has remained confined till date, however, as per speculations the duos have been reportedly dating since 2015.
The pair celebrated the 2015's 4th of July together. Alisha uploaded the timebeing with Michael on her Instagram and wished her fans the happy fourth of July.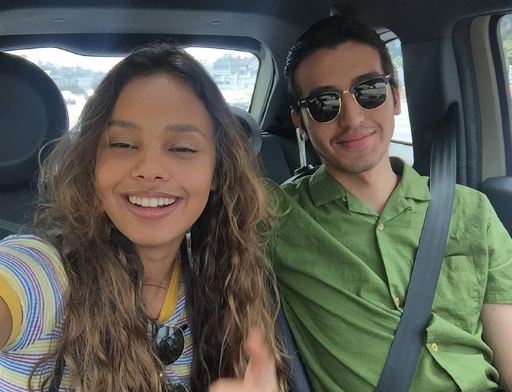 Alisha Boe with boyfriend Michael back on 20 May 2016 (Photo: Alisha Boe's Instagram)
Moreover, Alisha Instagrammed a picture with Michael on 11 August 2015 quoting him to be her baby.
The two's dating seemed to run in 2016 too as the duo's social media were still speaking cute gestures for each other. On the occasion of Valentine's Day, Michael tagged Alisha in his Instagram image of him and his dog on 15 February 2016.
But since 2016, the two have stopped posting pictures of each other, which can be assumed that the pair is no longer together. Michael's dating a social media personality, Adda Matei also confirms the duo have ended their romance.
As of now, Alisha seems to be single.
Struggles Due To Her Ethnicity; Parents' Divorce
Born on 6 March 1997, the beautiful actress struggled before landing major roles and has recently opened up about it, her ethnicity played a major part in it.
Recalling her days, she remarked that she previously struggled to book roles because "it just wasn't inclusive then for mixed or ethnically ambiguous or black people, in general."
Born to Somali father and a Norwegian mother, she derives the mixed ethnicity, which brings her less inclusive roles in Hollywood. She stated in an interview with W on June 2018,
"I'd be sent for black roles, but I'm too white, and I'm too white to be black."
Besides, Alisha also saw early divorce in her family after her mother and her father filed for divorce and moved on their separate ways. Later, Alisha's mother Vibeke married an Amerian man and moved to Los Angeles when she was seven years old.
Alisha timely shares the picture of her mother and her brother in her social media accounts hinting her affectionate bond with them. Back on 15 May 2017, Alisha uploaded a photo of herself with her mother and brother gazing at the pond.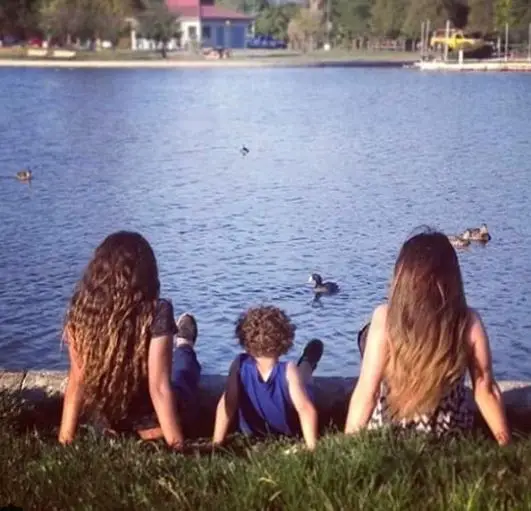 Alisha Boe (right) enjoys sightseeing with her mother (left) and brother in the middle (Photo: Alisha Boe's Instagram)
Alisha's mom too frequently posts about her daughter and son in her Instagram accounts. In 21st birthday of Alisha, she Instagrammed a picture of Alisha when she was just one year old. In the caption, she displayed her love for her daughter saying that being a mom to Alisha has been the greatest gift of her life.
Vibeke even quoted that she is proud of Alisha for what she is becoming and wrote,
" I love you beyond!!!! Happy 21st birthday baby girl."
The mother-daughter bond between the two is beautiful, and Alisha has indeed made her mama proud with all her achievements and success. As Alisha continues to enjoy her life with her mother and family, she appears to be single while being busy on focusing her budding career.
Keep Visiting to stay updated on the life of Alisha Boe!