Entertainment
Allegedly Lesbian Brooke Vincent, With Footballer Boyfriend: Confusion About Being Pregnant
Brooke Vincent, the Coronation Street's lesbian star is being called lesbian in real life. Is it because her role as a lesbian was too realistic or is it because she is a lesbian? Let's find out if the alleged claims are true and if they are not, we shall know about her boyfriend if she has one.
Are the Lesbian Rumors True?
We would like all the guys to calm down and not be worried after seeing this picture above as this was just a part of Coronation Street where Brooke had to perform a kissing scene. To relieve you all, we would like to say from Brook's side that she is not a lesbian.  In an article by Express UK, Brooke discussed that she still has to tell fans, "I'm not a lesbian."
So there you have it, Brooke Vincent is not a lesbian which means we yet have to find if she had any previous relationships or currently has one.
Brooke Vincent's Boyfriend and Dating?
Well, currently according to her Instagram picture we came to find that Brooke Vincent is now dating a rising football player Kean Bryan from Manchester City.
The couple Recently went to Barcelona on a holiday and Brooke summed up their whole experience in one short video on her Instagram and believe us when we say it because when we watched that video, they sure did had a lot of fun.
Is Brooke Pregnant?
When we further stalked her on her Instagram, we came across a picture where she was just smiling down at a picture of an unborn baby scan later we came to know that this picture was firing up news about Brooke getting pregnant.
Caption: Brooke Vincent was gazing towards an unborn baby scan picture.
 However, when we looked at the picture's caption, it was clearly mentioned that she was congratulating her friends Kate Townson and Antoni Sarcevic but we still cannot deny that the photo was somehow misleading and gave her fans the idea that she was pregnant but she is not.
Her Dating History
When we looked further, we came to know that Kean wasn't the only footballer in Brooke's life. Before she got together with Keane; Brooke was in 4 years long relationship with a Chelsea player Josh McEachran.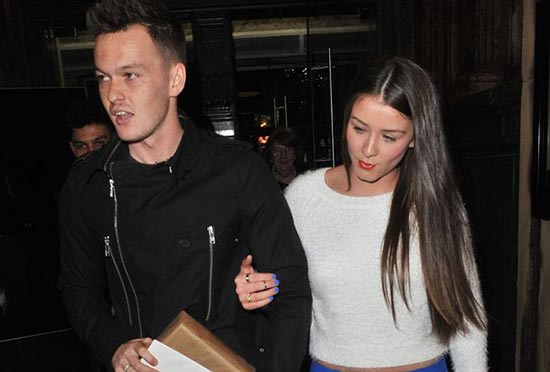 Caption: Brooke Vincent with Josh mcEachran on his 21st birthday after his arrival in England after a match in 2014.
Source: irishmirror.ie
The couple started dating in 2011 but later in 2014; they separated which only lasted for three months as the couple got back again. The reason behind their split was believed to be long distance romance.
The couple separated again in 2015 and this time, their relationship ended completely and just after some months, Brooke and Kean were seen together.
Brooke Vincent's Short Bio:
Brooke Vincent is an English actress who was born on June 4, 1992, in Greater Manchester, England. Brooke's career in television started when she did a role for guest character in a TV series, 'The League of Gentlemen.'
Her career took its leap when she replaced Emma Woodward as Sophie Webster in Coronation Street in 2004. From then, Brooke Vincent is known for her role as Sophie Webster. She has been series regular, main cast in Coronation Street since 2004.