Entertainment
Ally Ioannides Has a Boyfriend? Dating Status Amid Throbbing Career
Celebrities are "perfect'' to the eyes of the public and easily win the hearts of many people who look up to them.
But, has anyone captured the heart of the Into the Badlands star, Ally Ioannides? Is Ally involved in a dating affair?
Keep scrolling down to find your answer.
Is Ally Ioannides In A Dating Affair With A Secret Boyfriend?
No one would deny that the actress Ally Ioannides is one of the very stunning actresses in the entertainment industry. With her gorgeous eyes, attractive features, and impressive acting skills, she is a favorite among many of the young fan followers of this generation.
But the fans seem to aspire to dig out the information regarding the presence of a lucky man in her life. Could it be that she is just too busy in her career to even consider dating?
Well, as much as one would love to know about Ally's dating status, sadly, she is very tight-lipped when it comes to the page of her personal life. Although Ally has had her share of romance on-screen, it seems as though she doesn't prefer to disclose the affair of her off-screen life.
Not even the paparazzi have seen Ally publicly with a romantic partner yet. Moreover, she does not provide any possible clues through her social media, either. Additionally, she has also not been vocal about anyone who has caught her interest.
So, it may cheer up most of her male fans as Ally could be single. But there is always a possibility that she is enjoying her love life behind the curtains. So, we might just have to wait until Ally is more open on this matter.
A Bit More About Ally Ioannides
The actress Ally Ioannides was born on January 12, 1998, in Atlanta, Georgia, and belongs to the Greek-American ethnicity. She also has a sister, Katerina Ioannides.
Talking about the initiation of her career, Ally's supportive parents let her pursue a professional acting role as Ester in A Christmas Story when she was just eleven years old. She also played in theatrical versions of White Christmas, Annie, and The Sound of Music.
When Ally was just fourteen years old, she moved to California and continued her career as a stage actor in several musicals. However, growing up, Ally who stands at the height of 5' 2½", started to focus more on her work in movies and Television series.
In an interview in March 2015 with Medium, when asked what her family's first reaction was like when they saw her on TV, she replied,
" My first reaction was 'stop Ally, go away,' because I hate watching myself. But I had a lot of people call me and go 'Ally I saw you on TV' and I remember you know my papou (grandfather) called me and I was so happy that he had seen me and he was so excited. And later on after I had been in a few episodes, he called me and he was like 'oh you know Parenthood reminds me of the ancient Greek plays. I love how there is the climax just like the old Greek plays.' He was very funny. A lot of people are like 'you are just like Dylan' and a lot of people are ' you couldn't be more different than Dylan.' So it is interesting to see that too. "
Further, Ally also reflected back on how her parents and her sister have been supportive of her dreams along the way and also shared important advice that her father gave her,
"Yes, both my parents including my sister are so supportive. I don't know what I would do without them. When we moved in the Oceanside (California) my mom would drive me two hours at least twice a week to LA for auditions. And you know I am really fortunate. I don't think I would be where I am today if I didn't have parents who were like yes go and get your dream. Because that's a crazy dream and there is a very slim chance that is going to happen. And you know my dad since I was very little had said you do anything that you want as long as you are really good at it. And I think that was an awesome advice. "
Well, it looks like Ally is sticking to her father's advice till now, as she has been doing great in her career. In the year 2014, she starred in the Web Series, Scarlett, and has appeared in several TV series including Elementary, Into the Badlands, and Parenthood to name a few.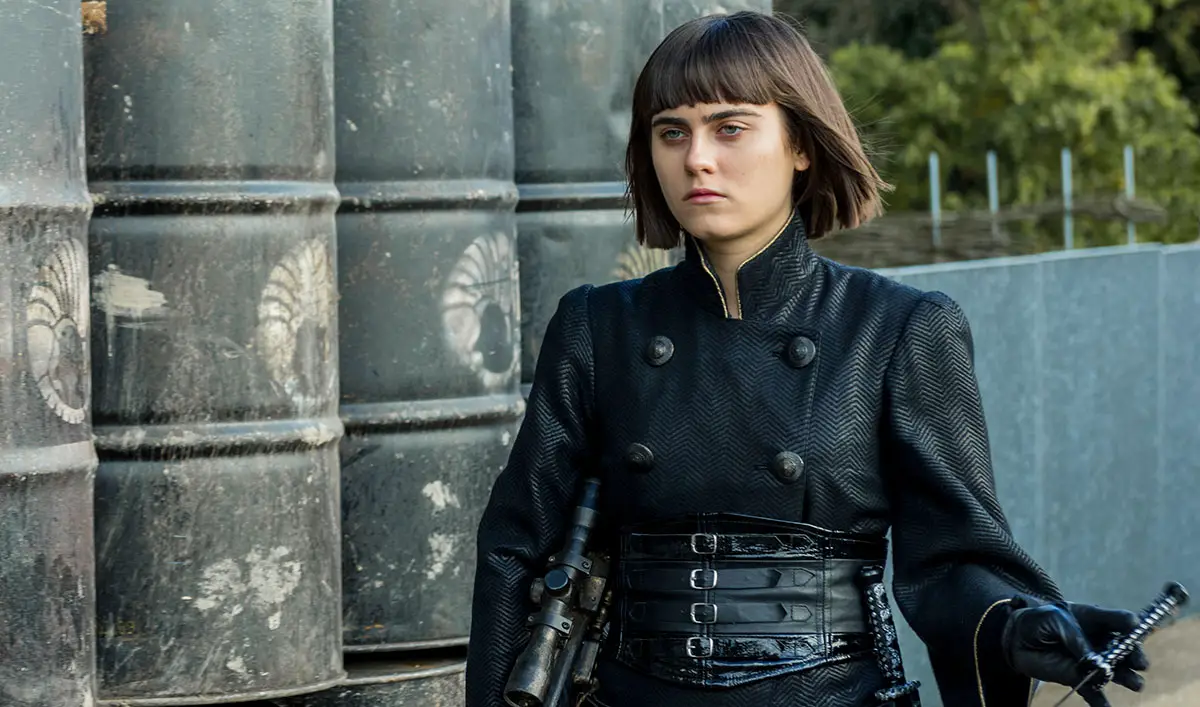 Caption: Ally Ioannides in Into The Badlands
Photo Credit: AMC
Additionally, she has also appeared in movies such as Stray, Hands, and The Choir.