Entertainment
Gay Man Alx James Opens Up About Everything - Age, Height, Boyfriend; You Name It!
Despite being surrounded by the loved ones, it can still be challenging to come forth and say 'Yes! I'm gay'.
Regardless of that, many have risen past the judgment and have shown their true sexuality to the world.
Such is the case of the famous YouTube star, Alx James, who came out as gay on one of his videos and has gained a whopping amount of popularity in a short time.
Unlike some celebrities who like to keep a low profile regarding their personal life, Alx belongs to the other end of the spectrum where one opens up about most everything going on in their life, including love affair.
So, let's take a much closer look at Alx's life and find out even more.
Bio of Alx James that includes his Love Affair
Alx James, who was born on March 5, 1992, in Wilson, North Carolina, was raised on a farm. The 25-years-old is also an actor as he has played minor roles in a lot of television shows.
He has appeared in The Genderly Confused and Joe Show, Lab Coats: Life After The Zombie Apocalypse and Internet Challenges which met him with favorable reviews, adding up points to his entertainment career.
When talking about his life before fame, Alx, who stands at the height of 6' 5", auditioned for the hit show American Idol twice and made it to the Hollywood round, but unfortunately, he couldn't participate in it due to his poor health.
In spite of that, Alx opted for another option: Youtube, and started his career through the video clips sharing app, Vine.
Later on, he started his channel and soon got an enormous amount of fan base.
Making his way to stardom surely brought popularity in Alx's life, but something else tagged along with it: and that's rumors.
The vlogger was accused of doing a facelift, a brow lift and a botox which he denied through his video on June 3, 2015, and further added that all he got was a plastic surgery for his nose because of a car wreck he got into.
Alx, who has been passionate about his work, amazed everyone with his confession video on June 10, 2015.
First, he dedicated the video to discuss his family issues, then he came out as gay.
The video became an inspiration to many of his fans, and some of them even admitted to not being straight in their comments.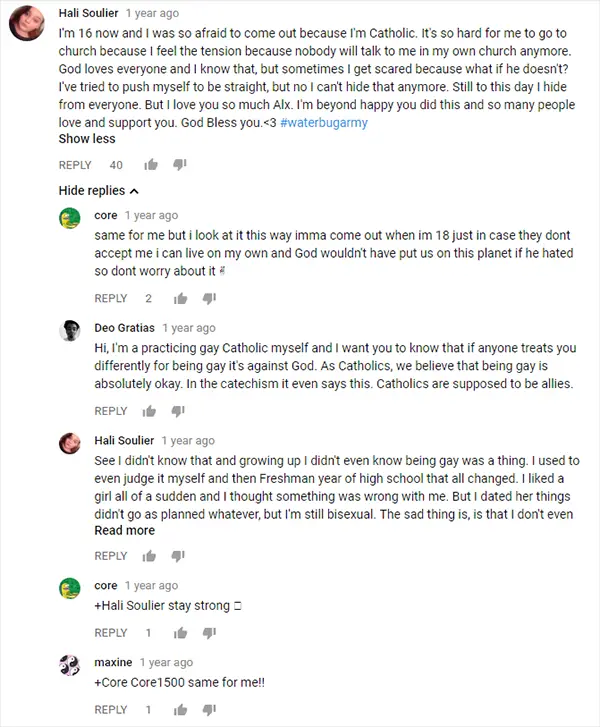 Caption: Alx's fans confessing their sexuality through comments
Photo Credit: Alx James' Instagram
After the shocking confession, the Youtuber uploaded another video, The Boyfriend Tag, on Oct 21, 2015, in which he introduced his boyfriend, Justin Edward Hughes, to his fans.
The video got more than 700K views and more than 4K comments in which the fans cheered for the cute couple.
After the introduction, Alx and Justin started uploading more videos of them together.
The duo did 'The *GROSS* Chapstick Challenge, Bean Boozled Challenge' and many more.
In one of the videos 'HOW I MET MY BOYFRIEND!' which was uploaded on Jan 23, 2016, the lovebirds shared their first encounter with each other—they met at a gym and started to notice each other till one day Justin came up and spoke to Alx.
The adorable duo looked perfect for each other, but the perfection couldn't last long as, in 2016, they split up which he hinted through his tweet on June 7, 2016.
Perhaps my plastic surgeon can fix my heart so I can care about your bullshit ????

— Alx James (@AlxJames10) June 7, 2016
Although Alx was heartbroken, he didn't disappoint his fans and continued uploading videos on his channel.
He uploaded 'MEET MY GIRLFRIEND..... JACKIE!' on Dec 21, 2016, where he said that if he wanted a girlfriend in his life, then Jackie is surely his type.
Alx, whose age is 25 now, stayed active on social media after breaking up with his boyfriend, for, since he couldn't bear the pain all alone, he shared his feelings with his fans as well.
After almost a year of breaking up, Alx dedicated a video saying sorry to his ex-boyfriend, Justin, on July 23, 2017.
Caption: Alx James crying out for his ex-boyfriend, Justin(Published on July 23, 2017)
Even though the pair broke up, their admirers still adore their connection, and are looking forward to see them together once again!