Entertainment
Amanda Boyd Wiki: 5 Must Know Facts On Jason Dufner's Ex-Flame
Amanda Boyd is known as the wife of golf player and 2013 PGA champion, Jason Dufner. Also, Amanda has attracted a lot of men towards her with her appealing and attractive looks and has created a lot of noise with her romantic association. Thus, while addressing them, we would share other facts about her including her wiki details.  So without further ado let's dig in!
1. Amanda Boyd From Millbrook, Alabama:
Amanda Boyd is a Millbrook, Alabama native and she is a graduate of the University of Alabama from where she graduated back in 2010.
2. Amanda Boyd Was Once Married To Former Husband, Jason Dufner Before Divorcing:
Amanda Boyd was once married to the decorated golfer, Jason Dufner.
The two are said to have met through common friends, and then the two reportedly started spending some romantic and valued times together. The association led Jason to get on his knees and pop the question and ask Amanda to marry him.
Speaking of how he proposed to her on the fourth of July weekend in 2011, she said,
"We were watching the fireworks over the river and when I turned around, Jason was on one knee. I don't really remember much after that," 
The romantic association of Amanda and Jason led them to tie the knot back on the 5th of May 2012 in Auburn, and the marriage pictures were just too adorable to see. 
Caption: Amanda Boyd and Jason Dufner got married in Auburn, May 2012.
Photo Credit: thestudiobphotographyblog.com
But the marriage, which lasted for around three years, ended back in 2015 when the two decided to divorce with one another citing 'complete incompatibility of temperament' and perhaps the pair could not live together any further. They do not share any children together.
3.  Amanda Deleted Her Instagram Account After The Divorce:
Prior to the divorce, Amanda Boyd was a famous personality over on the photo-sharing app. However, as soon as Amanda and Jason's divorce was made public, Boyd stepped away from social media and deleted her Instagram account.
But she runs an Instagram account for her beloved French Bulldog, Prince Louie and she still posts photos with Prince.
By the looks of it, she loves to spend quality time with her dog!
4. Alleged Affair With Legendary Tiger Woods:
After splitting with Jason, Amanda Boyd was then linked with Tiger Woods, someone who has made a name for himself as a 'serial cheater.' The rumors of Amanda and Woods seeing one another stemmed back in July 2015 when Woods was still with Lindsey Vonn. 
Vonn separated stating, Woods' cheating as the primary reason during the time of their split, but it was not clear as to whether or not it was Amanda. 
Further, a source, who preferred to be anonymous, back in July 2015 claimed,
"Even though Tiger dated Lindsey for years, he had a "thing" for Amanda."
Another source added more fuel to the fire as,
"Amanda is gorgeous, and she's known as a big flirt with the other players on the PGA tour. I guess her flirty ways and good looks caught Tiger's eye."
And by the looks of it, the claims from the sources couldn't be ignored as it had some power. Amanda was often seen with Woods even on his tournaments and practices.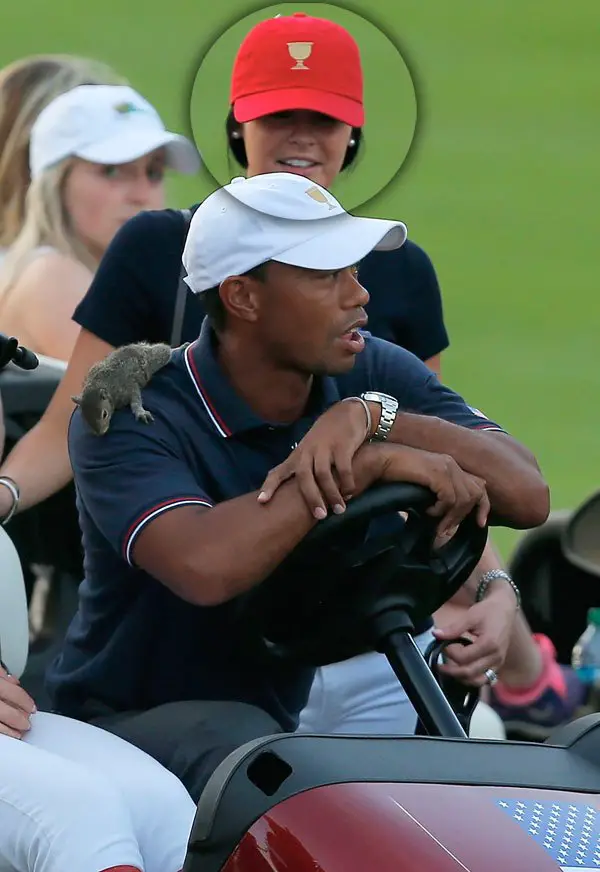 Caption: Tiger Woods and Amanda Boyd were rumored to be dating and were often spotted together.
Photo Credit: radaronline.com
The rumors created a lot of noise and became important enough to be addressed. 
5. How True Were The Allegations Of Affair Between Amanda Boyd and Tiger Woods?
The rumors became even bigger and louder when Amanda bought a house just miles away from the golfer's mansion. It was back in 2015 when Boyd purchased a three-bedroom, three-bathroom, 3,000 sq.-ft. pad worth $675,000. Good use of the money she got from the divorce with Jason.
However, Woods' agent, Mark Steinberg denied the rumors and termed it "unsubstantial," and he said,
"Absolutely 100 percent false. Complete lie and fabrication.
Woods too did not have much to talk about it back then and he too continued,
"I know what I'm doing out here. I know what it feels like. I know where my game is and what progress I have or haven't made. That's what I'm concerned about."
What was the actual truth behind the nature of their relationship? It is still unclear to date as the two ever expressed their thoughts themselves on the rumors circulating about their connection.