Entertainment
Amanda Davies, Married & Has Husband! Rejoiced Mother-Daughter Duo
CNN's sports anchor Amanda Davies has endured a lot of pain in the past but knows a beautiful family is worth all the hardships. The former BBC presenter can now take pride in her excellent family with her husband and a loving child. 
But, what is the pain that the 38-year old had to undergo to ensure her family's well-being?
Let's find out the truth about the marital life of Amanda and her relationship with daughter!
Lowkey-Life With Husband
Amanda is married to a man named Sam, who works at the American cable network, ESPN.
However, not much details about their wedding are disclosed including the date and location of the event. But Amanda has posted a few symbolical posts on her Twitter in April 2011. 
As of now, Amanda lives in West London with her husband Sam, and the life partners are blessed with a beautiful child. Amanda, who became pregnant in late 2008, developed some complications during her childbirth.
Premature Delivery, Relation With Daughter
Amanda was seven months pregnant when her water broke while she was presenting the sports news for BBC World. Amanda talks about the incident with Daily Mail in April 2012,
"It was the BBC World sports shift, which is notoriously quiet. I had not felt right for days but couldn't put my finger on it. A friend who was six weeks ahead of me in pregnancy had said it  was normal to feel a little damp, but I started to Google my symptoms, which was probably a terrible idea."
Amanda was rushed to Queen Charlotte's at Shepherd's Bush. After a thorough examination, the doctors admitted Amanda for monitoring and explained that her baby could be born early. She immediately called her husband, who was working in Cyprus at that time, but he returned only after two days.
For the next seven days her water breakage didn't happen, and finally, Amanda went into labor on 25 May 2009. Amanda's delivery wasn't as planned and the baby's heartbeat started to fluctuate after a few hours of going into labor. Amanda remembers the day of her childbirth,
A few hours in, the baby's heart rate dropped and suddenly the doctors rushed in and told me they had to get her out straight away. There was no time for pain relief and  I don't remember anything but a feeling of panic.
The obstetrician, who performed an episiotomy, discovered the baby weighed just 3lb 10oz and was not breathing. Recalling the painful moment, Amanda said,
The cord was wrapped around her neck, and when we caught a glimpse of her through the crowd of doctors and nurses she looked as if she'd gone ten rounds with Mike Tyson. I was terrified. My husband and I were speechless – it's not how you envisage seeing your newborn baby. People kept telling us, 'It's going to be OK', but it's hard to believe. You just have to trust they are doing everything they can. And then, about five minutes after I'd given birth, a doctor said I needed emergency treatment.
After Molly was resuscitated, she was taken to neonatal intensive care, where she was kept for six weeks.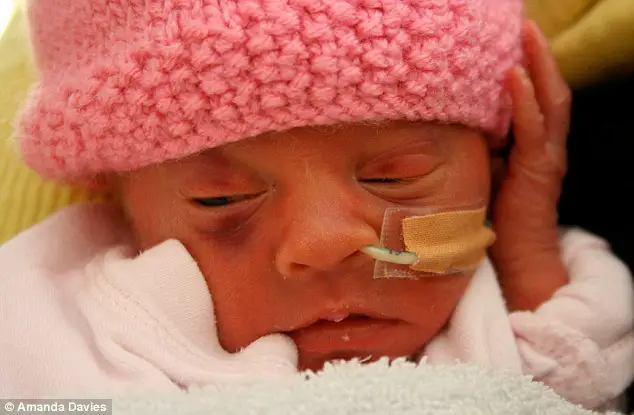 Amanda's daughter, Molly, in intensive care after developing complications in 2009 (Photo: Amanda Davies)
Amanda also suffered heavy bleeding during the conception and was treated in the adult intensive care ward. Amanda got breast milk for her child from the milk bank, as she didn't produce her milk until two weeks of the birth.
Although Molly's birth was rough, she grew up to be a healthy kid, and the mother-daughter duo enjoys a precious bond with each other. Amanda, also like to share the glimpse of her private moments with Molly. On 3rd September 2016, Amanda shared a picture on her twitter about the duo's date night.
Amanda on a night out with daughter Molly on 3rd Sept. 2016 (Photo: Amanda Davies' Twitter)
Amanda is a proud mother and wife, and although she doesn't like to flaunt her married life to the public, yet it's a common knowledge that she's living a perfect family life as she has been blessed with a loving husband and daughter.