Entertainment
Amanda Lepore: Young Surgery Pain, Controlling Husband - Seen It All
Amanda Lepore, a transgender model, boasts that she has the most expensive body on earth. The trans icon got a sex reassignment surgery at a young age, followed by multiple surgeries that have collectively given her a look she sought.
Like the famous singer, Beyoncé, sings, Pretty Hurts; Amanda knows to what extent! If you are wondering how much pain she endured, keep reading to get an idea.
How Did Amanda Lepore Get Body She Desired?
The club diva Amanda Lepore felt like she was a girl trapped in a boy's body from the very beginning, so she began taking female hormones at the age of 15. At 16, she met Michael, who was a decade older than her, and the two started dating. On finding out that Amanda was a boy, Michael's father offered to pay for her sex change operation.
Amanda, born as Armand, officially became Amanda at 19 after marrying Michael at 17. However, the marriage was not long-lived as she soon decided to run away to New York when her husband started growing controlling and jealous. And so began her indulgence in surgeries.
Amanda is forthright about the works that are done in her body to make her look the way she does now. In her narration piece for Into The Gloss, she revealed that she drew inspirations from iconic "Hollywood blondes with the boobs, the hips, and the heels" like Marylin Monroe and Jean Harlow. She expressed,
Rather than emulate the girls I grew up with who made fun of me, I decided I wanted to look like a movie star.
And she does look like a movie star now!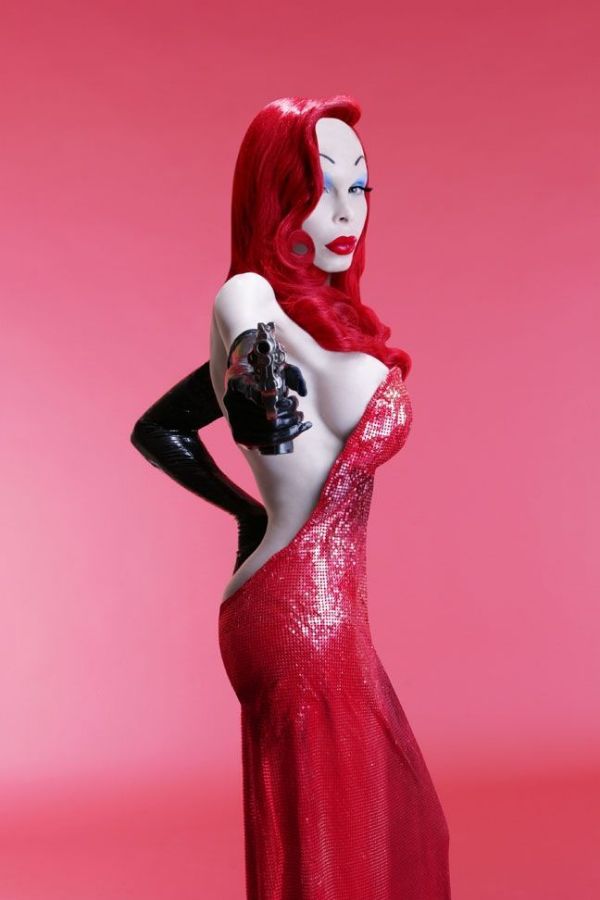 Amanda impersonates Jessica Rabbit (Photo: pinterest.com)
It was not easy to get that look. Amanda has had a nose job, lip injections, fillers, Botox, and her hairline lowered. Likewise, the transgender beauty got three breast augmentations, buttock implants, and had her bottom rib broken and pushed in to get a perfect hourglass figure of 38-22-38.
Of all the procedures, Amanda recalled the post sex change period to be the most painful one.
It didn't hurt when I got it done at the hospital. But they give you a dilator as part of the healing process, which you have to keep in for extended periods of time to stretch the vaginal opening. It felt like a knife. It was the most painful thing I had ever experienced.
Her endurance has paid off in beauty, and it has been quite a success at securing her dates. In her autobiography, Doll Parts, Amanda reveals that she dated a famous rapper who shortly married a woman with a figure like hers.
Her statement was a subject of several speculations, the most famous being Kanye West as the rapper, for his wife, Kim Kardashian, shares a resemblance to Amanda's body. However, a close friend of Kanye denied the link up. The friend told Page Six,
"That is not within the realm of possibility."
Well, that was in the past! For now, the performance artist is trying her dating luck on Tinder. In an interview with Observer in April 2017, Amanda said she was planning on going on a date with a 28-year-old Italian she matched in Milan.
Who is Amanda Lepore? Her Short Bio:
Amanda Lepore was born as Armand Lepore on 21 November 1967 in Cedar Grove, New Jersey. The transgender icon's family was not always supportive of her gender dysphoria. Her parents did come around to approve of her identity later, and her father even took her to a psychologist through whom she obtained hormone prescription.
Amanda's modeling career started after she moved to New York and met the celebrity photographer, David LaChapelle while working at a nightclub. She has even performed in music videos and movies, most notably in the 2008 romantic comedy, Another Gay Sequel: Gays Gone Wild!
Think we're missing something? Do let us know in the comment section below!