Entertainment
Amanda Steele With Boyfriend! Excitingly Dating Away To Relationship Goals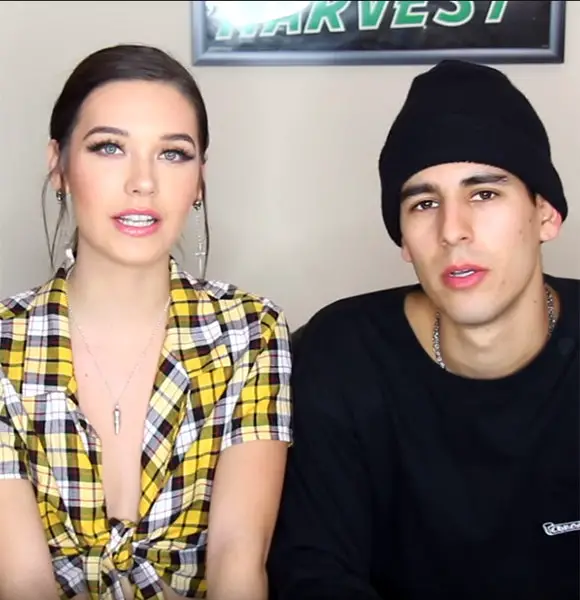 The make-up artist Amanda Steel is a YouTube sensation; this digital star is 'Picasso' when it comes to grooming and teaching that skills to her 2.8 million subscribers on YouTube.
But her viewers are even more excited about her relationship with her boyfriend, who made an occasional appearance on her videos.
Scroll down to find more about her blissful relationship that is setting some major relationship goals for everybody!
Amanda Steele's Dating Affair With Her Boyfriend:
The YouTube star Amanda Steele is very out and open with her fans and viewers. Amanda is one of those celebrities who is not hesitant to flaunt their dating affairs in public.
In fact, the make-up artist involves her boyfriend, Johnny Zallez in her YouTube videos and her fans can't help but admire them. Her boyfriend Johnny is also a YouTube star with around 6K followers on his channel.
Amanda and her boyfriend Johnny in her YouTube video ( Published: Jan 3, 2018).
While being social media personalities, the pair isn't shy to flaunt their love life on social networking sites. The make-up artist, in her teens, did not even spare her boyfriend, which is evident through the image with comic book like makeup she shared on Instagram.
Amanda and Johnny met each other back in 2016 and celebrated their one year anniversary on Nov 10, 2017. Amanda posted a picture of their post anniversary dinner moment on her Instagram.
Every time she posts a picture of the two, her fans pour their heart out, admiring them and referring them to as 'a couple of the year.'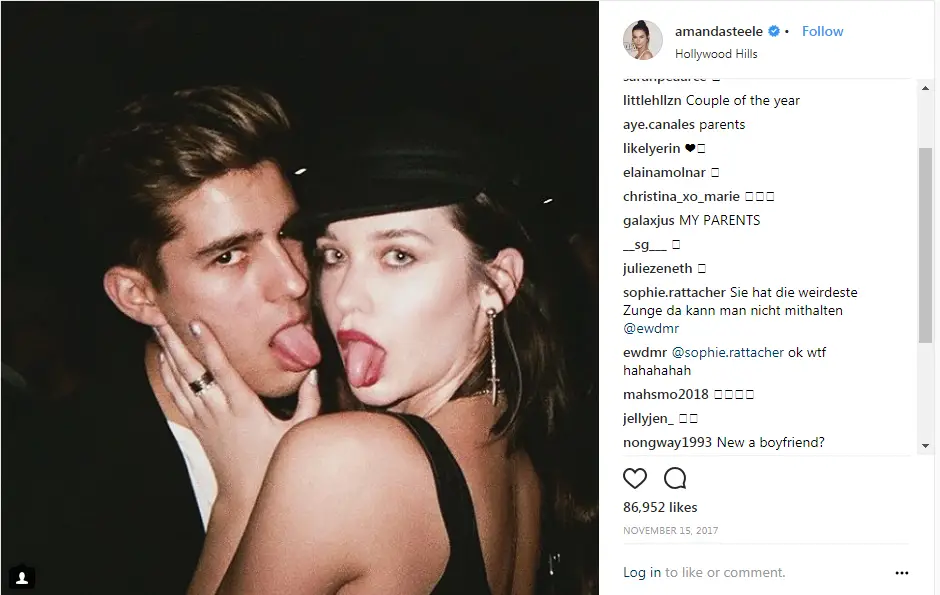 Fans announcing Amanda and her boyfriend the "couple of the year" (Instagram)
Well, they do make one hell of a couple and no wonder they have so many fans drawn to them!
Amanda Steele's Bio:
The 18-year-old Youtuber was born on July 26, 1999, in California and was raised along with her sister Lauren. Besides that, there are not many details revealed about her family members.
Amanda was homeschooled when she was fourteen years old and started her YouTube channel 'MakeupbyMandy24' when she was studying in 5th grade. Now the channel has more than 2.5 million subscribers.
Her YouTube success has managed to cross over even to other social media like Twitter and Instagram. The Youtube sensation has over million followers on both Twitter and Instagram and is still growing. 
For her exceptional talent, she has won an award for Fashion at the 2016 Streamy Awards. She has also worked alongside one of the most amazing make-up artist, Michelle Phan. Moreover, she is associated with some famous brands like 'L'Oreal Paris,' 'Neutrogena,' 'Target,' and 'Quay.'
Amanda also happens to be a model and has already been signed by the IMG model in 2016. She has been featured in the various magazines, like 'Vogue Italia,' 'Teen Vogue,' 'V Magazine,' 'CR Magazine,' 'W Magazine,' 'Seventeen,' and 'Nylon.'
She is currently studying for acting auditions and creating digital content in Los Angeles. Despite the success, the aspiring actress/model and renowned make-up artist's net worth have not been revealed yet. 
Think we're missing something? Do let us know in the comment section below!