Entertainment
Amanda Zuckerman: Previously Engaged, Hottie Enjoying in Boca Raton Resort With New Boyfriend
Amanda Zuckerman, the hot ex-'Big Brother' contestant, has been posting a lot of pictures with her new boyfriend in the Boca Raton Resort. But did you know she was already engaged in the past? Learn about her past as well as the present relationship.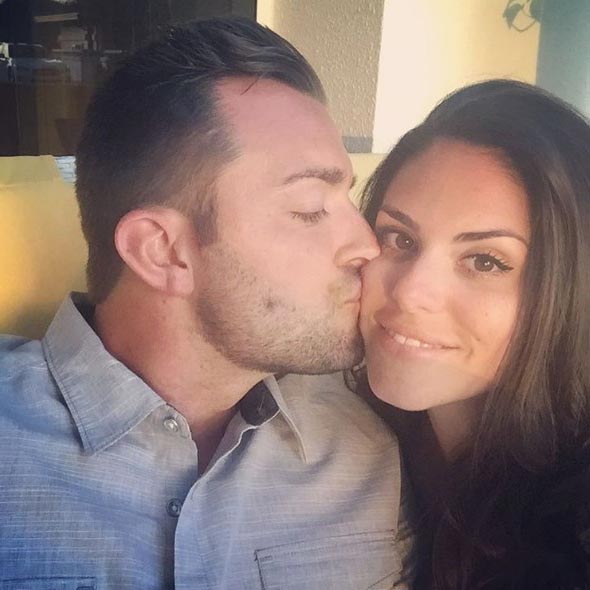 Quick Information
Date of Birth May 11, 1985
Nationality

American

Birth Place

Long Island, NY

Profession

TV Personality

Zodiac Sign

Tauras

Daughter/s

Madison Rose Zachman

Relationship Status

Married

Husband/Spouse

Mike Zachman (M. 2017 - Present)

Wedding Date

2017-09-02

Ex-Boyfriend

McCrae Olson

Net Worth

N/A

Height/ How Tall? N/A
Feet (Shoe) Size

9 (US)

Hair Color

Brown

Eye Color

Brown
Amanda Zuckerman, the hot ex-Big Brother contestant, caught a ton of spotlight for posting pictures with her new boyfriend in the Boca Raton Resort in 2016. After only a year, she got married to the man at the Biltmore hotel Miami.
Learn about her past as well as the present relationship including the wedding details.
Newly Married Amanda Zuckerman's Previous Failed Engagement:
The popular and former contestant on the hit reality tv show Big Brother season 15th (US), Amanda Zuckerman was one of the most entertaining contestants. She managed to land herself in controversy because of her straightforward nature.
A video on why Amanda Zuckerman was the most controversial contestant of them all (Published: Aug 9, 2013 )
Her controversial nature and statements were not the only thing that put her in the spotlight.
Florida based real estate agent Amanda Zuckerman and Minnesota based pizza boy McCrae Olson were seen together most of the times in the 15th season of Big Brother in 2013. Their showmance was a huge topic of discussion. After the show, the couple went on to show that what they had between them on-screen was real and not just for the sake of good television publicity. The show had been famous for people putting up fake personalities and events to grow their popularity.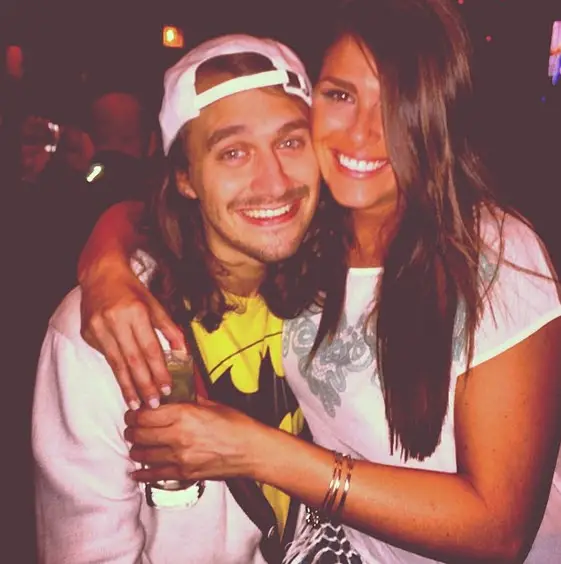 Amanda Zuckerman and McCrae Olson (Photo: cdn.bigbrotheraccess.com)
But even after the show ended, there came the news that they were still dating each other. Furthermore, they were also visiting each other's families to get to know each other in September 2013.
Even Amanda's Twitterholic dad Pete Zukerman had tweeted pro-Amanda tweets mentioning his daughter's boyfriend during the time the duo were active on the show.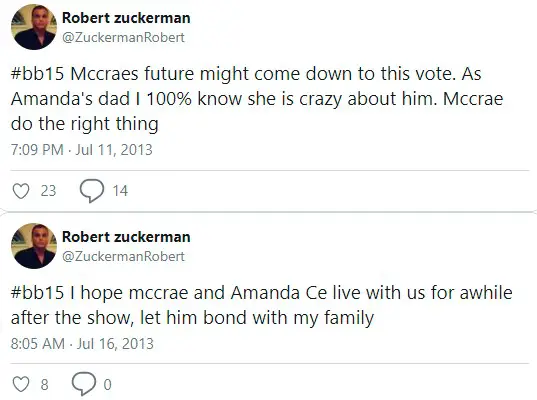 Back then, in late 2013,  fans were expecting the duo to seal the deal through engagement asap, but something seemed off from Olson's side.
When a fan with Twitter account AdderallVulture@VultureAdderall  (does not exist now) asked Olson when he was proposing to Zuckerman, he replied, "not anytime soon."
He explained to the fan that he was too young and had no financial security, so he would only be looking to pop the question in the distant future. After a brief discussion on the subject at hand between Zuckerman and Olson on Twitter, the fan and Zuckerman got into a long Twitter debate.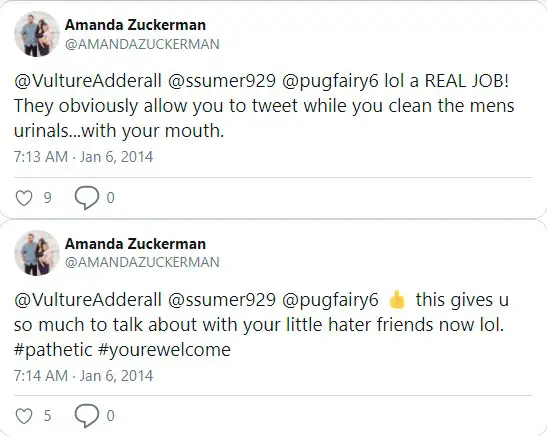 The Twitter tirade between the two ultimately ended with Zuckerman blocking the fan and telling him to continue spending his time in her obsession.
Later in March 2014, fans got to see reports that indicated Olson had broken up with Amanda Zuckerman.
McCrae Olson had written a long letter to his then ex-girlfriend, Jessica Fisher, Jessi Lynn Fisher, stating that his relationship with Amanda was mostly just picturing Amanda for Jessica. He said it was a mistake leaving Jessica for the show and regretted that decision massively. He also asked for Jessica to take him back in the letter.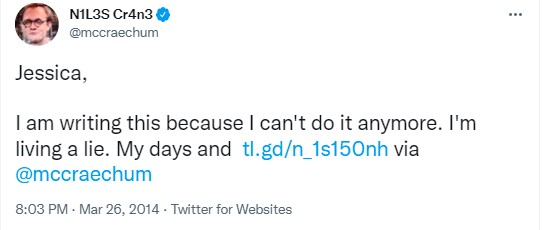 Both Jessica and Olson resolved their issues and got back together.
This was immediately followed by Zuckerman posting on Twitter that she was thankful to Olson for sharing the letter with the world.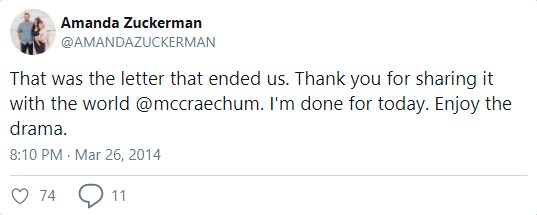 That was a big blow for Amanda, but just like in the Big Brother house, she remained strong and confident woman while recovering from the incident. 
She bounced back well, and what a comeback she made. She got married to Mike Zachman in September 201,  according to her Instagram account.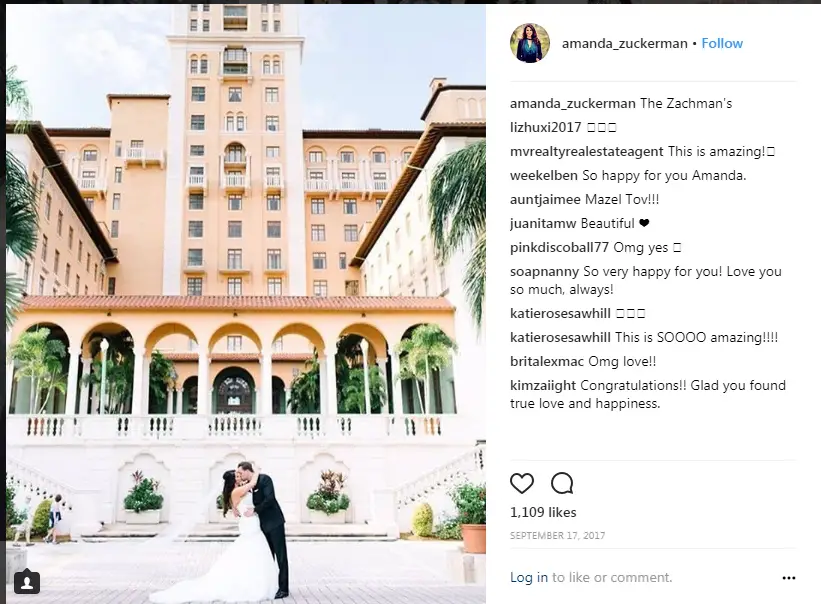 Newly married Amanda kissing her husband, Mike (Instagram)
The duo exchanged their vows in Biltmore hotel Miami. All the best men were dressed in black suit with a bow tie while bridesmaid was clad in a black dress. Shortly after they got married, they flew to Bali for their honeymoon.
The couple announced their engagement in July 2016 a year before they got married. She announced the news of the engagement by posting a picture on her Instagram followed by the caption 'Yes' which was right after their trip to Boca Raton Resort. It looked like it was a very romantic proposal too.
The real state agent also shared the picture of her engagement ring with a touching caption.
The pair celebrated their first Valentines day as husband and wife and have been together for almost four years as a couple.They make a wonderful couple and are setting some serious relationship goals with almost no signs of divorce in the future.
Amanda's Short Bio:
Amanda Zuckerman was born in 1988 in Long Island, New York but she later moved to Boyton Beach, Florida. She was eliminated from the Big Brother 15 in week ten coming in the 7th position for the show. She is currently a real estate broker and works for MV Realty. She previously worked as a realtor associate for Berkshire Hathaway Florida Realty for four years.