Entertainment
Amber Frey To Testify Against Scott Peterson Again?
Amber Frey, who is known as a previous lover of the suspected murderer Scott Peterson, came into prominence after she helped the police to put him away. With that, she earned herself the title "The woman who dated the most hated man in America". She might be now called for trail of Scott Peterson again as Supreme Court has ruled for the case to be reopened.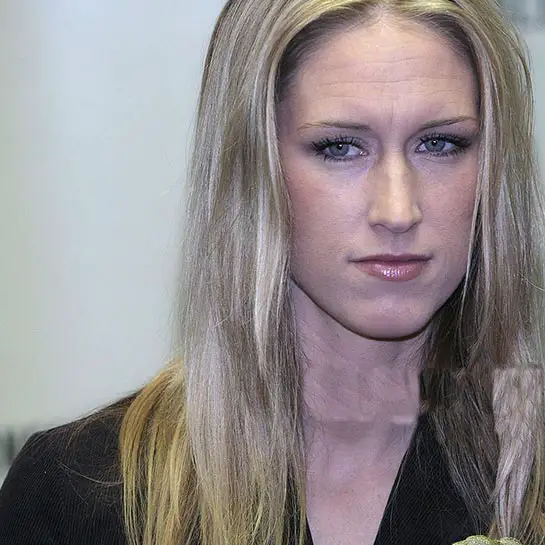 Amber Frey, known as a previous lover of the suspected murderer Scott Peterson, came into prominence after she helped the police to put him away. With that, she earned herself the title "The woman who dated the most hated man in America."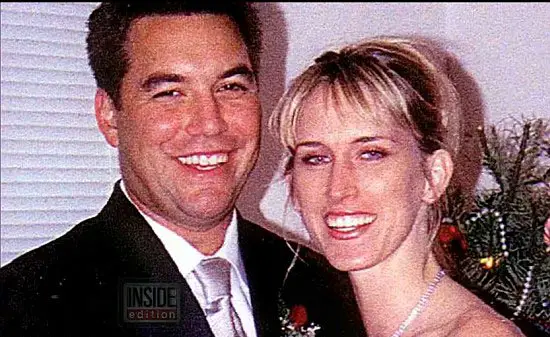 Caption: Frey with Ex-lover Scott Peterson (Source: dailymail.co.uk)
Peterson's pregnant wife, Laci, went missing with their unborn son, Conner, when Frey started dating Peterson. Laci was 8 months pregnant with their first child at the moment.
Later, Scott Peterson was identified as a key suspect in the murder of his wife and their unborn son - when their remains were found (in April 2003) around 4 months after the missing date. Laci's husband Peterson was proclaimed guilty on November 12, 2004, and was sentenced to death after a month. Amber Frey, a former mistress of Peterson, helped cops to put him behind bars. He was arrested in April 2003.
Amber Frey To Testify Against Scott Peterson
Scott Peterson, also known as the most hated man in America, is now incarcerated on a high-profile case. The murder of Laci.
Amber led the investigation and acted as the prime witness who helped the police pin all the necessary evidence against Peterson, thus sending him behind bars. 
The trial that happened nearly20 years ago has again caught fire after the California Supreme Court ruled the murder conviction to be re-examined.
Frey got massive support from the public for her courage, but she was also ridiculed for being a mistress of an already married man. However, when testifying, Frey left no stone unturned to provide solid evidence and cooperate with the police. 
Now that the California Supreme Court has ruled the case reopened, the eyes quickly shifted to Amber Frey and what she had to say.
Although the status of the case is yet to be anchored, Frey's attorney Gloria Allred has provided a statement. She believes that her client, Frey, is ready to testify if necessary. She said, 
"Amber has said, 'The truth is the truth' so if, as in when, the court decides to grant [a] habeas corpus petition of Scott Peterson and decide that there should be a new trial, in other words not only on the death penalty case but essentially the case in chief, the guilt phase, she's willing to testify and she will testify," 
Frey's attorney also said how hard it might be for her to go through it all again, but she, like the first time, will go through it again because it is essential. 
How Does Laci's Family Feel About The News
More than 15 years have passed, and Laci's family still has a hard time dealing with the tragic loss of Laci, but the Court's decision has only led the family to feel the pain more. The source close to the family said, 
It's not even so much that he's getting off death row for the time being, but now there will be another trial, and they're going to have to sit through it and possibly testify
But Lacis's family was not the only one that had a say in the court's decision. Peterson family, too, had their insights. For example, his sister Anne Bird still believes that Peterson should be charged for his crime. She told,
"I'm against the death penalty, but I do think he's exactly where he should be," she said. "I lost my sister-in-law Laci and my unborn nephew Conner, and I believe he should remain in prison for the rest of his life without parole."
But his sister-in-law, Janey Peterson, had a completely different opinion. She was relieved to hear the news and said, 
For a long and difficult 18 years, we have believed unwaveringly in Scott's innocence, so today's decision by the court is a big step toward justice for Laci, Conner, and Scott," 
Whatever the court's decision might be, we hope all the parties find peace and courage in the troubling times.
The Story Of The Past
Frey started dating Peterson, during the 2002 holidays, right around the time of Christmas Eve. While dating Peterson, Frey was unaware of his marriage with Laci.
She soon found out about his wife, who, at the time, went missing. Frey then decided to help the police in their investigation by having her phone conversation recorded.
Peterson was arrested with his car on April 18, 2003, for the murder of his wife Laci and their unborn son Conner after butchered parts of Laci and her foetus washed up on the San Francisco Bay shoreline.
After a short investigation, Police inferred that Peterson's next target was Frey after finding out knives, a shovel, and directions to Frey's workplace in his car. However, when he was arrested, he looked different. He had changed his hair to blonde and grown a goatee.  
Later, Frey gave dramatic testimony to the man accused of murdering his own pregnant wife, Laci. 
Amber Frey's Interview Back In 2005
Peterson's former mistress Amber told People magazine in 2005, "The whole experience was very trying, emotionally."
She told,
"For most people, it was just a story, but to me, it was part of my life, a very painful part. I don't know if I've made my mark on the world, but I'm young, and I have my whole life ahead of me – and I intend to do my best," she added.
Frey spoke with Inside Edition on February 10 on her 40th birthday in 2015. When questioned about her feelings towards Peterson, she told them they are long gone. She also said, "That was put behind me so many years ago."
Details Of Amber Fray, Where Is She Now?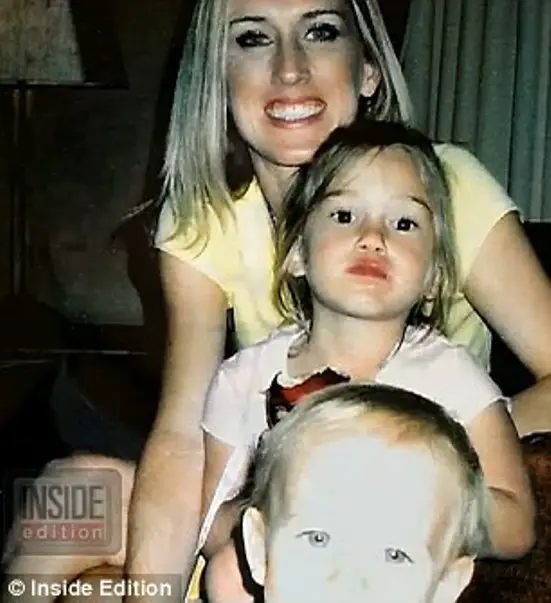 Caption: Amber and her two children, 2015 (Source: Inside Edition)
Amber Frey, a key witness in his prosecution, married Robert Hernandez near Lake Tahoe, Calif., in 2006. Unfortunately, after 2 years of happy marriage, Frey and Hernandez's relationship came to an end. Frey divorced Robert Hernandez in 2008 after being married for 2 years.
Frey, a Fresno- based massage therapist, has two children: daughter Ayianna, born in 2001, and son Justin. Justin's dad is Frey's ex-boyfriend, chiropractor David Markovich.
In 2005, a DNA test determined that Ayianna's father was Fresno bar owner Christopher B Funch and not Anthony D. Flores. She had previously believed Anthony to be her father. 
Even almost after 20 years of the brutal murder, Frey says it still haunts her. Now, she is a single mother of two young children and still works as a massage therapist. She also travels doing missionary work for her church.